How To Make Caramel Without Using Sugar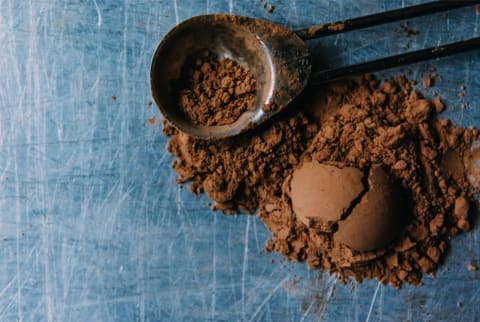 Image by Gabriel (Gabi) Bucataru / Stocksy
October 6, 2014
Editor's Note: When we came across Julie's recipe, we were excited about the idea of making 'caramel' without using any refined sugars. In addition to placing it on top of the chocolate candy as Julie does in this recipe, now's the season to use it as a healthy alternative to the sugar version with apples (and or however you'd like.)
Since I've cut refined sugars from my diet, I've started looking for healthier alternatives to satisfy my cravings for sweet treats. I always have a batch of these Raw Vegan Chocolate Caramel Candies waiting for me in the fridge. They are sweet, buttery and so addictive.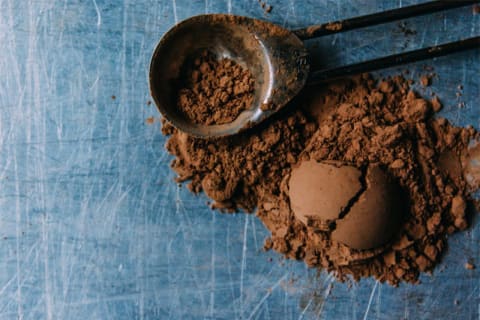 Image by Gabriel (Gabi) Bucataru / Stocksy
Raw Vegan Chocolate Caramel Candy
½ cup of soft dates, pitted and roughly chopped (soak them in warm water if needed)
2 tablespoons of almond butter
1 tablespoon of maple syrup
1 tablespoon of coconut oil
2 teaspoons of pure vanilla extract (or ½ teaspoon of vanilla powder)
¼ teaspoon of Himalayan crystal salt or sea salt (optional, for flavor balance)
½ cup of cashews
½ cup of soft dates, pitted and roughly chopped
¼ cup of cacao powder, unsweetened
2 large pinches of Himalayan crystal salt or sea salt
1. For the caramel: combine dates, almond butter, maple syrup, coconut oil, vanilla extract and salt in a small food processor. Mix until smooth and well combined.
2. For the chocolate candy base: place your cashews in a small food processor and mix until finely ground. Add dates, cacao powder and salt. Mix until well combined (the dough will gather into a ball).
3. Roll the chocolate candy mixture into small balls. Press each ball into a round candy base with a hole in the middle. Fill each hole with date caramel. Garnish with goji berries and cacao nibs, or use other toppings of your choice such as crushed pecans, dried cranberries or orange zest.
These Chocolate Caramel Candies will stay fresh for at least two weeks in an airtight container in the refrigerator. If you don't have the time to make a batch of fresh caramel, replace it with soft Medjool dates and top it with a pinch of sea salt.
Julie Van den Kerchove
Julie Van den Kerchove is a certified Raw Food chef, coach & writer graduated from the Living Light Culinary Institute in California. After successfully healing herself from several chronic health conditions with the help of raw food, she founded Julie's Lifestyle, where she now offers customized health coaching in order to help women all around the world to get more energy, reach their ideal weight and 'lose the fear of food' with a healthy diet high in raw fruits and vegetables. She is also the author of 3 raw food books. You can find her on Instagram and at Julie's Lifestyle, where you can get her FREE eBook "Julie's Top 7 Fast, Easy & Delicious Raw Smoothies & Shakes."