I know there are a million choices out there for juices and smoothies, not to mention smoothie shops, cleanses, juice blends, books and websites devoted to the topic.
I wanted to share some of my tips to help you blend the right (and healthy) way.
Advertisement
This ad is displayed using third party content and we do not control its accessibility features.
1. Start with a solid base.
Avocados are one of the best bases, as they contain fiber, potassium and good fats. A frozen banana is an excellent option for a delicious, creamy consistency and organic silken tofu is packed with plant-based protein. Ice is an easy element to add, too.
2. Pick a frozen fruit.
Add some frozen blueberries, acai packets, blackberries or strawberries. Organic peaches, raspberries and mango chunks are great too.
3. Add greens.
Kale, spinach, baby spinach, spirulina powder, or when you can't get fresh greens, try a scoop of a super greens powder. As a rule of thumb, always add greens to your smoothies — you'll get vitamins A, C, K, fiber, iron and yes… protein!
4. Pour in a liquid.
Opt for unsweetened options: almond milk, coconut milk, green tea or water.
5. Choose super boosters.
Pea protein powder, rice protein powder, spirulina greens, chia seeds, flax seeds, hemp seeds, carob powder, cocoa powder, lemon juice, matcha green tea powder, raw almonds, raw walnuts and bee pollen. If needed, you can add probiotics for an even happier tummy.
6. Blend it.
Use a good blender — I look at it like an investment in my health.
7. Drink it.
Drink within an hour for optimum health benefits. Oxidization will remove some nutrients and enzymes you want in that beautiful body.
Smoothies can serve as full meals when made correctly. They can keep you full, healthy and vibrant — especially when made the green and clean way.
8. Have FUN.
Most of all, have some fun with it. Go grab your partner or a friend and blend up a custom post-workout smoothie together!
Anti-Inflammatory Smoothie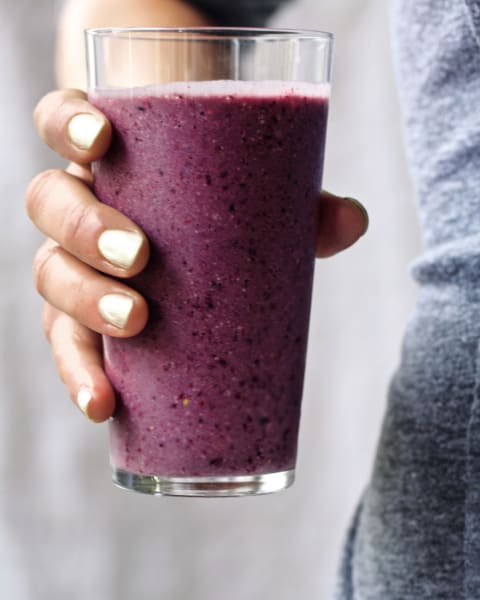 My boyfriend and I created this delish smoothie after he needed an anti-inflammation kick. We loved the natural, positively packed anti-inflammatory powers from the blueberries, blackberries, and walnuts — it tastes like a berry milkshake! Try it out with a loved one and share the clean green love!
Serves 3
Ingredients
1 frozen banana (or swap for 1 avocado to reduce sugar)
¾ cup frozen blueberries
¾ frozen blackberries
1½ cups unsweetened almond milk
1 teaspoon bee pollen
¼ cup raw walnuts
1 cup baby spinach
1 teaspoon spirulina powder (optional)
Advertisement
This ad is displayed using third party content and we do not control its accessibility features.
Preparation
Combine all the ingredients in a blender and blend until smooth. Serve immediately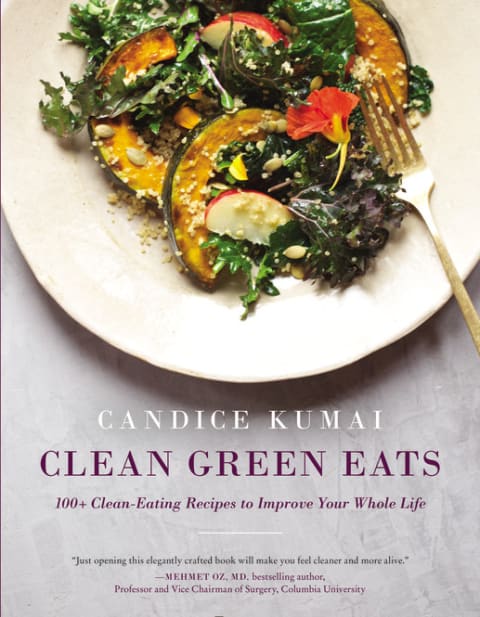 Advertisement
This ad is displayed using third party content and we do not control its accessibility features.

Candice Kumai
Candice Kumai, quoted by Elle Magazine as "the golden girl of the wellness world", is a classically trained chef, wellness journalist and best-selling author of Clean Green Eats, Clean Green Drinks, Pretty Delicious, Cook Yourself Sexy and Cook Yourself Thin. She is a regular contributor on E! News and The Dr. Oz Show and has appeared as a regular judge on Iron Chef America and Beat Bobby Flay. She contributes to lifestyle publications such as Cosmopolitan, Shape, Yoga Journal, Men's Health, Clean Eating and Prevention and volunteers at dozens of charitable organizations. She is a Top Chef alumni, and is obsessed with avocados, yoga, bar method, coconut and her cat, Sisi. She lives in New York City.