Stop Sleeping On Microgreens, The Most Nutrient-Dense Food You Can Easily Grow At Home
Registered Dietitian
By Carlene Thomas, R.D.
Registered Dietitian
Carlene Thomas is a registered dietitian nutritionist and licensed dietitian nutritionist. She received a B.S. in dietetics from James Madison University.
July 6, 2018
Microgreens were once only the garnishes of high-end restaurants, but recently they've been making the rounds on everything from cocktails to farmers markets and taco restaurants in Denmark. With high-impact flavors and nutrients, growing microgreens at home is a no-brainer. They take up only inches of space making them high-yield and small-footprint crops. And as long as you have a window, you can grow your own. It's the ultimate form of urban gardening.
Microgreens are tiny, young seedlings of vegetables, herbs, and other plants. Some of the more common microgreen varieties are radish, amaranth, basil, beet, broccoli, cabbage, cilantro, and especially popular recently, sorrel. They are harvested after a short one- to two-week germination when their first true leaves form.
Microgreens are nutrition powerhouses.
Microgreens have as much as 40 times higher vitamin and mineral concentrations than their adult counterparts! For vitamins C, E, and K, you'll find significantly higher concentrations in tiny plant form. In a 2012 study1, researchers found that all studied varieties had, at a minimum, four to six times more nutrients than the mature leaves of the same plant. Another study1 found the microgreens contained higher levels of bioactive components like vitamins and carotenoids than the mature plants. While microgreens shouldn't necessarily replace fiber-rich salads that help with satiety, they should absolutely be in the mix.
Microgreens are filled with flavor.
Small but mighty is the best way to describe the flavor of microgreens—imagine the flavors of fully grown radish, beet, and herbs, and then distill it. A bite into microgreens is impactful and can enhance any dish. By picking the right microgreen, you can add an extra layer of pepperiness, nuttiness, or herbal qualities to your recipe. They're also the ultimate visual tool (i.e., Instagram gold). They add texture, shape, and color to every dish.
While microgreens entered pop culture as garnishes in high-end restaurants, you're not limited to garnishes. When researchers looked2 at how people accepted microgreens, it significantly correlated with the acceptability of the microgreen flavors. So pick what you like! Add them to wraps and toasts, top stir fries and salads, and even add them to smoothies. They're a great way to build out an entree like a baked salmon with a light salad paired with a crisp watermelon radish. Because they are so delicate, microgreens are best used raw immediately after cutting.
But there's a reason you probably haven't seen microgreens for purchase until recently. The difficulties involved in packaging for short shelf life made it hard for grocery stores to justify bringing a fast-spoiling product to shelves. By growing your own, not only are you getting the freshest greens possible, but you're also saving a ton of money.
Microgreens can build healthy communities.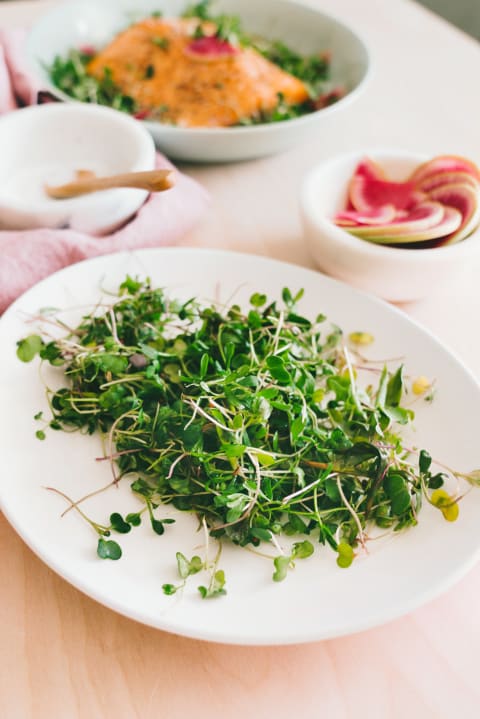 Saying these super plants can grow everywhere is totally not click bait. As long as you have a shallow container, some dirt, and access to daylight, you can grow microgreens. Even the small act of producing microgreens in your own home is a small step toward increasing access to better nutrition. One study3 calls microgreen production and the addition of microgreens to eating plans a "viable mechanism for diversifying food production systems" that also have "the advantage of empowering individuals to take responsibility without the need for extensive…infrastructure development." Since they can be grown year-round and do not require fertilizer or pesticides due to their short growth period, they may be a smart greens solution for all communities.
These nutrient dense plants can be grown by everyday people, even those with limited gardening knowledge, to provide an inexpensive and diverse addition to their diet. That's why some biology teachers are using microgreens in the classroom to empower students to understand sustainable food practices. And since microgreens are much less prone to food safety issues than sprouts, they can be a good growing project for kids and elderly populations alike.
OK, OK—so you're convinced. Here's how to grow microgreens:
Fill a shallow container with about 1 inch of nutrient-rich soil. Note: This is a great way to reuse containers and packaging to give them a second life!
Lightly spray or mist water on soil. Your soil should feel like a moist sponge (don't over- or underwater).
Generously spread seeds over the soil, and lightly press into dirt.
Sprinkle seeds with a very small amount of soil on top.
Lightly mist with water once or twice daily until sprouts appear.
Sprouts appear in three to seven days. Harvest when the first true set of leaves appear, usually in one to two weeks, by cutting plants just above the soil line.
Microgreens need about four hours a day of direct light. Try keeping them on a windowsill!
While seeds germinate, create a humid environment for optimal growing by covering your container with an extra plastic bag with a hole or two in the top for airflow. Once seeds emerge, you can remove the cover.
To use microgreens, wash gently and pat dry. They're best used immediately!
Inspired? This family is growing 6,000 pounds of food a year in their backyard!
Carlene Thomas, R.D.
Registered Dietitian
Carlene Thomas is a registered dietitian nutritionist, food and beverage content creator, and spokesperson based in Virginia. She received her B.S. in dietetics from James Madison University and is a registered dietitian nutritionist and a licensed dietitian nutritionist. She and her husband run a food and beverage content creation company that focuses on videography, photography, and stop motion on digital platforms for national brands. On her blog, Healthfully Ever After, she shares a balance of recipes that are simple and healthy with an indulgence a day, exploring more unusual flavors and techniques.