Running Low On Protein Sources? How To Up Your Intake All Day

Beauty & Health Editor
By Jamie Schneider
Beauty & Health Editor
Jamie Schneider is the Beauty Editor at mindbodygreen. She has a B.A. in Organizational Studies and English from the University of Michigan, and her work has appeared in Coveteur, The Chill Times, and Wyld Skincare.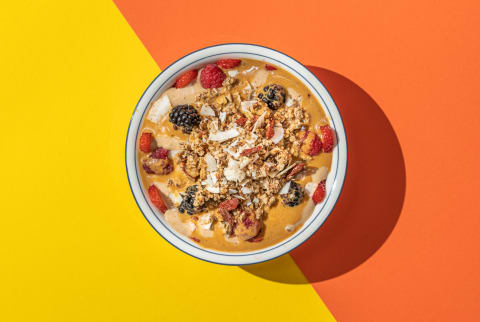 Image by Jeremy Pawlowski / Stocksy
April 6, 2020
Whether you eat animal products or not, protein is a little hard to come by at the moment. With meat and meat alternatives flying off grocery store shelves faster than you can say, "grass-fed, pasture-raised," getting an adequate amount of protein might take a little creativity during quarantine.
Vegans and carnivores alike, fear not; you can get your fill of protein with items you probably already have in your pantry. We spoke to our favorite dietitians on how to boost the protein of any meal you make—be it sweet breakfasts, simple lunches, or hearty dinners (and all those cheeky snacks in between). Here's exactly how you should stock your shelves:
When it comes to protein-rich beans, chickpeas tend to be a fan favorite. They're packed with protein (1 cup of cooked chickpeas has about 14 grams of protein, says Abby Cannon, J.D., R.D., CDN), and they're oh-so versatile—blend them up to make a creamy hummus, add them to soups for a little more heartiness, even use them to boost the protein of your desserts.
"One of my personal favorites is a spiced Moroccan chickpea stew, which uses up cans of chickpeas, diced tomatoes, and tomato paste," says registered dietitian and functional medicine nutritionist Megan Fahey, M.S., R.D., CDN. After mixing those together in your stew, "raid the spice cabinet to incorporate turmeric, paprika, garam masala, cumin, and cayenne pepper, and then simply serve over rice." Easy, fragrant, and so delicious.
If you have some extra frozen produce on hand, you might be upping your smoothie game of late. Consider a collagen supplement powder your smoothie's best friend: "Not only is protein important in order to help manage blood sugar levels; it provides the building blocks for beautiful hair, skin, and nails," Fahey explains.* "As collagen is the most common protein in the body, choosing a grass-fed collagen powder is an excellent addition to your morning smoothie."* If you want more of a proper meal, make a smoothie bowl and top it with fruits, grains, granola—really anything you have in the fridge or pantry at the moment.
Craving a salty snack? A handful of nuts can satisfy your fat and salt craving while giving you heaps of protein and sustainable energy. "Having a handful of nuts per day is the perfect snack, or you can add them to a meal for some crunchy texture," Cannon notes.
For registered dietitian Molly Knusden, M.S., RDN, almonds tend to reign supreme: "Not only do almonds have a great macronutrient profile, they also contribute 7% of the daily value for calcium," she says. However, if you aren't a huge fan of almonds, walnuts, pecans, pistachios, or Brazil nuts will do just the trick. In fact, mixing nuts will offer unique flavors and mineral profiles, says Fahey, so feel free to make your own trail mix to snack on in between virtual meetings.
Lentils are another way to make a dinner comforting and hearty. Need to thicken a soup? Toss in some brown lentils. Looking to mix up the texture in your salad? Add some black lentils for a protein punch. Cooking a plant-based Bolognese? Red lentils are your guy.
Each type has its own nutritional profile, as the different colors have slightly unique phytonutrients, says Knusden. But "in general, about 1 cup of cooked lentils provides 16 to 18 grams of protein and between 200 to 240 calories," she says.
In terms of wild-caught fish packed with healthy omega-3s, Alaskan salmon is a great option. What's more, it's incredibly shelf-stable—a perfect item to stock up on.
"It can be used for anything—from a breakfast hash with potatoes and celery to salmon cakes to even a salmon spread with crackers," says registered dietitian Carlene Thomas, RDN. A versatile option, you can fit canned Alaskan salmon into any of your meals to boost the protein content. (For the easiest salmon cakes ever, check out our recipe here.)
Consider these five items your pantry staples during your time at home. Protein-packed, dietitian-approved.
If you are pregnant, breastfeeding, or taking medications, consult with your doctor before starting a supplement routine. It is always optimal to consult with a health care provider when considering what supplements are right for you.

Jamie Schneider
Beauty & Health Editor
Jamie Schneider is the Beauty Editor at mindbodygreen. She has a B.A. in Organizational Studies and English from the University of Michigan, and her work has appeared in Coveteur, The Chill Times, and more. In her role at mbg, she reports on everything from the top beauty industry trends, to the gut-skin connection and the microbiome, to the latest expert makeup hacks. She currently lives in Brooklyn, New York.