Host The Best (Plant-Based) Galentine's Dinner Party With These Trader Joe's Items
mbg Editorial Assistant
By Eliza Sullivan
mbg Editorial Assistant
Eliza Sullivan is an editorial assistant at mindbodygreen. She received a B.S. journalism and a B.A. in english literature from Boston University.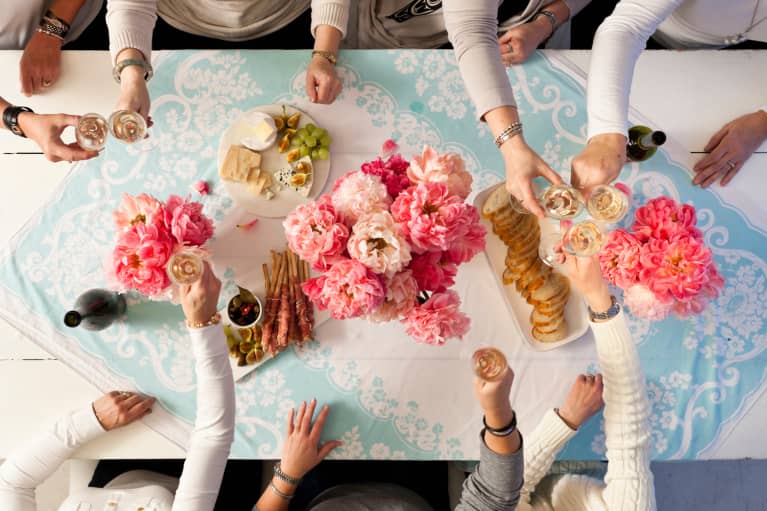 Every year, on February 13, we celebrate our female friendships with Galentine's Day. The holiday's name was coined in a 2010 episode of the television show Parks and Recreation, and since then, it's been assigned to the day before Valentine's Day and become a regular event for many.
This year, you might want to host your friends for Galentine's Day but also want to keep up with the plant-based diet you've dedicated yourself to in 2020. It may sound like no easy feat, but thanks to our friend Trader Joe's, it can actually be a total breeze—even if you only started planning it today. The other wonder is that you can go any (or every) direction with your menu plans, even with the plant-based restriction.
How do you start a plant-based dinner party?
You may think a cheese board is off the table even though it's not—but, unfortunately, you can't necessarily outfit a plant-based one at Trader Joe's just yet. What you can do is pair up some of Trader Joe's best vegan grocery items for an amazing start. Italian-Style Rosemary Crackers can pair with a jar of Eggplant Spread with Roasted Red Pepper, Multigrain Pita Chips are a natural match with Eggplant Hummus, and if you want to add one more step, their Vegan Cream Cheese Alternative makes a great base for a creamy plant-based dip.
TJ's salad kits are a great shortcut for getting a salad on the table that's basically brainless. If you've got a bit more brainpower, you could also make your own salad starting with their Sorrento Mix or another greens mix and adding some toppings from the produce section and beyond (like making your own roasted chickpeas) to round it out. Finish it off with Trader Joe's Green Goddess or Almond Butter Turmeric dressing, which you'll find with their deli products.
Mains Can Be As Complicated (Or Simple) As You Like
For a main dish, the easy option for a crowd is always pasta. You could do that, or you could get even more veggies into the meal. We (and the rest of the world) are big fans of Trader Joe's Cauliflower Gnocchi, and their newer Kale Gnocchi is just as good and slightly easier to find given the cult following cauli has. Either of them, prepared right, and paired with Trader Joe's Kale Pesto, make for a filling and simple main course. And if you're missing the cheesy flavor, Trader Joe's does have Nutritional Yeast, which is a natural fit to fill that gap.
If you want to go a different direction, Trader Joe's Falafel Mix is a vegan favorite, and they're prepared baked, making them a healthier version of the sometimes greasy dish. You can also pick up Dolmas, rice-stuffed grape leaves, near the canned goods for a seriously quick side—you just have to open the can.
And, of course, the simplest way to furnish a Trader Joe's–based dinner party is in their extensive frozen section. Vegetable Spring Rolls, Chicken-less Mandarin Orange Morsels, Thai Vegetable Gyoza, Kung Pao Tempura Cauliflower, and Vegetable Pad Thai make it easy to swap a night of takeout for a night of Trader Joe's.
Double down on the dietary restrictions for dessert, while still keeping to a tried-and-true classic. Pick up a box of Almond Flour Chocolate Chip Cookie Baking Mix with the oil, vanilla extract, and nondairy beverage of your choosing to actually make them, and you'll have an easy homemade dessert (that only takes 10 minutes).
If you're not looking to cook all three courses, a surprising number of Trader Joe's prepared treats are vegan too: Speculoos Cookies, Soft-Baked Snickerdoodles, and even their Joe-Joe sandwich cookies are vegan. Outside of cookies, you can pick up Brownie Crisps (which pair great with Coconut Chocolate Non-Dairy Dessert). Some of their Mochi is vegan too.
Maybe you think no party is complete without a bit of booze. If you're lucky enough to live in an area where your neighborhood store stocks wine, liquor, and beer, you can literally get all your supplies in one stop. Apparently, some of Trader Joe's beloved Charles Shaw wines are vegan (because—surprise!—not all wine is).
Plant-based restrictions don't mean you can't host a well-rounded dinner party, and if you plan it right, you can pick up everything you need in one stop. Looking to try starting an everyday plant-based diet from scratch? You can get plenty of the essentials to get started at Trader Joe's too.