This Homemade Sourdough Pizza Is Easy To Make & Way Easier On Digestion
mbg Nutrition & Health Writer
By Eliza Sullivan
mbg Nutrition & Health Writer
Eliza Sullivan is a food writer and SEO editor at mindbodygreen. She writes about food, recipes, and nutrition—among other things. She studied journalism at Boston University.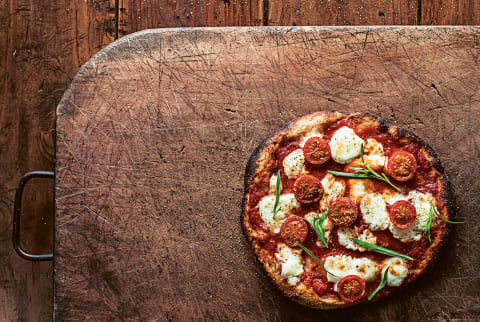 Image by Georgia de Lotz / Georgia de Lotz
October 17, 2021
We carefully vet all products and services featured on mindbodygreen using our
commerce guidelines.
Our selections are never influenced by the commissions earned from our links.
If you're a big pizza person, you've probably tried your hand at making a fresh pie at home. Whether that means you picked up some dough from a local shop or supermarket, or made it yourself, it's a fun way to spend a night in and it's always a satisfying meal. But sometimes pizza isn't the easiest on digestion—which is where this recipe comes in.
"Pizza is a regular feature in most people's lives," writes Vanessa Kimbell in her new book 10 Minute Sourdough. "In general, though, shop-bought pizzas are low in fiber, and takeaway pizzas are often high in unhealthy fat. This recipe balances fat and increases your fiber, so as well as being quick, easy, and inexpensive, it's also better for you."
She also notes: "The overnight fermentation makes it more flavorsome and easier to digest, and the use of whole-grain flour increases the fiber and keeps you fuller for longer."
That overnight fermentation is also because this recipe starts with sourdough—that hobby so many of us picked up during the spring of 2020, and plenty of people have kept up in the months since. Fermented foods are known for their gut health benefits, and that holds true with sourdough, making this pizza base a little bit easier to digest and extra tasty, just like Kimbell promises.
Basic Sourdough Pizza
Ingredients
Olive oil, for oiling and drizzling
Polenta, for dusting
Pizza toppings of your choice, including fresh herbs
300 g water at 21°C (70°F)
100 g bubbly, lively second-build starter
350 g organic white flour (13% protein), plus extra for dusting
150 g organic stoneground whole-grain flour (11.5% protein)
10 g fine sea salt
Timeline of steps
Day 1 (8:00 p.m.): First build. Refresh your starter. (1 minute)
Day 2 (8:00 a.m.): Second build. Refresh your starter. (1 minute)
Day 2 (8:00 p.m.): Mix your dough. (2 minutes)
Day 2 (8:02 p.m.): Leave to prove overnight. (1 minute)
Day 3 (8:00 a.m.): Divide your dough and shape into rounds. Leave to rest for 1½ hours, then transfer to the fridge until you are ready to bake. (1 minute)
Day 3 (1 hour before baking): Remove dough from fridge. (1 minute)
Day 3 (when you're ready to bake): Preheat your oven. Shape the rounds into flat bases and add the toppings. (1 minute)
Day 3: Bake AND ENJOY.
Method
Prep: Before you mix your dough, you need to refresh your starter twice, on the timeline indicated above.
Mix: Place the water and the starter in a large bowl and whisk together to combine. Add the flours and salt, and mix vigorously until the water is absorbed and there is no dry flour left. If you need any more water, you can add up to 20 g more. Refresh your sourdough starter, and set it aside on the work surface.
Prove: Rub a little oil around the bowl, then cover and leave to prove on the kitchen table overnight.
Shape & bake: The next morning, oil your hands and divide your dough into four equal-size pieces. Shape each piece into a round. Lightly oil a tray, then transfer the rounds onto the tray and cover. Leave to rest for an hour and a half until doubled in size, then transfer to the fridge until you are ready to bake. These are best baked on the same day but can last a day longer. Put your starter in the fridge until the next time you want to prepare it for baking.
Remember to take the dough out of the fridge an hour before you bake, and allow them to come up to room temperature.
Put a baking stone directly onto the oven shelf, and preheat your oven to its highest possible temperature, ideally 575°F (300°C).
To shape the pizzas, take one ball of dough at a time and, using a light dusting of flour as needed, gently press the top of the round to spread it evenly. Gently stretch the dough out, turning it as you do so. As the circle of dough gets bigger, you can pick it up and give it a few turns, using gravity to help stretch the dough. If you prefer, you can let the dough rest for a minute, then continue using your fingers to push it out to the right size. You want to create circles 20 to 22 cm in diameter. Repeat with each of the dough balls. If you wish, you can freeze the bases at this point.
Dust your pizza peel with polenta, then put the first pizza base onto it. Add your toppings, then slide the pizza onto the preheated baking stone. The baking time will vary depending on how hot you can get the oven, but 6 to 7 minutes should be enough. Keep an eye on your pizza as it bakes.
Finish it with fresh herbs and a drizzle of oil before serving. By now, your starter should be ready to put in the fridge until you next want to prepare it for baking.
Excerpted with permission from 10 Minute Sourdough by Vanessa Kimbell, published by Kyle Books. Photography Georgia de Lotz.
Want to turn your passion for wellbeing into a fulfilling career? Become a Certified Health Coach! Learn more here.
Eliza Sullivan
mbg Nutrition & Health Writer
Eliza Sullivan is an SEO Editor at mindbodygreen, where she writes about food, recipes, and nutrition—among other things. She received a B.S. in journalism and B.A. in english literature with honors from Boston University, and she has previously written for Boston Magazine, TheTaste.ie, and SUITCASE magazine.