High-Tech Meat Is The Unstoppable, Sustainable Food Trend Of 2018
Former mbg Deputy Editor
By Elizabeth Inglese
Former mbg Deputy Editor
Elizabeth Inglese is a writer living in San Fransisco, California. She earned her bachelor's in english literature and cultures from Brown University and her master's in writing from The University of Southern California. She's the former Deputy Editor of mbg, and has also worked for Vogue, Architectural Digest, Bon Appetit, and Good Magazine covering food, health, and culture.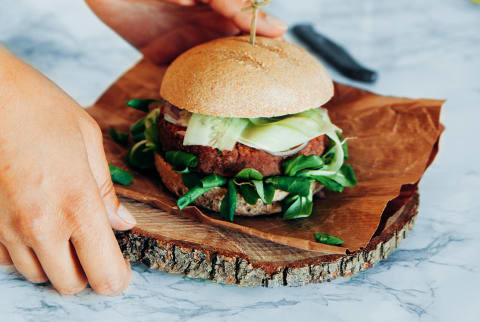 February 8, 2018
Welcome to a world in which we can have our burgers (and eat them, too) without ever raising livestock. 2018 is the year alternative meats—those produced from plant-derived proteins that uncannily mimic the flavor and texture of natural meat, as well as those grown in a lab using cell cultures from animal protein—go mainstream. Long ago are the days of rubbery tofurky and starchy nuggish. The alt-meats beating the path toward the future have tastes that rival steakhouse sirloins and carbon footprints on par with parsnips.
The alternative movement may have started slow but its growth has accelerated exponentially. After Kellogg's acquired Morningstar Farms in 1999, followed in 2000 by Kraft's purchase of Boca Burger, flooding supermarkets across the country with faux nuggets, patties, dogs of all varieties, few other manufacturers were interested in market until 2014 when frozen food giant Pinnacle Foods bought Gardein and introduced the alt-meat consumer to improved textures and flavors, growing their appetite for more. Since then growth of meat replacements has been exponential.
Advertisement
This ad is displayed using third party content and we do not control its accessibility features.
Last year, the kindling exploded into fire. Nestle grabbed Sweet Earth Foods; Canada's largest meat distributor, Maple Leaf Foods, swept up Field Roast and Lightlife Foods; and Dean Foods struck a distribution deal with Good Karma. Even Walmart is increased its offering of plant-based foods. Alternative meat is in demand with a growing consumer base. Brands like Impossible Burger (which, thanks to a plant protein called heme, appears to bleed if prepared rare) have made their way onto top New York City menus, and Beyond Burger is this month debuting at TGI Fridays across the country.
Last week, cell-cultured meat—the gold standard in real-meat-similitude—strapped on a jet-pack. Tyson announced its investment in Memphis Meats, the startup poised to disrupt the meat industry with its cell-cultured beef, chicken, and duck meat. Bill Gates, Richard Branson, and Kimbal Musk have already thrown their star power and capital behind Memphis Meats, which secured $17 million Series A fundraising led by Draper Fisher Jurvetson, a venture capital firm invested in SpaceX, Twitter, and Tesla. Tyson's support offers Memphis Meat more than just capital, but the infrastructure it needs to scale.
Memphis Meats caused a stir in 2016 when it first unveiled a meatball grown in a lab directly from animal cells—no livestock required. Their "clean meat" aims to bypass the ethical and environmental concerns many conscious eaters raise over the production of meat. But at an operating cost of $2,400 per pound of meat, Memphis Meats has not yet brought a consumer version of their product to market. The support of Tyson (as well as agribusiness juggernaut Cargill, the second largest producer of beef globally, which also invested in Memphis Meats) means a sustainable meat is closer to realization and signals a widespread shift in acceptance of manufactured meat.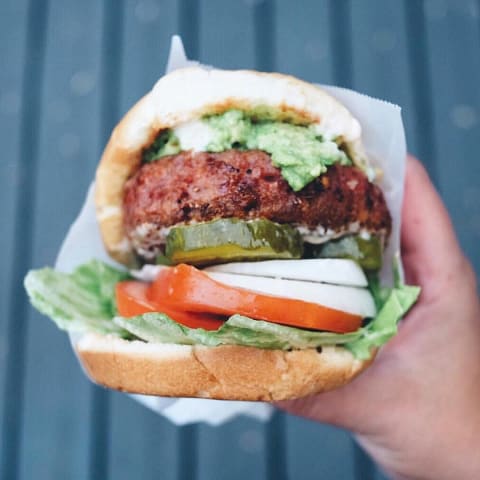 Tom Hayes, president and CEO of Tyson, acknowledged that the decision to invest in Memphis Meat came as a surprise to many outside and inside of his company but said, "Simply put, today's consumers want more protein." Memphis Meats CEO and co-founder Uma Valeti estimates that eventually lab-grown meat will be significantly cheaper and thus more readily available to hungry consumers.
With 30 percent1 of earth's land dedicated to the production of livestock, and meat consumption expected to rise 73 percent by 2050, meeting our ever-expanding taste for meat requires innovation. Tyson Ventures launched in 2016 with a $13 million investment in Beyond Meat, a $300 million plant-based meat alternative company already selling burgers at Whole Foods. It's clear the poultry producer is looking for innovative ways to keep up with demand. "The question facing all of us," said Hayes, "is how will we feed this growing number of people the protein they want, in ways that are sustainable." Lab-grown meat holds the promise of wasting less water, requiring less land, limiting the spread of livestock-spread disease, and eliminating the need to slaughter animals—attractive goals for an increasingly conscious consumer and an ever-crowding planet.
In the wellness world, we're seeing a bifurcation in attitudes toward meat consumption. On one hand, wellness devotees are viewing meat increasingly as a condiment and turning to plant-based diets. Vegan Chefs Matthew Kenney and Chloe Coscarelli have established vegan fine-dining as a restaurant scene staple. Doctors like Steven Gundry, Aviva Romm, and Carrie Diulus are touting the benefits of a plant-based lifestyle. The longevity-related diet Dan Buettner lauds in The Blue Zones steers followers away from meat. Whole Foods Market predicted plant-based diets as the top food trend of 2018. Meanwhile, Whole30 and Paleo diets are encouraging followers to load up on protein. Health experts Mark Sisson, Vincent Pedre, and Kelly LeVeque are advocating for protein-rich meals. But while the approaches of these two factions have differing view on the role of animal protein in a healthy diet, both are snapping up alternative meats, wooed by their nutritional, ethical, and environmental advantages.
Will the high-processing required to produce an alt-burger turn away those "clean eaters" who turn a nose at GMO's? Says one natural food enthusiast, "I'd rather stick with whole vegetables, fruits, nuts, and grains. But, if I were going to fall off the wagon, I'd reach for an Impossible Burger instead of a big mac." A burger built in a lab may not be for everyone in the wellness world, but one thing is for certain: in 2018, alternative meat will be on plates across the country—and quite possibly yours.
Interested in food sustainability? Check out the pilot program helping families buy produce and the inspiring co-op that sprouted up in a food desert.
Advertisement
This ad is displayed using third party content and we do not control its accessibility features.