Vegan Superfood Cookie Dough (Yup, It's A Thing)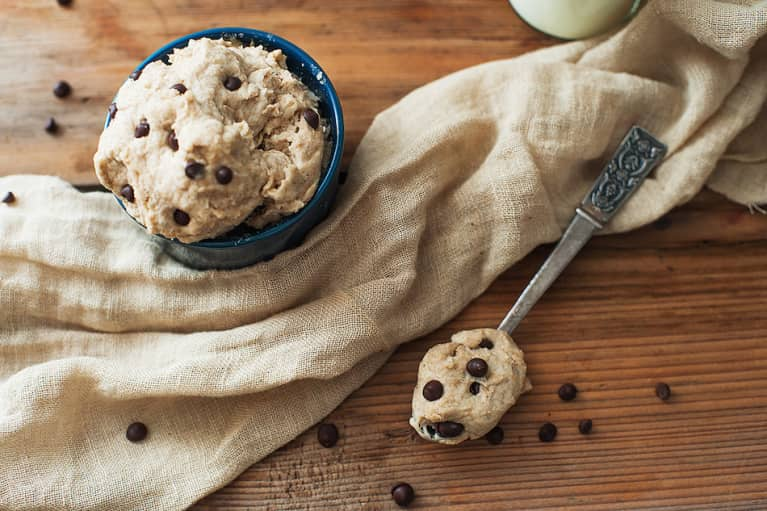 Remember eating raw cookie dough as a kid and—OK, let's be honest—maybe even as an adult, too? I'm sure we've all been there. I mean, who doesn't love cookie dough?
If you're trying to live a healthy lifestyle, cookie dough probably doesn't have a place in your diet, and that's a bummer! With my superfood swaps, I've whipped up a superfood cookie dough recipe that will have you wondering how in the world you're eating something healthy!
This cookie dough is great for anyone with a sweet tooth who just can't seem to kick their love for store-bought cookie dough, or really for anyone who just likes to enjoy a sweet treat.
Now you can have your cookie dough and eat it too! The oat flour and flaxseeds provide a hefty dose of fiber while the flaxseeds also add a superfood punch without disrupting the amazing flavor. With molasses, a pinch of sea salt, and pure vanilla extract, your taste buds won't know the difference between the version you love and this healthy alternative.
This is an easy, bake-free recipe that anyone can make and is even kid-approved! The best thing about this recipe is that it takes only 10 minutes to put together. Make this recipe ahead of time and have it to enjoy as a go-to snack for the week.
(gluten-free and dairy-free)
Serves 6
Ingredients
2 cups gluten-free oat flour (To make your own, see instructions below)
½ cup pure maple syrup
1 teaspoon pure vanilla extract
1 tablespoon unsweetened dairy-free milk
2 tablespoons ground flax
1 teaspoon molasses
Pinch of sea salt
½ cup dark chocolate chips (unsweetened)
Preparation
1. Place the oat flour into a large mixing bowl. If you are making your own oat flour, start by processing 2 cups of gluten-free oats in a food processor and blend until it turns into a superfine powder. Place the flour into a large mixing bowl.
2. Add in the pure maple syrup, pure vanilla extract, and dairy-free milk.
3. Next, mix in the ground flax, molasses, sea salt, and dark chocolate chips. Mix until well combined.
4. Let the cookie dough chill in the fridge for at least 1 hour, and then serve in individual serving dishes. Store in the fridge for a healthy treat during the week.