A Healthy Valentine's Day Menu: Recipes For Brunch, Dessert & Everything In Between

Recipe Developer, Creator of Healthyish
By Sarah Thomas-Drawbaugh
Recipe Developer, Creator of Healthyish
Sarah Thomas-Drawbaugh is a home cook, recipe developer and the creator of the brand, Healthyish®.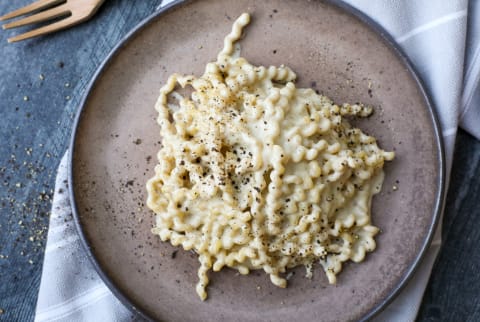 Image by Sarah Thomas-Drawbaugh
February 7, 2021
Our editors have independently chosen the products listed on this page. If you purchase something mentioned in this article, we may
earn a small commission
.
Treat your special someone to the ultimate Valentine's Day spread. From breakfast in bed to a romantic home-cooked dinner for two, I've got you covered. So, turn on your favorite playlist and get ready for a fun and playful day filled with good food and good vibes. This all-day menu, filled with recipes from my site Healthyish, is sure to delight.
Advertisement
This ad is displayed using third party content and we do not control its accessibility features.
Brunch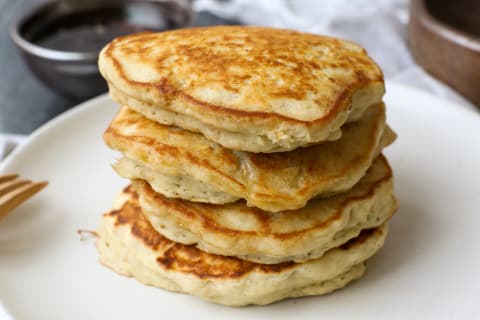 Image by Sarah Thomas-Drawbaugh
Since Valentine's Day falls on a Sunday this year, you'll have a little more time to get creative in the kitchen. For a sweet start to the day, I'd suggest cinnamon bun waffles or a baked French toast casserole.
In the mood for something savory? Try making these incredible crispy hash browns. You can enjoy them with poached eggs and a side of sliced avocado.
Another tasty option is my vegan banana oat pancakes. After all, nothing says love like a tall stack of fluffy pancakes and syrup. Here's the full recipe:
Advertisement
This ad is displayed using third party content and we do not control its accessibility features.
One Bowl Vegan Oat Pancakes
¼ cup smashed banana—about 1 banana (extra ripe)
¼ cup whole grain rolled oats; I used Quaker Oats
½ cup AP flour; didn't test gluten-free or any other flours
½ cup original almond milk
2 teaspoons baking powder
2 teaspoons avocado oil
1 teaspoon vanilla flavor
¼ teaspoon cinnamon
Advertisement
This ad is displayed using third party content and we do not control its accessibility features.
Grab a mixing bowl and add 1 ripe banana. The skin will be preferably browned or have brown spots forming.
Using a fork, smash the banana until it is very soft (like baby food).
Add your vanilla flavor, almond milk, and avocado oil, and stir well using a spoon.
Next, you'll add your AP flour, oats, cinnamon, and baking powder. Stir well.
Gently spray a nonstick skillet with baking spray.
Pour the batter into the pan, and cook until golden brown. Makes 4 medium-size pancakes.
Top with syrup, fruit, or powdered sugar!
Appetizer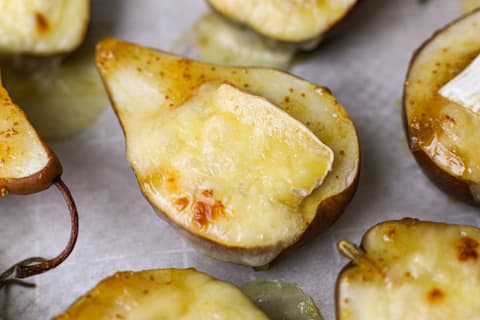 Image by Sarah Thomas-Drawbaugh
Advertisement
This ad is displayed using third party content and we do not control its accessibility features.
For the appetizer course, I'd suggest starting off with these easy-to-make roasted pears with fig spread and Brie cheese. They're perfect for snacking and enjoying with a delicious glass of wine—particularly a pinot noir, which won't overpower the Brie and will taste great with the fruity fig spread. Check out the full recipe:
Roasted Pears With Fig Spread & Brie
Advertisement
This ad is displayed using third party content and we do not control its accessibility features.
Preheat the oven to 350°F.
Line a baking tray with parchment paper, and set it aside.
Cut the pears in half, and core out the seeds using a spoon or melon baller. Leave the skin on.
I also like to shave a small piece of pear off of the back so the pears can sit flat on the baking tray.
Add the pears to the baking tray, fruit-side up. Brush a ½ tablespoon of fig spread on each pear.
Remove the rind from one side of the wheel of brie cheese, and cut the brie cheese into 10 even-size pieces.
Stuff the core of the pears with the brie cheese pieces.
Bake for 25 to 30 minutes depending on how ripe your pears are. If they are very ripe, it may only take 25 minutes. If they are less ripe, you may need 30 minutes.
Remove the pears from the oven, place them on a platter and top them with your favorite toppings. Serve warm and enjoy!
Dinner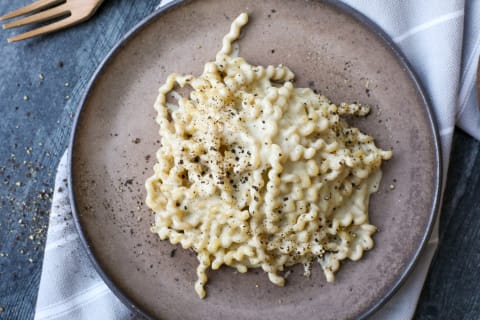 Image by Sarah Thomas-Drawbaugh
When I think of the perfect Valentine's day dinner, pasta always comes to mind. It's simple, delicious, and such a fun meal to make together. For a classic dish, try my shrimp linguine with roasted red pepper sauce. The sauce is light and flavorful. Perfect for folks who may be new to the kitchen since it's made from a few simple ingredients.
For something rich and creamy, you have to try my vegan Alfredo pasta. It's silky, cheesy, and oh-so-satisfying. Check out the full recipe:
Plant-Based Alfredo Pasta
8 ounces cooked linguine or fettuccine noodles
1 tablespoon vegan butter; I used Earth Balance
1 cup soaked raw cashews
1 to 2 cups reserved pasta water
½ cup yellow or white onion
2 tablespoons nutritional yeast
½ teaspoon crushed black pepper
**Soak 1 cup of raw, unsalted cashews overnight in water.**
Boil a pot of water and cook your pasta noodles according to the package. Al dente preferred. Reserve 1 to 2 cups of pasta water. Drain off water and set noodles aside.
In a large sauté pan over medium heat, add the plant-based butter and onion. Let the onion sweat and simmer until it's translucent.
Drain the water from the cashews. Add the soft cashews and crushed black pepper to the pan with the onions. Simmer over medium heat.
Add the cashew/onion mixture into a blender. Add the nutritional yeast and 1 cup of reserved pasta water; blend well.
Pour the creamy sauce back into the sauté pan and simmer over low heat. If the sauce is too thick, simply add more reserved pasta water and stir well.
Add the noodles, and simmer everything together over low heat. Toss the cooked pasta in the sauce until it is well coated.
You can add more crushed black pepper and a pinch of salt to taste if you desire. Serve and enjoy!
Dessert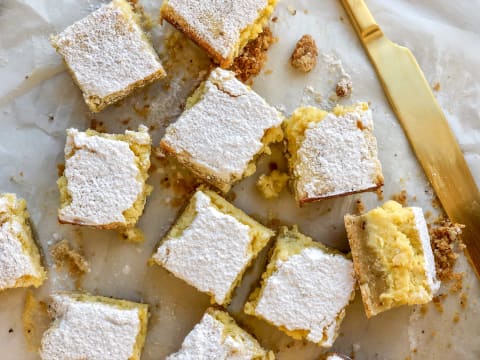 Image by Sarah Thomas-Drawbaugh
Valentine's day would not be complete without a dessert. If you fancy something chocolate, these classic brownies are the way to go. For a Healthyish twist, try making these homemade maple vanilla marshmallows—they take these brownies to the next level and are almost reminiscent of a s'more's brownie. You can also add these marshmallows to a coffee and Baileys for the perfect cozy drink.
While these lemon ricotta bars take a little time to prepare, they are worth every tangy bite. These bars are bright, tart, creamy, and delicious. Enjoy with an espresso martini for a tasty way to finish the meal.
Lemon Ricotta Bar
¾ cup unsalted butter
¾ cup cane sugar
1 teaspoon vanilla extract
1 tablespoon ground flaxseeds
1½ cups all-purpose flour
Pinch of salt
1 cup whole milk ricotta
4 eggs
3 tablespoons of all-purpose flour
1⅓ cups cane sugar
¾ cup fresh lemon juice
Zest from 2 lemons
Preheat oven to 350°F.
Line an 8-by-8-inch glass baking dish with parchment paper. Set aside.
Prepare the crust: Cook butter in a saucepan over medium heat until fully melted. Pour melted butter into a large mixing bowl, and let cool for a few minutes.
Add cane sugar, vanilla, salt, and flaxseeds; whisk until smooth. Fold in AP flour ½ cup at a time.
Press dough evenly into the bottom of the prepared baking pan. Bake the crust for 20 minutes at 350°F.
Prepare the filling: Whisk ricotta, eggs, sugar, and flour in medium-size mixing bowl. Next, you'll stir in lemon zest, lemon juice, and a pinch of salt.
Reduce oven temperature to 325°F. Pour filling into warm crust.
Bake until filling feels firm when lightly touched, about 55 minutes. Cool to room temperature for 1 to 2 hours.
Finish with a dusting of powdered sugar and lemon zest
This is one healthy Valentine's Day menu your sweetie will not forget! Check out more Healthyish recipes or follow along @healthyishfoods on Facebook and Instagram.

Sarah Thomas-Drawbaugh
Recipe Developer, Creator of Healthyish
Sarah Thomas-Drawbaugh is a home cook, recipe developer and the creator of the brand, Healthyish®. Sarah believes that living Healthyish® is a lifestyle centered around the 80/20 rule. Her beliefs are directly reflected in her recipes which are mostly plant-based but sometimes not! Her work can be seen in Healthy-ish by Bon Appetit and Bon Appetit Magazine (digital) along with Women's Health Magazine (digital). Sarah is a Pittsburgh, PA native but currently lives in Vail, Colorado with her husband, Dan and rescue dog, Graci!