Typically comfort foods have a high carbohydrate content that triggers the release of serotonin in our brains that makes us feel warm and fuzzy. Unfortunately, frequent indulgence in our old favorites will quickly add inches to our waist-lines.
Must you banish your much-loved mashed potatoes and gravy because you are committed to eating healthily?
With a twist of the wrist and a couple tweaks, you'll not only relish the flavor of your favorite comfort foods, but you'll also be amazed at their health benefits. Below are recipes for three comfort food favorites whose healthy ingredient substitutes. Indulgence has never been so delicious.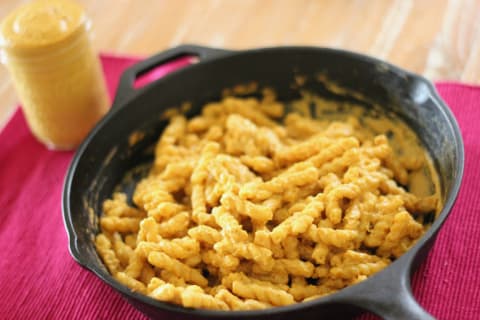 If you love a warm, creamy bowl of mac and cheese but don't want the unhealthy side effects, this recipe is for you. The decadence of creamy cashews, white wine, turmeric and tomato will astound you. It's soul-satisfying and delicious.
Turmeric is a more powerful anti-inflammatory than many drugs and has too many other benefits to list here. Consumption of tomato products is correlated with a healthier heart. And the cashews deliver healthy fats.
16 ounces fusilli or penne pasta (use whole wheat, brown rice or quinoa pasta)
1 tablespoon olive oil
1 medium onion, quartered and thinly sliced
1 teaspoon turmeric
1/2 teaspoon salt
4 cloves garlic, minced
1 teaspoon dried thyme
3/4 cup dry white wine
3 tablespoons tomato paste
1 cup cashews, soaked for at least two hours
1 1/2 cup vegetable broth
freshly ground pepper
1. Bring a large pot of water to a boil for the pasta. When it's boiling, cook the pasta until al dente, still slightly firm. Drain and set aside.
2. Heat a large, heavy-bottomed pan (I recommend cast iron) over medium heat. Add the oil. Saute the onions with a pinch of salt for five minutes until translucent.
3. Add the turmeric, minced garlic, and thyme, and sauté another five minutes. Add the wine, tomato paste, and salt, and turn the heat up to high. When the mixture boils, reduce the heat to simmer. Around half of the wine should evaporate. Continue to stir.
4. Drain the cashews and add them to a blender with the vegetable broth. Blend one to five minutes until creamy. (Time will depend on your blender.)
5. Add the onion mixture to the blender and continue to blend until the mixture is homogeneous.
6. Return the mixture to the pan and cook on medium heat, stirring constantly for five minutes until the mixture thickens.
7. Add the cooked pasta gradually to the sauce, stirring to coat with the cheesy goodness. Garnish with freshly ground black pepper.
Cauliflower Almond Mashed Potatoes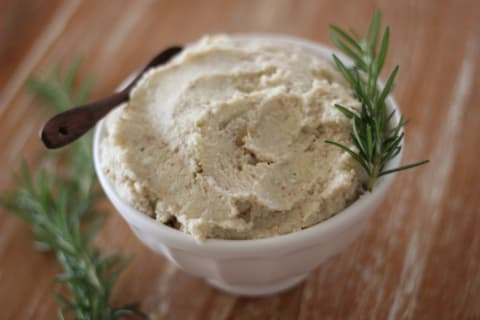 Traditional mashed potatoes are loaded with cream and butter. And the poor potato gets an undeserved bad rap.
You may not realize that potatoes are packed with a variety of vitamins, minerals and phytochemicals that ward off disease and benefit your health. An antioxidant found in potato skin possesses powerful anti-inflammatory properties and protects the body's cells from free radical damage.
In this recipe, replace the butter and cream with almonds and cauliflower, and you now have a health elixir.
Almonds deliver healthy fats and fiber. People who consume nuts live longer and cut their risk of stroke in half. Cauliflower is loaded with cancer-fighting, youth-promoting antioxidants. And I even added a green onion and rosemary to blow this recipe's health properties out of the water.
2 lb. Yukon Gold Potatoes, washed and chopped into 1" chunks
1 cup almonds
1 medium head cauliflower - around 4 cups, broken into small florets
1 green onion sliced thinly
1 sprig rosemary
2 tablespoons olive oil
sea salt + fresh ground pepper
1. Put the potatoes into a large pot, and cover with water. Boil at medium heat.
2. While the potatoes are cooking, grind the almonds to a fine powder in a food processor.
3. Put the cauliflower into a separate pot, cover with water and boil for 10 minutes until very tender. After eight minutes, add the green onion to the pot.
4. Add the cauliflower to the food processor and puree to a fine pulp.
5. Drain the potatoes and put into a large bowl. Use a potato masher to mash coarsely.
6. Heat the olive oil on low heat, and add the rosemary sprig. Cook for three minutes to infuse the olive oil with rosemary flavor.
7. Add the cauliflower and almond mixture to the potatoes, and mix well.
8. Drizzle with olive oil, and finish with salt and pepper.
Five-Ingredient Chocolate Shake (that could change your life)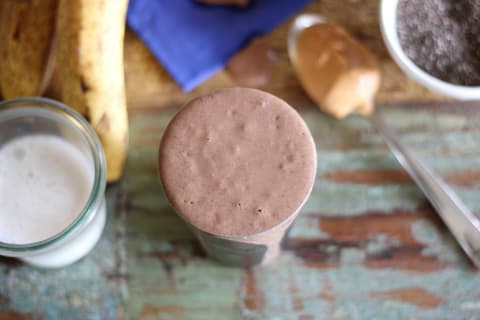 Chocolate milkshakes are a favorite food of most children. But the saturated fat and sugar in most milkshakes will send a healthy foodie running away screaming.
This version replaces the ice cream with nature's wonder — frozen bananas. Instead of processed, sugar-filled cocoa mixes, we used unprocessed cocoa powder. Cocoa is rich in powerful antioxidants called flavonoids and improves arterial function. It takes just a teaspoon of natural cocoa powder. The beneficial effects are amplified by the lack of sugar in the recipe.
And the chia seeds give you a healthy dose of anti-inflammatory Omega 3 fatty acids, protein, fiber and calcium. They make you feel full for longer and can help with weight loss.
1 frozen banana (chop ripe banana into chunks then freeze)
3/4 cup of nut milk
2 tablespoons natural cocoa powder (raw cacao powder works wonderfully too)
1 tablespoon of peanut butter (or two if you'd prefer stronger peanut butter flavor)
1 tablespoon of chia seeds
3 ice cubes
Put all ingredients into blender. Blend until creamy.
Photo courtesy of the author

Jessica Blanchard
Ayurvedic practitioner
Jessica Blanchard is a registered dietitian, longtime Ayurvedic practitioner, and yoga teacher. She's on a mission to dispel dietary myths and make healthy habits accessible to everyone. Grab your free 7-Day Meal Plan at stopfeelingcrappy.com and feel healthier and fitter one bite at a time.