A Healthy Quiche Recipe With An Immune-Supporting Ingredient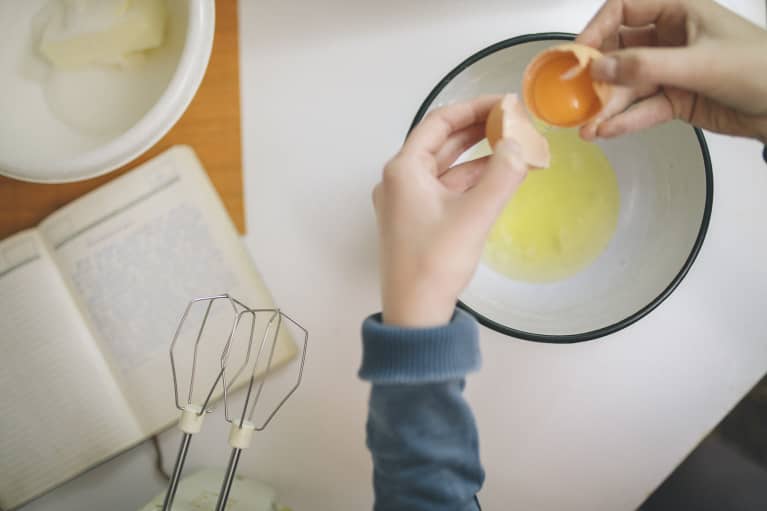 This article was produced to support the mindbodygreen supplements+ line. Our supplements adhere to the highest standards of ingredients and quality. We hope you enjoy these products, for more information
click here
.
Whether feeding a crowd or prepping for the week ahead, large and healthy breakfast options are hard to come by. Sure, you could make a batch of muffins or a plate full of pancakes, but those tend to lack protein and necessary nutrients from vegetables. Enter: a veggie-packed quiche that's easy to make and has a secret immune-supporting ingredient.
This quiche recipe, created by registered dietitian Maggie Michalczyk, R.D., contains protein from eggs and a double dose of vegetables from chopped, fresh varieties and mbg organic veggies+ greens powder.
"Organic veggies+ is a convenient way to sneak in extra veggies, plus antioxidants," registered dietitian Jess Cording, M.S., R.D., CDN, adds.*
Immunity benefits of this veggie quiche.*
While most people would serve fruit on the side of their quiche, this one sneaks them into it, without compromising the savory flavor of the egg bake.
The veggies+ powder contains an antioxidant fruit blend, with a range of berries, acerola cherries, black currant, and acai. These vitamin-C-rich fruits help support immune functioning, which is critical during COVID-19 and the transition into fall (aka cold and flu season).*
The immune-enhancing benefits don't stop there, though. The blend also contains cruciferous vegetables, like kale, green cabbage, and broccoli. These green leafy vegetables are loaded with fiber to support gut health, which in turn supports immunity.*
The blend also contains ginger and turmeric, which have been shown to help maintain immunity against infections and viruses, due to their anti-inflammatory properties.*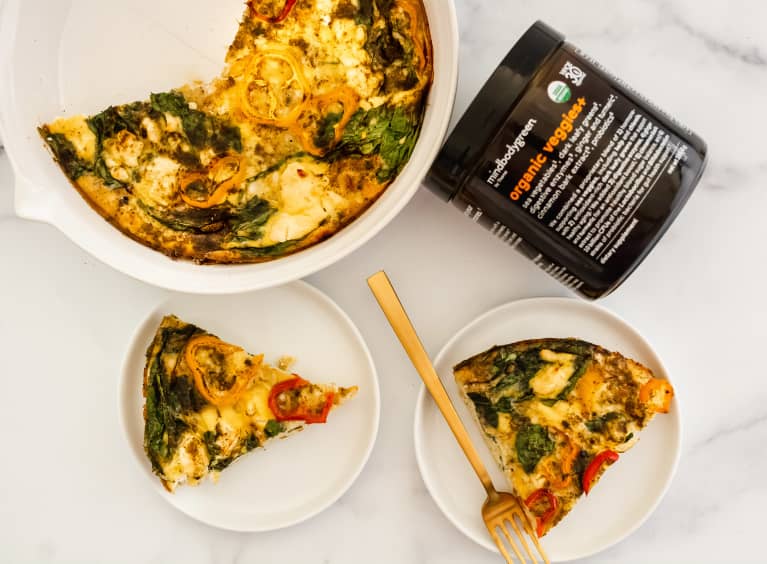 6 eggs
¼ cup almond milk
1 cup spinach
1 cup mixed veggies of your choice (i.e., sliced bell peppers, zucchini, tomatoes, broccoli or cauliflower florets)
⅓ cup crumbled feta cheese
1 tbsp. mbg organic veggies+
1 tsp. garlic powder
Salt and pepper to taste
Preheat the oven to 400°F and grease an 8- or 9-inch skillet.
Whisk the eggs and almond milk together.
Add the garlic powder, salt, and pepper.
Add spinach and mixed veggies.
Sprinkle ½ tablespoon of organic veggies+ into the egg mixture (reserving the other half for sprinkling on top).
Add the cheese.
Pour into the greased skillet and sprinkle the remaining tablespoon of organic veggies+ on top.
Bake for 40 minutes, let cool, and enjoy! Store covered in the fridge.
So whether you feel a cold coming on or you're just looking for a delicious breakfast to enjoy all week, this quiche should hit the spot.