7 Healthy Pumpkin Recipes (With Bonus Benefits) To Whip Up This Fall
mbg Nutrition & Health Writer
By Eliza Sullivan
mbg Nutrition & Health Writer
Eliza Sullivan is a food writer and SEO editor at mindbodygreen. She writes about food, recipes, and nutrition—among other things. She studied journalism at Boston University.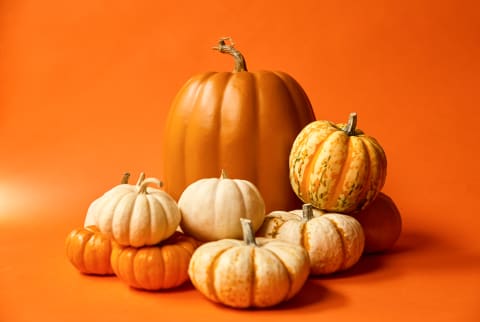 Image by Cros Studios / Stocksy
October 23, 2020
It is well and truly pumpkin season: The leaves are falling, Halloween is around the corner, and we've picked up our favorite autumnal items at Trader Joe's. Unfortunately, many of the iconic treats of the season aren't necessarily the healthiest, but that doesn't mean we should skip them altogether: It's about making sure they're serving us nutritionally, too. Enter these pumpkin-powered recipes, packed with bonus benefits.
By simply adding pumpkin to your recipes, you're adding valuable nutrients. But there are other ingredients that can also up the nutrition ante. Here, a few of our favorite recipes that harness this iconic fall flavor with even more health benefits.
Pumpkin Bread With Hidden Nutrients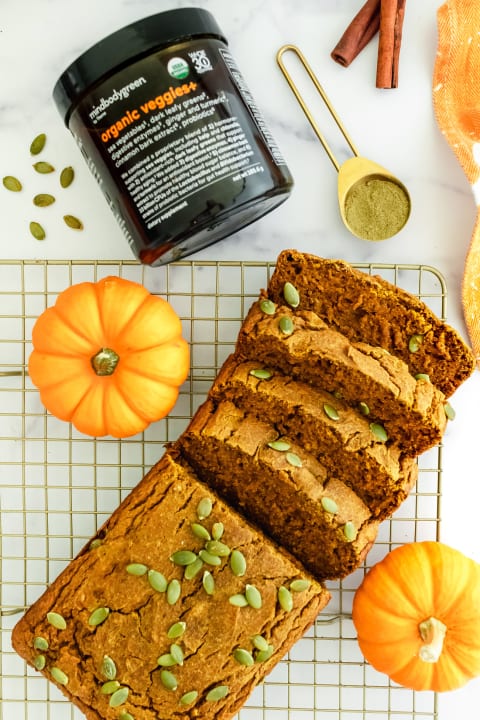 Photo by Maggie Michalczyk
Finding a go-to pumpkin bread recipe has been one of my autumnal traditions in recent years, but thankfully this year mbg and Maggie Michalczyk, R.D., did the work for me with this nutrient-loaded update to a classic recipe. It's gluten-free and dairy-free and flavored with all the best fall spices: nutmeg, cinnamon, and cloves. Not only that, but it works in a serving of mbg organic veggies+, which contains turmeric and ginger for extra spice-based benefits.
"Adding a serving of organic veggies+ is such a great insurance policy because it can be hard to get everything found in this greens powder through our diet," Michalczyk says. The hidden veggies this adds include kale, broccoli, and even sea veggies—perfect for getting a sneaky serving in when you're after something decidedly less green-tasting.
Pumpkin Pie Spice Cookies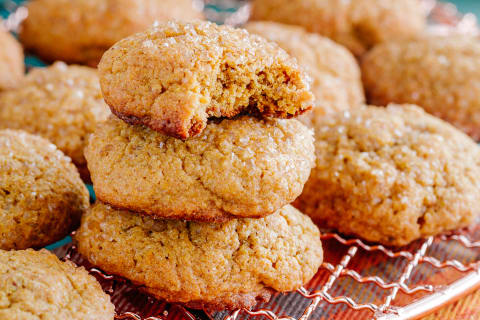 Sure, the addition of veggies is slightly more noticeable here: "They're not the prettiest, but these would be super-cute decorated, half-dipped in dark chocolate, or with nuts folded into the dough," Cording says. If you're trying to keep on theme, you could reach for pumpkin seeds to top off these 12-ingredient, gluten- and dairy-free cookies.
Vegan-Keto Pumpkin Spice Latte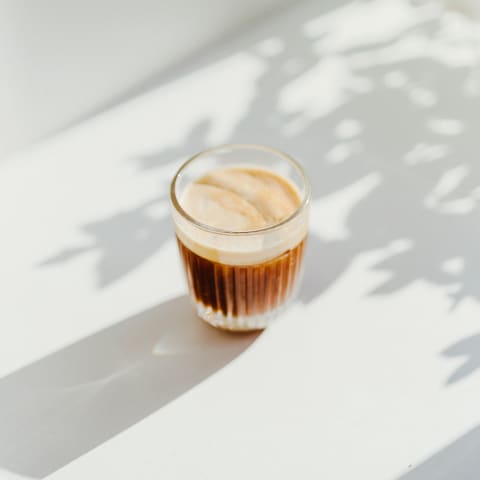 Image by Jarek Ceborski / Stocksy
If you're looking for a healthier alternative to a classic PSL, you can try this ketogenic- and vegan-friendly version from functional medicine practitioner William Cole, D.C., IFMCP. "With just a few simple ingredient swaps, you can easily recreate this classic fall drink from the comfort of your own home," he writes. "You can not only enjoy a delicious PSL but also fuel your body with nourishing superfoods in each sip."
Sweetened naturally with your choice of stevia, allulose, or monk fruit, his recipe includes a dose of MCT oil. Also known as medium-chain triglycerides, MCT oils are a popular coffee addition. They're thought to benefit brain health2 and to help promote ketosis.
5-Ingredient Pumpkin Soup Recipe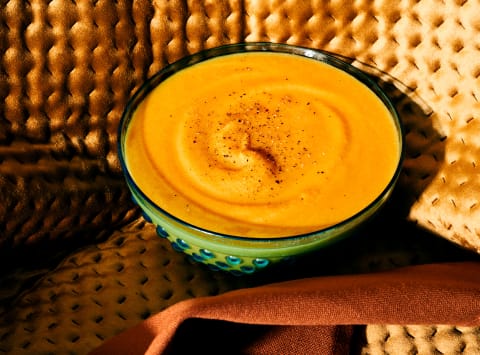 Image by JUAN MOYANO / Stocksy
Pumpkin dishes aren't limited to sweet treats! Savory applications of pumpkin are, no exaggeration, phenomenal. And this soup is even better because it only has five ingredients—quick and simple enough for making any weeknight. Ella Davar, R.D., CDN, shared her recipe for the perfect fall soup harnessing the power of mbg organic veggies+ and its blend of fall spices—ginger, turmeric, and cinnamon—and nutritious greens.
Pumpkin Pie Breakfast Quinoa
Image by SMarina / iStock
This low-FODMAP breakfast dish simply screams fall and features a twist on classic porridge. "Quinoa is an ancient grain and a complete protein source, which means it contains all 20 amino acids," writes physician and researcher Rachel Pauls, M.D. "Cooked quinoa is low-FODMAP in servings of one cup and is a great choice for vegans."
The dish is a great candidate for make-ahead breakfasts. Pauls recommends portioning the porridge into Mason jars, and topping it with toasted nuts (pecans are perfect, she says) before enjoying it for a quick, easy, and seriously protein-packed, plant-based breakfast.
Pumpkin Pie Smoothie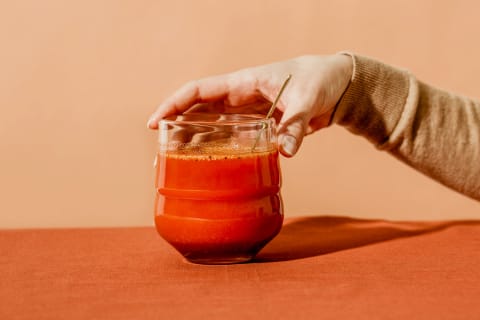 Image by Tatjana Zlatkovic / Stocksy
You can quote us on this one: We should all be adding pumpkin to our fall (and winter) smoothies. "Adding pumpkin to your smoothies is a great way to get in additional fiber, low-glycemic carbs, and antioxidants," writes holistic nutritionist Samantha Gladish on mindbodygreen.
Her recipe for a vegan pumpkin pie smoothie has all the building blocks of a great smoothie: healthy fats, protein, fiber, and spices. Don't let the banana in the mix fool you: The dominant flavor here is undoubtedly pumpkin, plus hints of cinnamon and pumpkin pie spice.
Pumpkin-Spiced Whipped Coffee
Image by DARINA KOPCOK / Stocksy
Combine two trendy treats with this pumpkin spiced whipped coffee: We promise it tastes better than your everyday PSL, plus it's great for those warmer fall days.
Eliza Sullivan
mbg Nutrition & Health Writer
Eliza Sullivan is an SEO Editor at mindbodygreen, where she writes about food, recipes, and nutrition—among other things. She received a B.S. in journalism and B.A. in english literature with honors from Boston University, and she has previously written for Boston Magazine, TheTaste.ie, and SUITCASE magazine.