5 Healthy Pancake Recipes To Try This Mardi Gras, No Matter Your Diet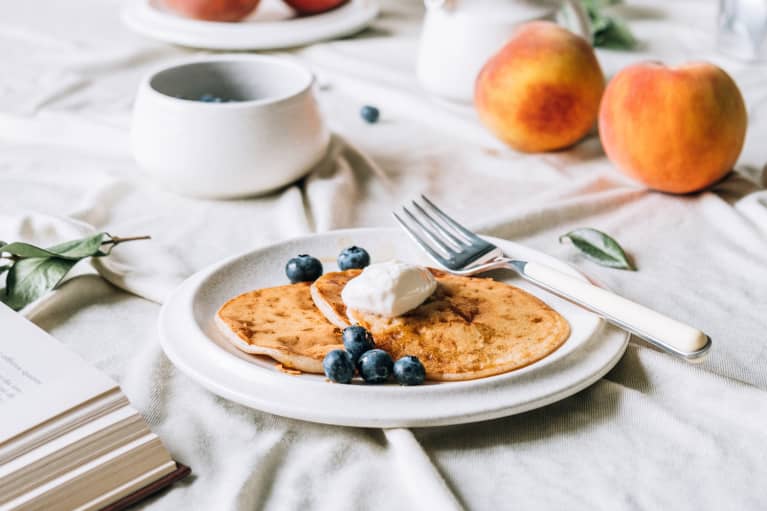 Mardi Gras, or "Fat Tuesday," is more or less known as the day to get all your sins out of your system before Lent begins on Ash Wednesday the following day. Drinks are had, beads are thrown, and pancakes are eaten. And whatever diet you eat, we believe you should be able to partake in pancakes.
From keto to vegan, we rounded up five of our favorite healthier pancake recipes to make this Mardi Gras (or any time, tbh).
Coconut Flour Pancakes With Maple Bananas
If gluten has kept you from this breakfast treat, have no fear. This GF coconut flour pancake recipe makes some seriously rich and fluffy cakes, with the wonderful addition of caramelized bananas to add a little extra something sweet.
Ingredients (serves 2)
½ cup coconut flour
1 teaspoon baking powder
Sea salt
3 tablespoons coconut oil, melted, plus a little extra for frying
4 extra-large eggs, lightly beaten
½ cup almond or coconut milk
2 bananas, sliced
6 tablespoons maple syrup
Sift the flour and baking powder into a mixing bowl. Stir in the salt and make a well in the center of the flour. Pour in the oil and eggs and whisk to gradually incorporate the flour. Whisk in enough milk to achieve a heavy cream consistency.
Heat a little coconut oil in a large, nonstick frying pan and drop 2 tablespoons of the batter into rounds, leaving a little space between each. Cook the pancakes for 1 to 2 minutes. When the edges are set and there are bubbles covering the surface of the pancakes, flip them over and continue to cook for another 1 to 2 minutes until risen, golden, and fluffy. Set aside and keep warm while you repeat the process until the batter has been used up.
Keep the pan on the heat and add a little more oil. Add the sliced bananas and cook for 30 seconds, until they start to take on a little color. Pour in 2 tablespoons of the maple syrup, turn the bananas over, and cook for another 30 to 60 seconds, until golden and syrupy.
Divide the pancakes between two plates and serve with the bananas and remaining maple syrup.
Keto Cream Cheese Pancakes
For the folks who want to get their pancake fix but stay in ketosis, enter these keto pancakes made with cream cheese. Unlike their high-carb counterparts, these pancakes used blanched almond flour, which only has about 22 grams of carbs per cup, plus a nice dose of vitamin E. Try heating up some berries in a pot with a little butter, and use an immersion blender to make a berry syrup!
Ingredients (makes 3 pancakes or 1 serving)
2 medium eggs
2 ounces cream cheese
½ teaspoon vanilla extract
¼ cup blanched almond flour
1 teaspoon confectioners-style erythritol
¼ teaspoon baking powder
Salted butter, for serving
Combine the eggs, cream cheese, vanilla, almond flour, sweetener, and baking powder in a blender and blend on medium-high speed until smooth. Use a fork to pop the large bubbles on the top of the batter.
Coat a medium-size skillet with coconut oil spray or ghee and place over medium heat. Once hot, pour one-third of the batter into the pan. Flip the pancake when the sides are firm and bubbles appear evenly throughout, 1 to 3 minutes, then cook for another 1 to 3 minutes on the second side.
Repeat with the remaining batter to make a total of 3 pancakes.
Serve topped with butter and berries.
Sweet Potato Spice Protein Pancakes
These warming and protein-packed sweet potato pancakes are super reminiscent of fall, and they're gluten-free to boot! The use of lentils might raise some eyebrows, but you can't taste them (and they lend the protein). Leftovers can be frozen, so feel free to double the recipe to make a big batch. Let a serving or two defrost overnight and then simply reheat lightly in a pan the next morning!
Ingredients (makes 20 pancakes or 5 servings)
½ cup red lentils
1 cup water
½ cup canned full-fat coconut milk
3 large eggs
3 tablespoons maple syrup
¼ teaspoon maple extract (optional)
1 teaspoon vanilla extract
½ cup mashed sweet potato*
⅔ cup almond flour
1½ teaspoons cinnamon
1 teaspoon baking powder
*To make mashed sweet potato: Peel 1 small sweet potato and chop into 2-inch pieces. Bring 4 cups of water to a boil in a small saucepan. Add sweet potato chunks and boil 8 to 10 minutes or until easily pierced with a fork. Drain and rinse with cold water, then add to a bowl and mash with a fork. Don't want to bother with this process? Substitute canned pumpkin puree.
Preparation
Combine lentils and water in a bowl and place on the counter away from the sunlight. Allow lentils to soak overnight or 8 hours. In the morning or after soaking, drain and rinse lentils (there will only be a little excess water). Place coconut milk, then lentils, and all remaining ingredients in a blender, in the order listed. Puree until smooth.
Heat a seasoned cast-iron or other nonstick skillet to medium heat. Holding your batter close to the pan, pour approximately 3 tablespoons batter per pancake. Start testing pancakes to flip when they are dotted with air bubbles and the edges have begun to turn golden brown. You can use your flat spatula to gently peek underneath. Flip pancakes and cook approximately 1 to 2 minutes on remaining side.
Continue with remaining batter. Note that you might need to lower the heat as you continue to cook, as the pan will get hotter. Also note that you might have to add 1 tablespoon or 2 of butter or coconut oil to the pan, if you're not using a nonstick or cast-iron skillet.
Serve pancakes immediately. We love them with maple syrup, coconut cream or butter, extra cinnamon, toasted coconut flakes, or sliced banana.
Vegan & GF Sweet Teff Pancakes
For the plant-based people, these sweet teff pancakes are vegan and gluten-free. Teff is an ancient grain native to Ethiopia, and it's loaded with protein and minerals like iron and calcium. If you've ever had injera, the bread nearly always served with Ethiopian food, that's made from teff flour—and you'll be pleasantly surprised just how versatile it can be when you try these cakes.
Ingredients (makes 15 pancakes or 4 to 5 servings)
2 cups teff flour
1 tablespoon baking powder
1 tablespoon arrowroot powder
½ teaspoon sea salt
2 tablespoons coconut oil
2 cups almond milk
1 tablespoon vanilla extract
1 to 2 tablespoons vegan sweetener of choice (optional)
1 teaspoon cinnamon (optional)
Preheat griddle over medium heat.
Mix teff flour, baking powder, arrowroot powder, and sea salt in a large bowl. Add coconut oil, almond milk, vanilla extract, and sweetener. Mix until all ingredients are combined.
Pour ⅛ to ¼ cup of batter onto griddle.
Flip pancakes when bubbles begin to form on top of pancake and bottoms are golden brown.
Serve with pure maple syrup and fresh strawberries.
Savory Super Spinach Pancakes
And lastly, we had to include a savory option, just in case your sweet tooth isn't that strong come Mardi Gras (or brunch this weekend). These savory, super spinach pancakes are loaded up with vegetables and herbs and don't skimp on flavor with the addition of lime, scallions, and hot chili sauce. Get creative and swap out the spinach for soft herbs like parsley, basil, tarragon—really anything you'd like!
Ingredients (serves 6)
1 ripe avocado
12 oz. ripe mixed-color cherry tomatoes
3½ oz. baby spinach
3 scallions
½ bunch fresh cilantro (½ oz.)
1 lime
Extra-virgin olive oil
1 large egg
1 cup self-rising flour
1 cup reduced-fat (2%) milk
10 oz. cottage cheese
Hot chili sauce
Halve, pit, peel, and finely slice the avocado and quarter the tomatoes, then place in a salad bowl with a quarter of the spinach. Trim, finely slice, and add the scallions, and pick in the cilantro leaves, then squeeze over the lime juice. Drizzle with 1 tablespoon of extra-virgin olive oil, season to perfection with sea salt and black pepper, toss to coat, and put aside.
Crack the egg into a blender; add the flour, milk, remaining spinach, and a pinch of pepper; then blitz until smooth. Place a large nonstick frying pan on medium heat, rub the pan with a little olive oil, then pour in a thin layer of batter, swirling it up and around the edges. Cook on one side only for 2 minutes, or until lightly golden, then stack up on a serving plate and repeat.
Top each pancake with dollops of cottage cheese, the avocado salad, and a few good shakes of chili sauce. Really nice served with extra lime wedges for squeezing over and a fried egg on top, if you fancy.
Give these recipes a try next time you've got a craving for hotcakes! Not to say you can never have "regular" pancakes again—but if dietary restrictions or allergens have kept you from this classic breakfast staple, know you've got options.
Want to turn your passion for wellbeing into a fulfilling career? Become a Certified Health Coach! Learn more here.