Meal Prep Sunday: Beautifying Roasted Carrots + Cauliflower With Lime Sambal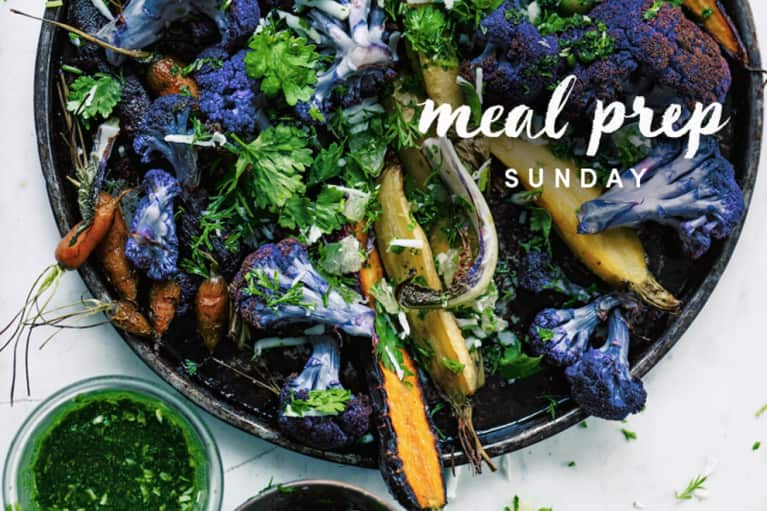 Our editors have independently chosen the products listed on this page. If you purchase something mentioned in this article, we may
earn a small commission
.
Welcome to Meal Prep Sunday, where you'll make a single, healthy recipe with serious bodily benefits, whether it makes your skin glow, helps soothe your gut, boosts your immunity, or more! Because it gets boring to eat the same thing every day, you'll do the bulk of the prep on the first day—and every day after that, there will be one small, five-minute-or-less tweak that will transform the leftovers into a new, amazing meal.
The new book Good Veg by Alice Hart, showcases the kind of flavorful, vegetable-focused food we love to eat. This recipe for Roasted Cauliflower & Carrots uses ingredients in clever ways for minimal waste (carrot-top sambal, anyone?) and maximum tastiness (we want the coconut cilantro chutney on everything). The combination of vitamins A & K from carrots, vitamin C from cauliflower, the liver-supportive properties in cilantro, and healthy fats from coconut all create a meal that will set you up for a week of skin benefits.
(If you can't find fresh coconut, you can use frozen coconut, unsweetened desiccated coconut, or omit.)
I tend to serve this with rice, simmered with a twinkle of coconut milk in the water and a scrunched-up lime leaf to scent, but pretty much any cooked grain or lentil would do. Or serve it as a starter without any accompaniment. And, of course, you don't need to seek out the purple cauliflower and multicolored carrots shown in the picture; I couldn't resist their garishness, but standard colors will taste the same.
Shopping List for the Week
2 bunches of carrots
1 head of cauliflower
8 ounces fresh coconut (can be frozen)
coconut butter
2 limes
1 bunch cilantro
2 green chilies
baby spinach
Pantry Staples (purchase if you don't have)
garlic
salt and pepper
desiccated coconut
madras curry powder (or your favorite curry powder)
palm sugar or brown sugar
olive oil
1 can coconut milk
vegetable broth
Roasted Cauliflower + Carrots with Lime Sambal and Cilantro Chutney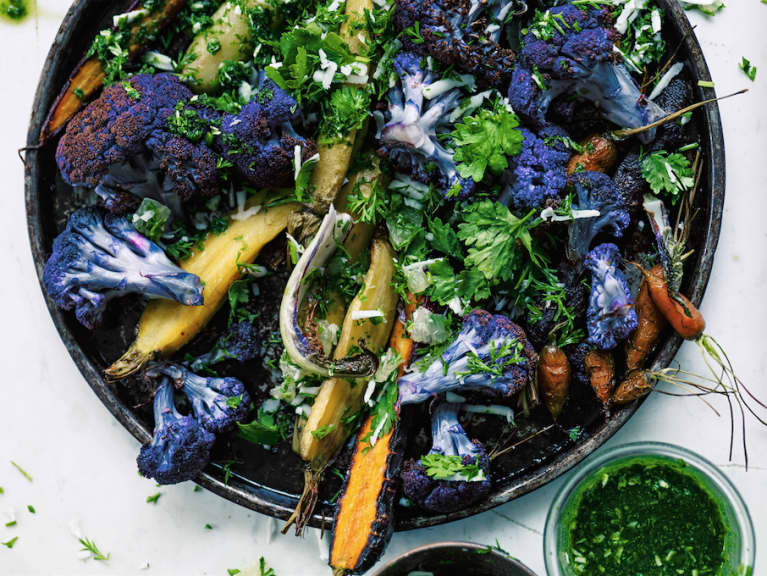 Serves 4 with rice
Ingredients
2 bunches of carrots, trimmed, any leafy tops reserved
1 cauliflower, trimmed and separated into florets
2 tablespoons coconut butter, melted, or peanut oil
Sea salt and freshly ground black pepper
2 limes
1 cup (90 g) coarsely grated fresh coconut
2 handfuls of cilantro, roughly chopped
2 green chilies, deseeded and finely chopped
1 to 2 teaspoons palm sugar or brown sugar, to taste
1 small garlic clove, crushed
1 tablespoon desiccated coconut
Instructions
1. Preheat the oven to 425°F (220°C).
2. In a large baking sheet, toss the carrots and cauliflower florets with the melted coconut butter. Season with salt and pepper, spread out well, and roast for about 30 minutes, until soft and sweet.
3. Meanwhile, make a little sambal. Finely grate the zest of 1 of the limes, then pare the skin and pith from the sides and remove the segments, discarding the tough membranes holding them together. Roughly chop the flesh and transfer to a mixing bowl with the zest. Finely chop a handful of the reserved and rinsed carrot tops and add to the mixing bowl with the grated coconut, 1 handful of chopped cilantro and 1 finely chopped green chile. Season with salt, pepper, and sugar to taste.
4. For the chutney, pulse the remaining cilantro in a mini food processor with the garlic, the juice of the second lime, and a pinch of salt. Add a splash of water to get the blades moving; it should have a very loose consistency. Stir in the desiccated coconut and season to taste.
5. Serve the roasted vegetables with all the sambal and some of the cilantro chutney spooned over. The remaining chutney can sit on the side, ready to add as wanted.
Heat some more coconut butter in a large pot over medium-high heat. Add 1 chopped garlic clove and 1 teaspoon madras curry powder and fry for 30 seconds. Add a can of coconut milk. Stir and heat to a simmer; add veggies and let stand for 5 minutes to let the flavors meld. Serve over rice with more sambal.
Smash some avocado in a bowl with a spoonful of chutney. Salt to taste. Warm tortillas, then top with vegetables and the chutney guacamole.
Combine ½ cup millet and 2 cups vegetable broth. Bring to a boil, season with salt, and cook, covered for 15 to 20 minutes, stirring toward the end. Add more broth for a creamier texture. Stir in a handful of baby spinach. Top with a portion of cauliflower and carrots, and a drizzle of olive oil.
DAY 5: Cauli Chickpea Bowl
Finely chop cauliflower and carrots and combine with chickpeas in a skillet to warm. Drizzle with olive oil, salt and pepper, and lemon juice and cook for 3 to 4 minutes. Stir in a handful of chopped baby spinach. Enjoy with any leftover sambal or chutney.