Meal Prep Sunday: Leek Soup That's Great For Your Gut
Our editors have independently chosen the products listed on this page. If you purchase something mentioned in this article, we may
earn a small commission
.
Welcome to Meal Prep Sunday, where you'll make a single, healthy recipe with serious bodily benefits, whether it makes your skin glow, helps soothe your gut, boosts your immunity, or more! Because it gets boring to eat the same thing every day, you'll do the bulk of the prep on the first day—and every day after that, there will be one small, five-minute-or-less tweak that will transform the leftovers into a new, amazing meal. Today, we're sharing a recipe from Nina Olsson of Nourish Atelier and author of the new book, Bowls of Goodness (currently available in the UK and Australia, and debuting in the U.S. this summer). Her leek and potato soup is not only creamy and delicious, but leeks are an amazing prebiotic food (prebiotics are what probiotics like to feed off of) that help to balance the healthy bacteria in your gut. Get all the details for the soup and different ways to serve it below.
This comforting and filling potato and leek soup is always a hit! The leeks give it a wonderful flavor and the potatoes add substance. If you prefer, you can substitute the potatoes for Jerusalem artichokes. This soup is based on the classic French Vichysoisse, but tweaked by replacing the heavy cream with the lighter creaminess of almond milk, almond butter and crème fraîche. Use vegan crème fraîche to make it completely plant based.
Shopping List for the Week
1 lb (500g) potatoes
5 leeks
1 1/2 cups almond milk
1/3 cup crème fraîche or vegan crème fraîche
3 tablespoons (50 ml) white wine
1 (15 ounce) can white beans/1 1/2 cups cooked white beans
1 bunch lacinato kale
1 bunch fresh leafy herbs like basil
1 medium butternut squash
1 crown broccoli
1 lemon
Pantry Staples (purchase if you don't have)
Olive oil
Vegetable broth
Quinoa
1 1/2 tablespoons almond butter
Breadcrumbs
Parmesan and/or nutritional yeast
Chili flakes
Salt & pepper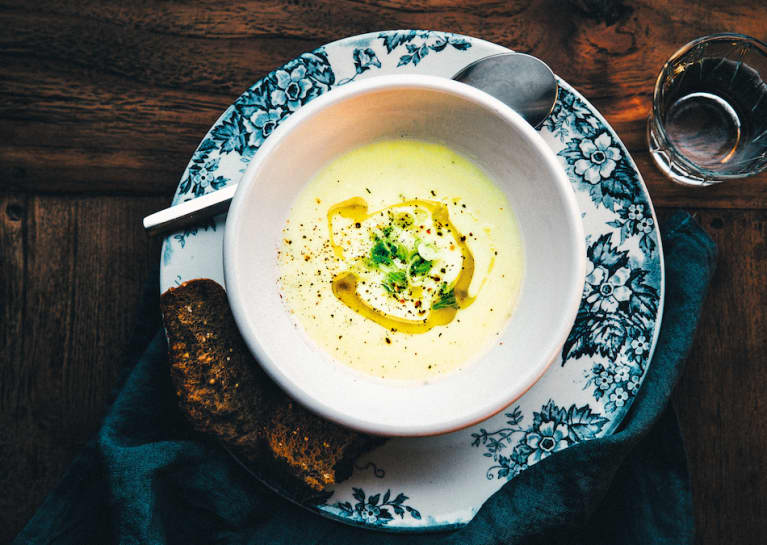 1 lb (500g) potatoes, peeled and diced
drizzle of olive oil or 2 tablespoons butter
5 leeks, cleaned and cut into pieces
3 cups (750ml) vegetable broth
1 1/2 cups (350ml) almond milk
3 tablespoons (50ml) white wine
1 1/2 tablespoons (25ml) almond butter
1/3 cup (75ml) crème fraîche or vegan crème fraîche
1 teaspoon salt
black pepper
bread
extra virgin olive oil
For a vegan: Use olive oil instead of butter and vegan crème fraîche.
For gluten-free: Serve with gluten-free bread.
Method
1. In a large pan, boil the potatoes until soft then drain and set aside. In a frying pan over a medium–high heat, heat a drizzle of olive oil or 2 tablespoons of butter and sauté the leeks for 2-3 minutes, until soft.
2. In a large saucepan, combine the leeks with the potatoes and the remaining soup ingredients and bring to the boil. Reduce the heat to low and let it simmer for 10 minutes. Remove from the heat, transfer to a food processor and blend until smooth. Serve with bread and a drizzle of extra virgin olive oil.
Tip!: This soup can be served cold and warm, the traditional Vichyssoise soup is often served cold.
DAY 2: White Bean + Kale Stew
Mix 1 portion of soup with a can of drained and rinsed white beans, two large handfuls of shredded kale, and another 1/2 cup of vegetable broth. Heat together until kale is wilted. Serve with chili flakes and a squeeze of fresh lemon.
Heat oven to 375°F. Light grease a square baking pan with ghee or olive oil. Combine 3 cups thinly sliced (1/4-inch) butternut squash with 1 portion of the soup and place in the prepared baking pan. Sprinkle with panko breadcrumbs and a little nutritional yeast or parmesan. Bake for 30 minutes until squash is tender and breadcrumbs are golden.
DAY 4: Quinoa + Broccoli Bowls
Steam or roast broccoli until tender. Meanwhile, cook quinoa, if not cooked already. Combine quinoa and broccoli in bowls and top with 1/2 cup of warmed leek soup as a creamy sauce. Spritz with lemon and season with salt and pepper, if desired.
DAY 5: Creamy Pasta Sauce
Combine 1 serve of soup with 1/4 cup of fresh basil leaves and blitz in a food processor or blender to combine. Toss the sauce with cooked pasta (we love chickpea or rice noodles), wilted kale, and a little of the pasta cooking water. Top with parmesan or nutritional yeast and some more basil leaves.