Close Banner
Advertisement
This ad is displayed using third party content and we do not control its accessibility features.

By Leah Vanderveldt
mbg Contributor
Leah Vanderveldt is an author living in Brooklyn, New York. She received her bachelor's in communications and media from Fordham University, and is certified in culinary nutrition from the Natural Gourmet Institute. She is the author of two cookbooks: The New Nourishing and The New Porridge.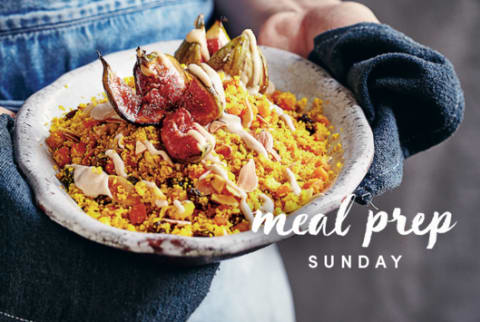 Photo by Nassima Rothacker | mbg creative
Welcome to Meal Prep Sunday, where you'll make a single, healthy recipe with serious bodily benefits, whether it makes your skin glow, helps soothe your gut, boosts your immunity, or more! Because it gets boring to eat the same thing every day, you'll do the bulk of the prep on the first day—and every day after that, there will be one small, five-minute-or-less tweak that will transform the leftovers into a new, amazing meal.
This cauliflower couscous from the book The New Vegan by Aine Carlin takes spices seriously. The North African spice blend ras al hanout contains anti-inflammatories like turmeric, ginger, cinnamon, and coriander, and the blend of flavors works so well, you won't want to make cauliflower couscous or rice any other way. Get the recipe and all the delicious ways Aine would serve this throughout the week below.
Packed full of "Middle-Eastern Promise" this simple cauli-bowl with roasted figs is bound to become your new way to serve a comfortingly familiar ingredient. For that ultimate carb-like experience without the guilt or typical bloated durum wheat aftermath (we've all been there) make this grain-free (and gluten-free!) couscous your go-to dinnertime dish. Wonderfully versatile, it's a great base for many a meal including easy romaine lettuce "taco" wraps, as an alternative accompaniment to stews or as a delicious topping for soups … I can't think of a better way to get your five-a-day.
Shopping List for the Week
1 head of cauliflower
2 shallots
1 large carrot
2 garlic cloves
1-cm (½-inch) piece of fresh ginger
raisins
toasted flaked almonds
2 ripe figs
black beans
cilantro
1 lemon
romaine lettuce
passata sauce
butter beans
baby spinach
block of tofu
arugula
2 potatoes
1 avocado
Pantry Staples (purchase if you don't have)
coconut oil
tahini
garlic
quick preserved lemons
agave nectar
pomegranate molasses
ground cumin
ground coriander
turmeric
ground ginger
allspice
paprika
cinnamon
nutmeg
sea salt
pepper
soy sauce or tahini
sesame oil
vegetable broth
BASE MEAL
Crunchy Cauliflower Couscous with Roasted Figs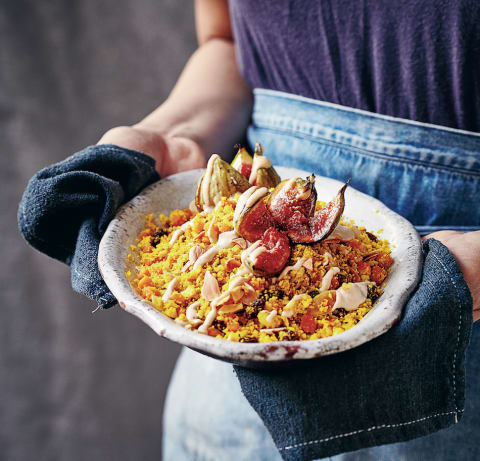 Photo by Nassima Rothacker
1 small cauliflower, broken into florets
1 heaped teaspoon coconut oil
2 shallots, finely diced
1 large carrot, finely diced
2 garlic cloves, grated
1-cm piece of ginger, grated
1 heaped teaspoon preserved lemons, chopped
Handful of raisins
Handful of toasted flaked almonds
Sea salt and freshly ground black pepper
1 heaped teaspoon ground cumin
1 teaspoon ground coriander
1 teaspoon turmeric
½ teaspoon ground ginger
½ teaspoon allspice
½ teaspoon paprika
¼ teaspoon ground cinnamon
¼ teaspoon freshly ground nutmeg
1. Preheat the oven to 350°F/180*C/Gas mark 4.
2. Prepare the roasted fig. Run a knife through the figs so that they form quarters, but be sure to leave them attached at the bottom. Grease a small ovenproof dish with the coconut oil. Place the figs in a dish, drizzle with agave and pomegranate molasses, and sprinkle over some sea salt. Roast for 25 to 30 minutes or until they are soft and juicy.
3. Meanwhile, put the cauliflower in a processor and pulse until it becomes like couscous.
4. Heat the coconut oil in a frying pan. Finely chop the shallots and carrot and add to pan along with the minced garlic and ginger. Fry over a medium heat until they begin to soften.
5. Add the cauli-couscous along with the ras-el-hanout spices and stir-fry over a medium-high heat for up to 10 minutes. Take off the heat and stir through 1 teaspoon of chopped preserved lemons and a handful of raisins. Check for seasoning and set aside to cool before stirring through the flaked almonds.
6. Serve in a wide bowl and top with the roasted figs. Sprinkle over any remaining almonds before serving.
DAY 2: Cauli-Rice Romaine Lettuce Taco Wraps
Make the cauli-couscous and stir through some black beans for added protein and texture. Arrange the romaine lettuce leaves on a platter and fill generously with the cauli-couscous. Whisk tahini, lemon juice, and water together to make a creamy sauce and drizzle over the top. Finish with a smattering of coriander and serve.
DAY 3: Butterbean Stew with a Cauli-Couscous Side
Make a simple stew by simmering some butter beans in an easy passata sauce. Begin by frying off an onion with minced garlic before pouring in 300 mL (10 oz.) of passata and 100 mL (3.5 oz.) water. Season generously, add a pinch of chili flakes, and simmer for 20 minutes until it reduces and thickens. Tumble in the butter beans, season again, and heat through for a further 5 minutes. Stir through some freshly chopped tarragon and a large handful of baby spinach, and let it gently wilt into the sauce. Serve alongside the cauli-couscous and top with the roasted figs.
DAY 4: Stir-Fried Roasted Tofu Bowl
Drain and pat dry a block of firm tofu. Cut into cubes and toss in an easy marinade of soy (or tahini) sauce, cold-pressed sesame oil, maple syrup, rice mirin, and miso. Preheat the oven to 400°F and roast for 30 minutes, shaking the pan frequently to prevent sticking. Remove from oven and add to the cauli-couscous pan, replacing the toasted almonds with cashews. Stir-fry for a few minutes over medium-high heat before dividing between two bowls. Top with sliced ripe avocado, some alfalfa, and/or broccoli sprouts and serve.
DAY 5: Hot Arugula Soup with a Cauli-Couscous Topping
Heat some oil in a pan and fry off some finely chopped shallots. Add 2 chopped potatoes to the pan, season, and stir. Pour over 750 mL (25 oz. or 3 cups) of vegetable stock and bring to a simmer for 15 to 30 minutes or until the potatoes are cooked. Add 3 large handfuls of arugula and gently wilt before blitzing to a puree with a hand blender. Serve in warmed bowls with the cauli-couscous piled high in the center.

Leah Vanderveldt
Leah Vanderveldt is an author living in Brooklyn, New York. She received her bachelor's in communications and media from Fordham University, and is certified in culinary nutrition from the Natural Gourmet Institute. She is the author of two cookbooks: The New Nourishing and The New Porridge.
Vanderveldt is a former food editor at mindbodygreen and has previously worked for Vogue, Vanity Fair, and Australian Home Beautiful.