Here Are The 5 Healthiest Trail Mixes At Trader Joe's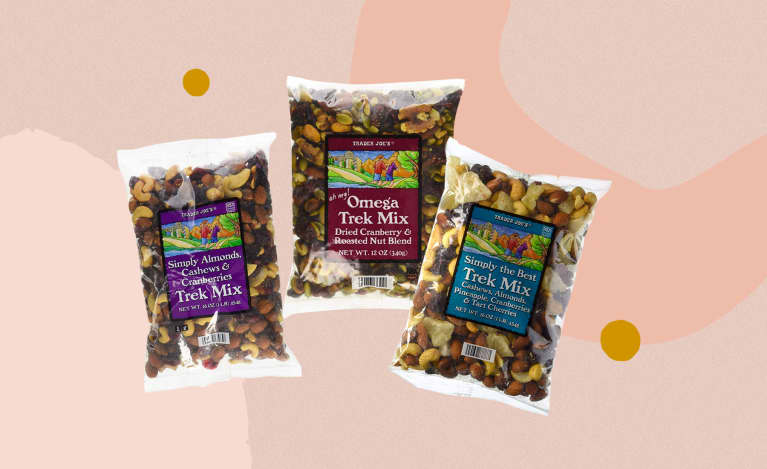 Our editors have independently chosen the products listed on this page. If you purchase something mentioned in this article, we may
earn a small commission
.
Who doesn't love a good trail mix? It's salty, sweet, and packed with heart-healthy nuts and seeds. But too much of anything is too much; nuts and dried fruit are certainly not low-calorie foods, and lots of trail mixes contain added sugars.
So, to make it a little easier to decide on your next Trader Joe's run, we rounded up our top picks for the healthiest trail mixes on their shelves.
Generally speaking, you should be OK if you stick to the serving size when it comes to any snack. But we looked at things like ingredients, nutrients, and the amount of sugar and additives to determine which TJ's trail mixes really come out on top.
1. Go Raw Trek Mix
As far as trail mixes go, the less that's been done to them, the better, which is why Trader Joe's Go Raw Trek Mix has claimed the No.1 spot on this list. It contains raisins, cashews, walnuts, almonds, and hazelnuts, with the addition of some canola oil (listed as an additive to the raisins and should be eaten in moderation). A quarter-cup serving has 150 calories, 5 grams of protein, and 5 grams of sugar (the least amount of all the mixes, and naturally occurring from the raisins).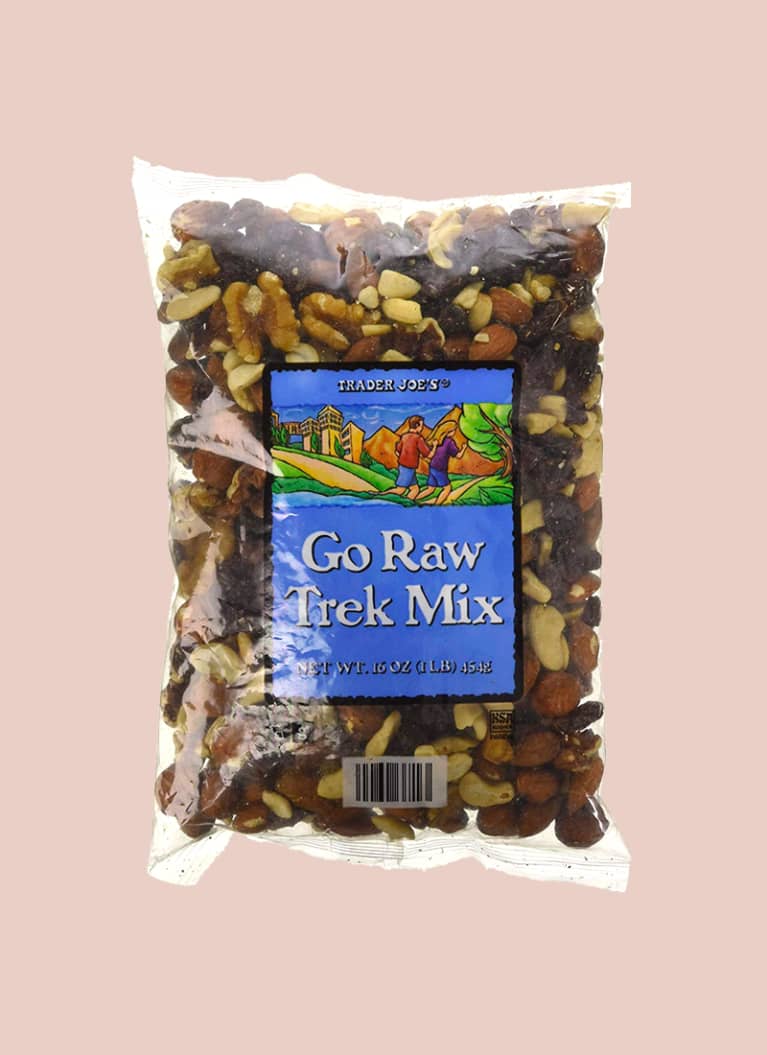 Trader Joe's / Contributor
2. Simply Almonds, Cashews & Cranberries Trek Mix
Our second choice for healthy trail mix at TJ's is their Simply Almonds, Cashews, and Cranberries mix. The almonds and cashews contain canola oil and salt, and the cranberries, sugar and sunflower oil. But all in all, a serving is still 150 calories with 5 grams of protein, with just a little more sugar at 6 grams per serving. Not bad, although the canola oil is what threw this mix out of the No. 1 spot.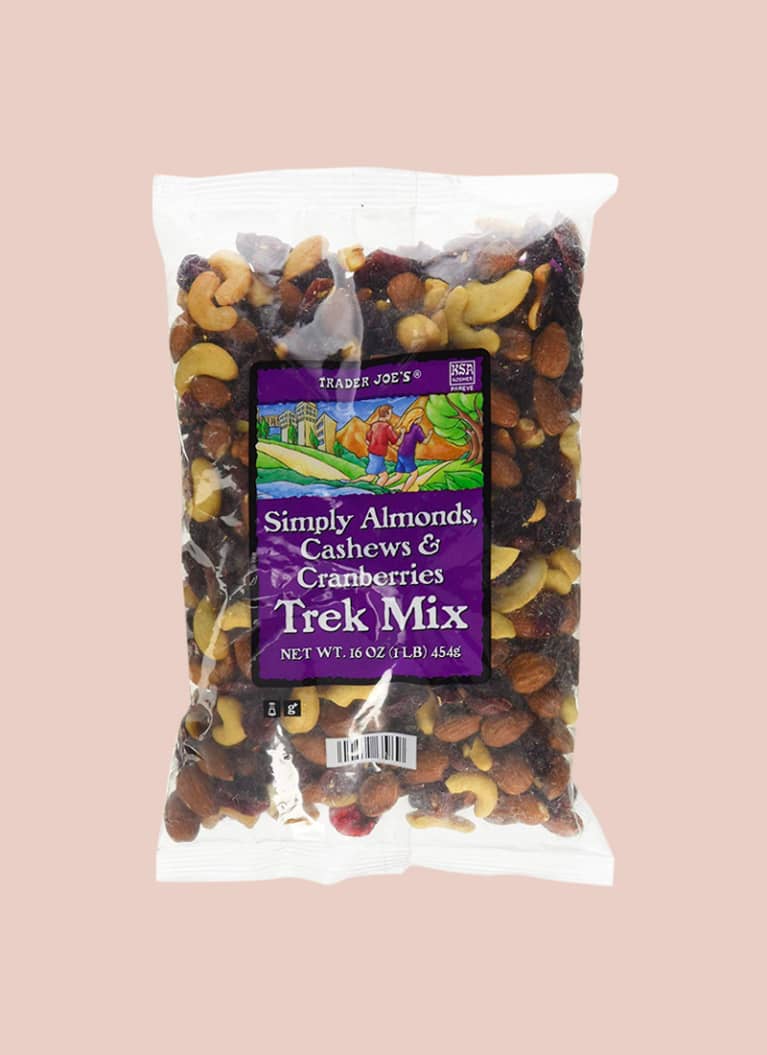 Trader Joe's / Contributor
3. Simply The Best Trek Mix With Cashews, Almonds, Pineapple, Cranberries & Tart Cherries
For those looking for a sweeter trail mix, enter our third choice. Trader Joe's Simply The Best Trek Mix is comparably healthy to our top two picks and has the addition of more fruit, with dried pineapple, cranberries, and cherries. It's got a little more sugar, at 7 grams per serving, but it's 150 calories like the others and combines sweet with salty, thanks to the roasted and salted cashews and almonds. Just be mindful, as the fruit and nuts both have oil added, plus sugar and salt, respectively.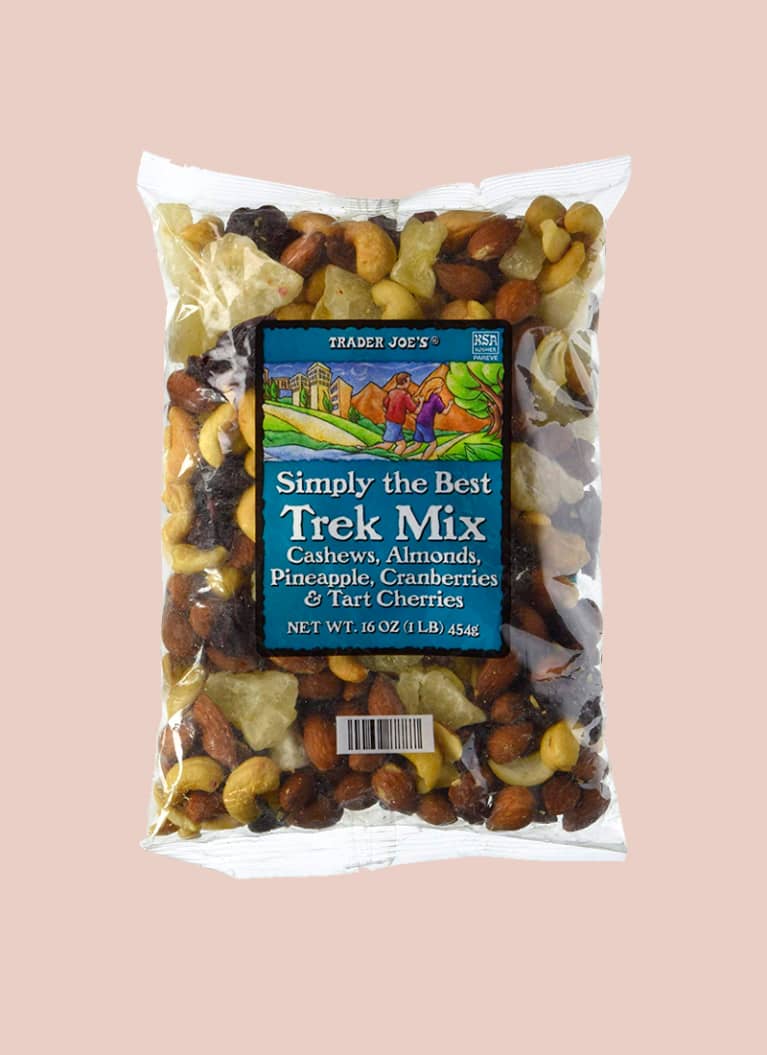 Trader Joe's / Contributor
4. Oh My! Omega Trek Mix With Omega Fortified Cranberries
This next mix has the most ingredients out of our picks. It's TJ's Oh My! Omega Trek Mix With Omega-Fortified Cranberries, and it contains, in order, dried cranberries, roasted salted almonds, walnuts, roasted pumpkin seeds, roasted salted pecans, and dry-roasted salted pistachios. Again, note: The roasted nuts are made with canola oil and salt, and the dried cranberries with sugar. But it is called the Omega Trek Mix because the large variety of nuts does pack an omega-3 punch. It's a bit higher in sugar, though, as well, at 8 grams per serving.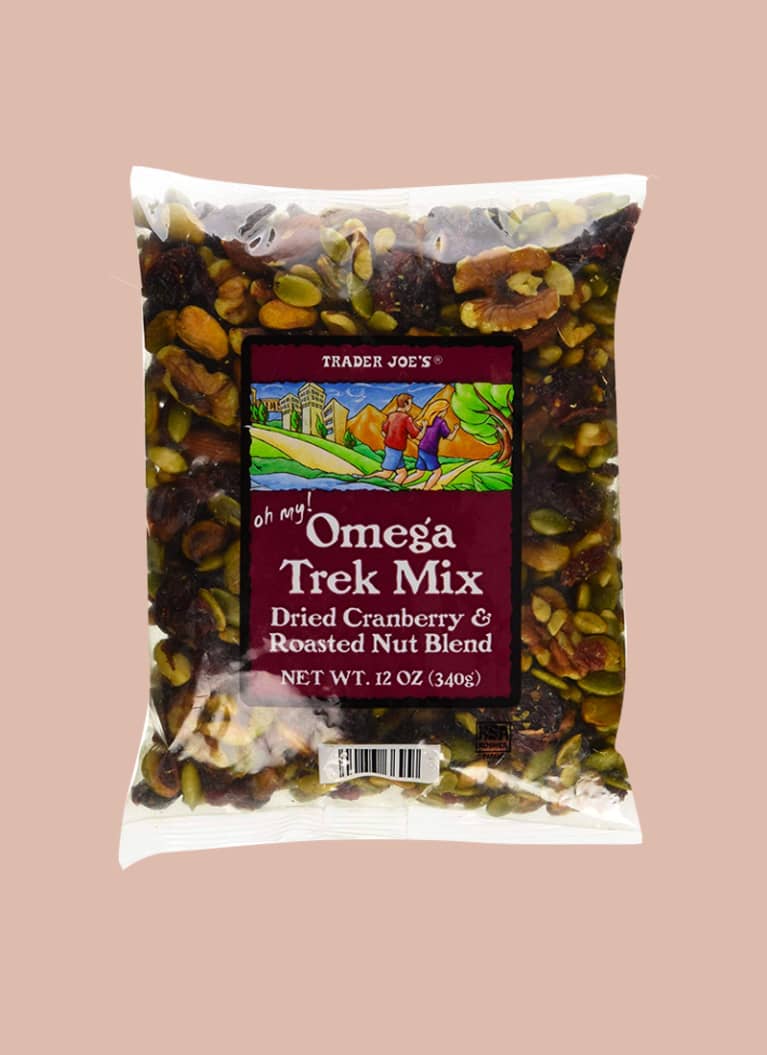 Trader Joe's / Contributor
5. Happy Trekking With Almonds, Cashews, Pistachios, Chocolate, Cranberries & Cherries
And lastly, we have Trader Joe's Happy Trekking Mix with almonds, cashews, pistachios, chocolate, cranberries, and cherries. If you were hoping to see some chocolate in this roundup, you're in luck. Despite the chocolate and fruit, this mix has the same amount of sugar as our fourth choice at 8 grams per serving. It is a little higher in calories, at 160 per quarter-cup, but it's a good option if your hankering for chocolate won't quit.
We must reiterate: Though these trail mixes are healthier than other options available, they're still not meant to be eaten in large amounts. Try to stick around the serving size by measuring out a handful as opposed to eating straight from the bag, and get creative by adding a serving to salads, yogurt, and more!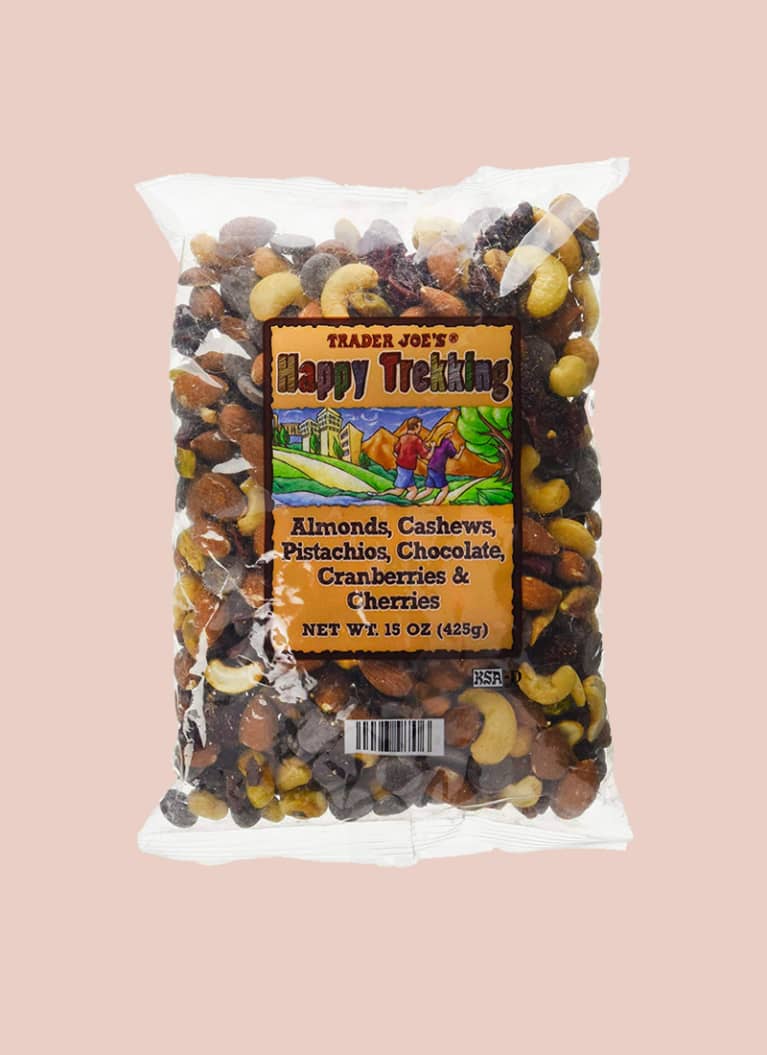 Trader Joe's / Contributor