6 Healthy-ish Fall Treats To Add To Your Trader Joe's List
mbg Nutrition & Health Writer
By Eliza Sullivan
mbg Nutrition & Health Writer
Eliza Sullivan is a food writer and SEO editor at mindbodygreen. She writes about food, recipes, and nutrition—among other things. She studied journalism at Boston University.
Image by Todd Beltz / Stocksy
September 22, 2020
If we had to pick (which, please don't make us!) we'd have to say autumn might just be our favorite season for shopping at Trader Joe's. The brand goes all-in on the orange branding and pumpkin spice mania, and there's always a new slew of products that hit shelves before the fall solstice even rolls around.
Unfortunately, a lot of the popular fall sweets—like cider donuts, pies, and more—are often packed with the processed sugars that we do our best to limit in our diets (save for the occasional treat, of course).
Luckily, between the pumpkin spice desserts at Trader Joe's, you can find some healthier options that will help you keep the balance between healthy eating and honoring your fall cravings. These healthier options feature some of your favorite fall flavors but include beneficial ingredients or other upgrades we love.
Pumpkin Bisque
Cans of soup are a great option for a low-lift working lunch, especially as the weather turns colder. Unfortunately, cans of soup sometimes include more ingredients than is really necessary. This simple fall soup has a short list of ingredients than includes tahini and olive oil along with the base of pumpkin purée.
The natural sweetness of that pumpkin is played up with honey, and the creaminess is accented with the inclusion of a touch of cream (though that, unfortunately, means it isn't vegan). Not only that, but it comes in a resealable glass jar that can be much more readily reused to lower your kitchen waste.
Organic Pumpkin Spice Granola Bark
For those who are looking for a healthier sweet pumpkin treat, this organic granola bar is a great option. The dark chocolate is 66% cacao, and it's topped with pumpkin seeds, which are a good source of fiber and iron1. The nutrient-dense base is made from a mix of ingredients including rolled oats, pumpkin purée, quinoa, and almonds.
While you'll want to be mindful of how much you snack on this, as it does have some added sugars, it'll quickly right any sweet craving you have while also providing a dose of healthy benefits thanks to the seeds and nuts on the ingredient list.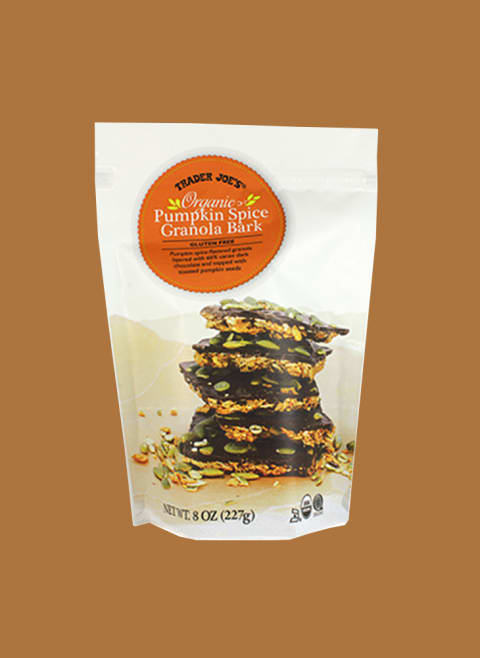 Non-Dairy Maple Oat Beverage
If even a healthier pumpkin spice latte is still a bit over the top for your coffee taste, this maple oat milk might be exactly what your fall coffee game is looking for: It has a lightly sweet flavor that totally tastes of maple and makes for a lovely addition to any cup of coffee—though it might be especially tasty with a little cinnamon added too.
Not a coffee drinker? We'd bet this would also pair well with your favorite chai blend, and it might even shine as a base for your morning matcha latte. Basically, your morning beverage is in for an easy, inexpensive (the bottle rings in at just $3) fall update, if you so choose.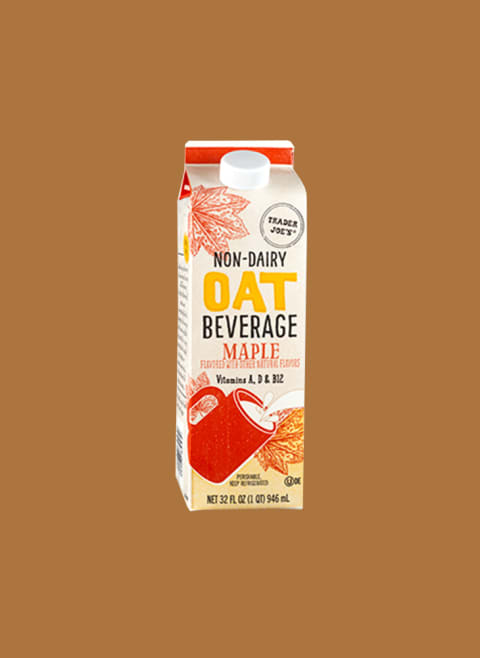 Nut Butter Bar Mix
While this product technically rolled out in August and wasn't a part of the major pumpkin and maple drop of September, we consider it a fall item. The no-bake recipe the box calls for includes your favorite nut butter and a choice of honey or maple syrup—opt for the latter to start these bars journey to fall flavors.
The gluten-free mix is made up of rolled oats, almond meal, crispy rice, and oat bran, and you simply mix it up and then pop it in the freezer to set. You can add your favorite brand of dark chocolate chips (we like Lily's dark chocolate), or toss in some healthy nuts—maybe walnuts or pistachios?—to maximize the nutrient potential.
Spicy Pumpkin Curry Simmer Sauce
Things take a turn for the savory with this sauce, which is more of a Thai curry than an Indian curry in terms of flavor profile. The pumpkin base is mixed with warming spices like ginger, turmeric, and cumin in addition to lemongrass and coconut cream.
A great way to get a strong flavor base going for a warming dinner, you can serve this with your choice of protein and can opt for a good serving of veggies over a starch for the base. Try a mix of fall seasonal vegetables like cauliflower, collard greens, Swiss chard, and parsnips (bonus points if you pick them up locally!).
Pumpkin Cranberry Crisps
Add a little something sweet to your cheese board with these crisps. The dried cranberries, of course, add sweetness as does the pumpkin, but there's also a bit of added sugar. Start the board with your favorite healthy cheeses like goat cheese, cheddar, and blue cheese, and add these alongside some other simple crackers.
Making a perfect cheese board also means including something more than just cheese and crackers: Things like pickles, preserves, fruits, and vegetables should make the cut too. This can be a great option for using those apples you've picked this season, and you can pick other components that emphasize the fall flavors.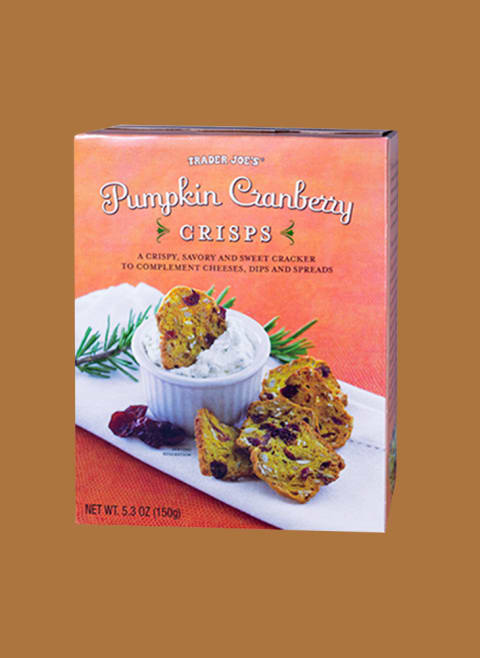 Trying to eat healthy doesn't mean having to miss out on fall flavors—you just have to be mindful of what treats you pick. Luckily, Trader Joe's has some great options for infusing any meal or snack with a bit of that pumpkin spice maple spirit, so you can enjoy the season while also getting some health benefits.
Eliza Sullivan
mbg Nutrition & Health Writer
Eliza Sullivan is an SEO Editor at mindbodygreen, where she writes about food, recipes, and nutrition—among other things. She received a B.S. in journalism and B.A. in english literature with honors from Boston University, and she has previously written for Boston Magazine, TheTaste.ie, and SUITCASE magazine.