This Braised Eggplant Puts Late-Summer Veggies To Good Use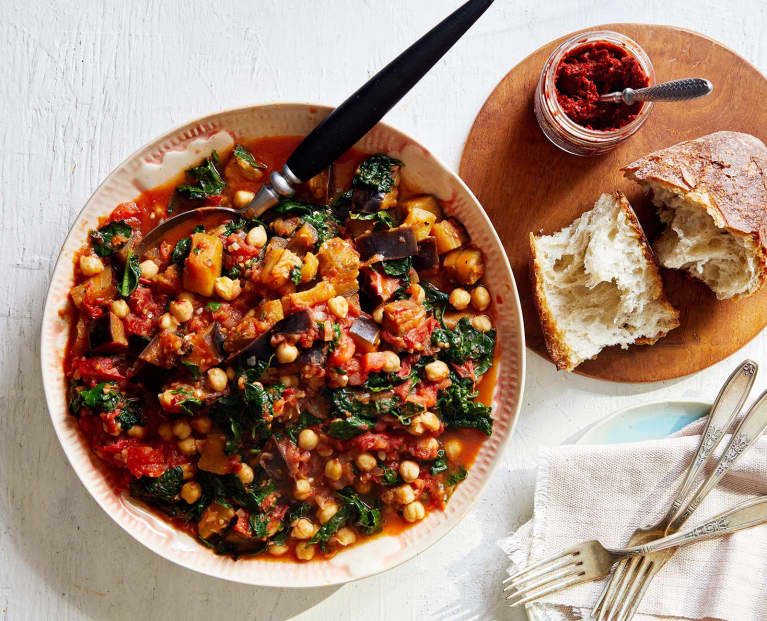 Our editors have independently chosen the products listed on this page. If you purchase something mentioned in this article, we may
earn a small commission
.
There's a brief period between summer and fall when it seems that just about every fruit and vegetable is available in abundance at the farmers market. Although I've always struggled with the transition between seasons, this sweet truth has always made it more tolerable.
This stew-like dish celebrates the seasonal overlap when tomatoes are still ruby red; deep purple orbs of eggplant are taut and smooth; and dark, leafy greens arrive in bunches. It's just the thing to make when the weather starts to turn and your cravings for cool, crisp salads are replaced by desire for warmer, spicier things.
If you're the type who likes to squirrel away good things to uncover in the depths of winter, this is a wise one to double batch and freeze so you can reach for it when nothing but potatoes and onions seem to prevail.
Braised Harissa Eggplants & Greens
3 tablespoons extra-virgin olive oil, divided
1 (about 1 pound) eggplant, cut into ½-inch cubes
Kosher salt
Freshly ground black pepper
1 small yellow onion, finely chopped
3 garlic cloves, minced
1 tablespoon harissa, plus more as needed
1 teaspoon ground cumin
2 pounds plum tomatoes, or Roma tomatoes, chopped
1 can chickpeas, drained and rinsed
1 bunch (about 8 ounces) lacinato kale, stemmed, leaves torn into bite-size pieces
1 teaspoon fresh lemon juice
Heat 2 tablespoons of olive oil in a large Dutch oven or heavy-bottomed pot over medium-high heat.
Add the eggplant, season with salt and pepper, and cook for about 2 minutes, stirring occasionally until browned in spots but not completely tender. Transfer the eggplant to a large bowl and set aside.
Reduce the heat to medium and add the remaining 1 tablespoon of olive oil to the pot. Add the onions and sauté until softened and translucent (3 to 5 minutes).
Add the garlic, harissa, cumin, and 1 teaspoon of salt. Sauté until fragrant, about 1 minute.
Stir in the tomatoes, chickpeas, and eggplant and bring the mixture to a simmer. Simmer, uncovered, until the eggplant is meltingly tender and the tomatoes have broken down into a thick chunky sauce (25 to 30 minutes).
Stir in the kale and cook until the leaves are bright green and tender (2 to 3 minutes). Remove from the heat and stir in the lemon juice. Taste and season with additional salt and harissa as needed and serve.
Enjoy this saucy mess of vegetables and beans over rice, couscous, or quinoa, or simply on its own with good bread.