mbg Food Contributor
By Alexandra Shytsman
mbg Food Contributor
Alexandra Shytsman is a Brooklyn-based recipe developer, writer, educator, food stylist and photographer. She received her bachelor's in english literature and women's and gender studies from CUNY Hunter College and also studied at the Natural Gourmet Institute for Health and Culinary Arts.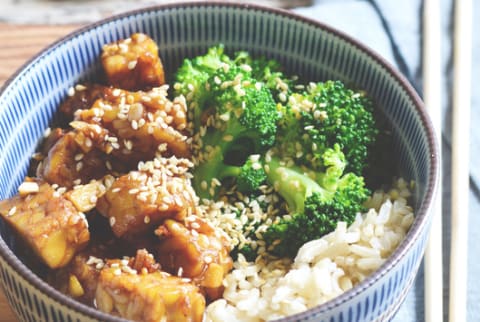 Photo by Alexandra Shytsman
March 9, 2017
Filled with good-for-your-gut and immunity-boosting garlic and ginger, along with probiotics from fermented tempeh, this bowl will not only beat even the most serious takeout cravings, but it'll be ready to eat before Seamless reaches your door.
Here's a scenario many of us know all too well: You crawl home around 8 p.m. after a long day at the office and plop down on the couch. You realize you could really use a hot bowl of something, so you reach for your phone to order some greasy, questionable takeout—something you will probably regret having eaten.
It's for times like these that I decided to put together my Weeknight Cooking e-book (which is available as a free download). My goal with the 10 recipes in the book is to show that healthy weeknight cooking is totally doable and that keeping a stocked pantry and learning a few key culinary techniques can add major brownie points (no pun intended) to the quality of your life.
This tempeh dish is one of the recipes from the book, and it is designed to satisfy your Chinese food cravings with all the nutrients and none of the guilt.
A few words about tempeh: As far as plant-based proteins go, tempeh has got to be one of the weirdest. Whereas tofu is made by blending and curdling soybeans into a smooth, spongy block, tempeh is made by fermenting whole soybeans that naturally bind together into a cakelike form (wait, wait, don't go!).
As a result, it is firmer and earthier-tasting than tofu, which makes it a better substitute for meat. In flavor, it is most reminiscent of chickpeas or cashews. It cooks quickly and adapts well to a variety of flavors, so be sure to pick some up on your next grocery run.
Chinese Takeout-Style Sesame Tempeh with Brown Rice + Broccoli
Sea salt
1 cup brown rice, rinsed
1 small head of broccoli, cut into bite-size florets
2 tablespoons soy sauce, plus more to serve, if desired
1 tablespoon pure maple syrup
2 cloves garlic, minced
1 tablespoon minced ginger
1½ teaspoons rice vinegar
About 1 teaspoon hot sauce of your choice (adjust to your own heat preference)
1 teaspoon toasted sesame oil
2 tablespoons extra-virgin olive oil OR cold-pressed organic canola oil
One 8-ounce package of tempeh, cut into ¾-inch cubes
4 teaspoons toasted sesame seeds, to garnish
1. In a small pot, bring 2 cups of water to a boil and season with ¼ teaspoon salt. Turn heat down to low, add rice, cover tightly with a lid, and simmer until all water is absorbed, 15 to 20 minutes (do not stir). Turn heat off and let rice stand covered for another 10 minutes to steam. Fluff rice with a fork before serving.
2. Meanwhile, bring a medium pot of water to a boil and season with 1 teaspoon salt. Add broccoli and cook for 2 minutes. Drain and rinse broccoli under lukewarm water; set aside.
3. In a small bowl, stir together the soy sauce, maple syrup, garlic, ginger, vinegar, hot sauce, and sesame oil; set aside.
4. Heat cooking oil in a large nonstick skillet over medium heat. Add tempeh and cook until evenly browned on all sides, tossing occasionally, about 5 minutes. Add soy sauce mixture and toss to coat evenly. Turn heat off.
5. To serve, divide rice evenly among bowls and top with broccoli and tempeh. Garnish with sesame seeds.