The Ultimate Guide To Making Healthy Smoothies For Any Season

mbg Food Contributor
By Marie Reginato
mbg Food Contributor
Marie Reginato is a food photographer, blogger, and author living in Los Angeles, California. She has authored two cookbooks, Alternative Vegan and The Ultimate Vegan Cookbook.
November 29, 2017
Ever wonder how to make a delicious healthy shake, like the beautiful ones you see popping up on your Instagram feed? Ones that are vibrant green and are full of creamy avocados in place of bananas? Or a DYI high-protein powder recipe that tastes absolutely delicious and also won't break the bank? Here is my foolproof guide to healthy shakes that explores just how easy it is to make the healthy shakes of your dreams—from veggie-based shakes to green smoothies and ones that are high in protein and utterly delicious (thinking of you, cacao and vanilla powder!). These are the shakes that you're going to want to have down in your breakfast/workout repertoire starting this weekend. Bottoms up!
Advertisement
This ad is displayed using third party content and we do not control its accessibility features.
Building your perfect shake.
The perfect healthy shake rests on only a few key ingredients. From there you can mix and match for what you have in your fridge/freezer making a delicious shake any time of the year. If you're looking for a creamy smoothie, one that you can dig into with a spoon, then let's talk about that ideal ratio, from liquid to fruit to protein powder and any flavor additions. There are a few different styles of shakes you can go for, but the two main types either include bananas as your base or steamed and then frozen vegetables. Did I lose you with the veggies option? I know it sounds strange, but trust me, it's delicious and actually has a way of mimicking that creamy base we're after in smoothies, just in the way that bananas do (more on that in the section below).
For a traditional shake, one that relies on fruits and greens to get you through the day, play around with a ratio of 1 cup nut milk, 1 cup any frozen berries, ½ to 1 frozen banana, and one handful of your favorite greens. I prefer spinach, as it's full of nutrients, fiber, and protein. Toss in a scoop of protein powder for a breakfast shake that will keep you fuller till lunch. If you're just having one of those mornings and think you have no time for breakfast, not even for a smoothie, then these tips below are lifesavers for those busy mornings.
Have a few "prepackaged" fruit bags waiting for you to dump and blend.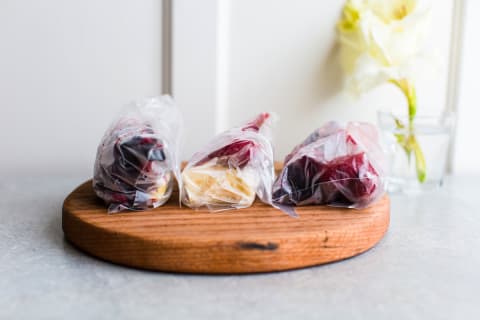 Advertisement
This ad is displayed using third party content and we do not control its accessibility features.
Do I want strawberry or blueberry? Having zipper bags already on hand allows you to make even fewer decisions come morning. Making a few fruit prepacks for the week, with a variety of flavors inside each one, keeps things interesting! This way, you're not stuck with a strawberry smoothie all week long.
To fill the bags, just add 1 banana (or half) and 1 cup any frozen fruit you'd like. Store in the freezer and you're ready to blend, with a little nut milk to get it going.
Make your shake the night before and store in the freezer. I initially gave this trick to my sister who wanted a quick breakfast shake for the workweek. It's the same concept as chia pudding or Bircher muesli—make the shake the night before, put it in the glass you'll be drinking from, and pop it into the fridge to stay cool. But make sure you do not add chia seeds or flax to this type of morning shake. The chia seeds/flax will expand and make the shake very clumpy.
How to make a shake budget-friendly.
Healthy shakes don't need to break the bank. I know acai and mango smoothies sound very enticing, but oftentimes those are pricy purchases and can be hard to source. Instead, focus on accessible ingredients that highlight the natural "superfoods" of that season. Explore seasonal fruits as they're at peak freshness, meaning they're bursting with flavor and nutrients and easier on the wallet. If you're making a summer fruit shake, think blueberries, strawberries, peaches, and cherries. If it's autumn, then focus on fruits of that season, like figs, blackberries, apples, and sweet potatoes.
Embrace frozen fruit. Most of the frozen fruit at your local grocery store is flash frozen, meaning the fruits and veggies are picked when ripe and are frozen shortly after. This means that most of the vitamins and minerals from the fruits and veggies are locked in when frozen, retaining most of their nutritional integrity. This is usually the most budget-friendly option regardless of the season. A win-win if you ask me!
Advertisement
This ad is displayed using third party content and we do not control its accessibility features.
How to make your own protein powder.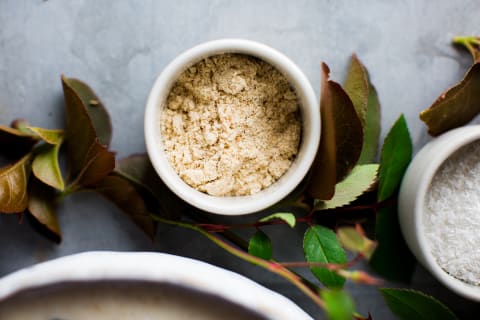 I'll let you in on a little secret…it's just as easy to make your own high-protein powder as it is to buy an expensive one from a health food store. Hemp powder, flaxseeds, and chia seeds are all relatively inexpensive ingredients that are easily found at most health food stores, and guess what? They make for a fantastic blend for a DIY protein powder! Adding these DIY protein powders is a delicious and quick way of turning any shake into a meal.
To create the base of your protein powder, add equal parts hemp powder and flaxseeds, and then halve that quantity for chia seeds. Mix well and seal in a Mason jar and store in the fridge to keep fresh. If you're leaning toward a chocolatey shake, scoop in a teaspoon of cacao powder and ½ teaspoon cinnamon to the protein powder. If you're in the mood for vanilla, opt for vanilla powder, fresh vanilla bean, or even a splash of vanilla extract (more affordable option).
When you're ready for your shake, just add in a tablespoon of either your cacao or vanilla flavor option, along with 2 tablespoons of your DYI protein powder, and you're good to go! Five minutes later you have a very affordable and delicious protein shake, just like the ones from all the fancy smoothie shops in town.
Another tip: Most store-bought protein powders use a slew of sweeteners. So, if you like your shake to have a touch of sweetness (aside from the fruit) then toss in a few dates for a nutritious addition!
Advertisement
This ad is displayed using third party content and we do not control its accessibility features.
How to sneak in a ton of vegetables.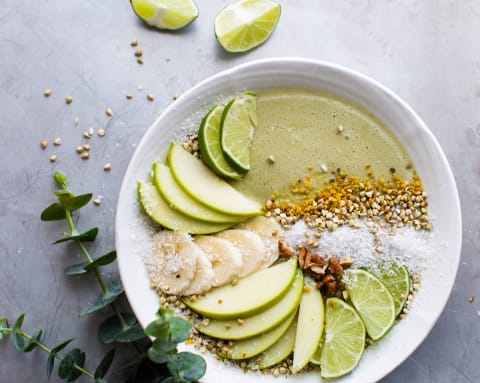 Now that you have your traditional healthy shake recipe down, let's get to the fun part—adding in all those fancy ingredients that you see and hear about online!
Let's start with the greens. A handful of spinach, kale or romaine is an easy way of adding in an extra serving of veggies to your day, while getting a boost of nutrition. Experiment with spinach first, as it has a very neutral flavor profile—you can't taste it in your shake at all; I promise! For another dose of nutrition and healthy fats, turn to your beloved avocado. If you're sensitive or allergic to bananas, this is a great way of creating that creaminess signature of a hearty smoothie. For a creamy chocolaty shake with a touch of sweetness, add frozen avocado slices, cacao powder, and frozen blueberries to the base of your shake for a ridiculously decadent treat.
And since we're talking about banana alternatives, here come a few unexpected game-changers: zucchini and cauliflower. Both veggies work like spinach by adding in a host of nutrition without affecting the flavor of the shake. Before you add these to your next shake, take a few minutes to prepare them properly. You'll want to lightly chop, steam, and then freeze the veggies. When cooked, veggies are easier to digest and won't cause bloating (which can happen when consumed raw).
These veggie alternatives really just scratch the surface of how far you can experiment when creating your favorite nutrient-dense shake. Beets are another unexpected veggie that offers up a lovely sweet flavor to any fruit shake. The sky is truly the limit.
Below are some of my all-time favorite smoothie and shake recipes. I encourage you to experiment—add in a few of your favorite ingredients, change up the berries, and even replace the traditional banana with an avocado! You never know how much you'll enjoy something until you give it a try. At the end of the day, cooking is all about experimenting and having fun.
Green Vanilla Smoothie: A seriously delicious and filling Green Vanilla Smoothie made with spinach, creamy banana, oat milk, almond butter, and a little vanilla! A great breakfast when you don't have time for one.
Post-Workout Green Smoothie: A Post-Workout Green Smoothie Bowl that is extremely filling, working as a meal replacement. Packed with spinach, almond milk, and plant-based protein powder to keep you energized throughout your morning.
Glowing Skin Smoothie: With a ton of turmeric and other collagen-boosting, anti-inflammatory ingredients, this is the perfect smoothie for those bad-skin days.
No-Sugar Smoothie: This smoothie was designed by celebrity nutritionist Kelly LeVeque to balance blood sugar and make sure you aren't ravenous by lunchtime.
Advertisement
This ad is displayed using third party content and we do not control its accessibility features.