Pharmacist & Holistic Nutritionist
By Ashley Madden
Pharmacist & Holistic Nutritionist
Ashley Madden is a pharmacist, holistic nutritionist, and plant-based chef.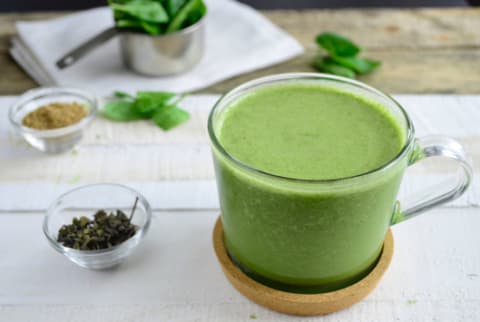 October 16, 2016
I used to think that I could only reap the benefits of green tea by choosing it over my morning coffee. But honestly, I just really want my morning coffee sometimes. Consequently, green tea gets left on the bench, its health supportive potential disregarded and left for some other day.
One morning I was determined, resolute in my decision: "I will choose green tea!"
I boiled the kettle, set up my delicate tea tools, the pretty blue cup and dainty antique spoon, and got to steeping my green tea.
My husband perked a pot of coffee, and I was persuaded by its aroma and slow, tantalizing drip. My poor green tea didn't stand a chance. Before I knew it, I was sipping a cup of joe while looking shamefully at my teacup.
And then I had an idea! My green tea need not be wasted! As it cooled it occurred to me that it would be the perfect addition to a smoothie.
If you aren't a tea drinker, for whatever reason, and still want to benefit from green tea's appealing antioxidant profile, use green tea as the liquid portion in a smoothie.
This smoothie is not only full of green tea's antioxidants but also anti-inflammatory omega-3 fats from flax and hemp seeds and phytonutrients from fresh spinach.
For those hard-core green smoothie lovers, where the greener the better, wheatgrass makes a nice addition and hits the nutritional profile of this smoothie out of the park!
Green Tea, Flax + Spinach Smoothie
1 large frozen banana
1 packed cup baby spinach
¾ cup green tea (cooled to room temperature or from the fridge)
¼ cup unsweetened almond milk
1 tablespoon almond butter
1 tablespoon ground flax seed
1 tablespoon hemp seeds (hemp hearts)
¼ teaspoon cinnamon
2 ice cubes
1 teaspoon wheatgrass powder (optional)
Add all ingredients to a blender, and blend until smooth.
Note: You can prepare the green tea in two ways: Steep it and allow to cool to room temperature, or make it ahead of time, transfer to a glass jar or container, and refrigerate.

Ashley Madden
Pharmacist & Holistic Nutritionist
Ashley Madden is a pharmacist, holistic nutritionist, plant-based chef and, just like you, trying to figure it all out: eat healthy, manage stress, sleep more, stay inspired, all the while enjoying life and taking it one day at a time.