7 Green Superfoods That Should Always Be On Your Plate
Eat your greens! How many times did you hear that as a kid? How many times have you said it as an adult? Well, there's a reason it keeps coming back time and time again: green foods really are some of the healthiest foods on the planet.
These seven green superfoods are with vitamins, minerals, antioxidants and flavor, so they should have a place at everyone's table.
Brussels Sprouts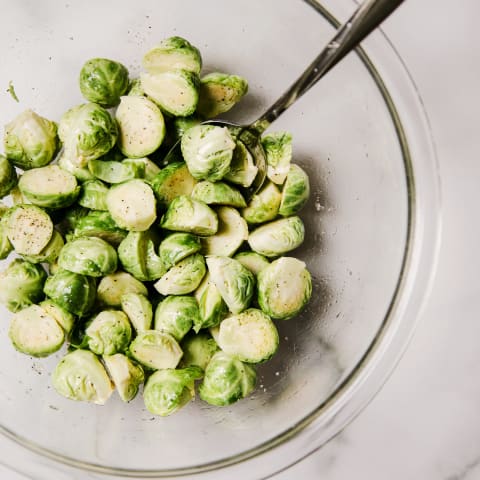 Image by Kelly Knox / Stocksy
Brussels sprouts are a cruciferous vegetable, related to cabbage – in fact, they even look like tiny cabbages. They may be small, but they're nutritional workhorses. Brussels sprouts are rich in vitamins A and C, folate, potassium, and cancer-fighting phytochemicals. These high-fiber vegetables are also a good source of amino acids – they get a full quarter of their calories from protein. Brussels sprouts are delicious roasted with olive oil.
Green Tea
Green tea has gained a well-deserved reputation for being a superfood. It's brimming with cancer-fighting antioxidants and supports heart health, helps digestion and speeds up metabolism. As green tea's popularity has soared, so has its availability. Enjoy green tea plain – or, if you're more adventurous, try one of the many flavors available on the market, like mint green tea, pomegranate green tea or green tea chai. Tea aficionados swear by loose-leaf teas for the best flavor.
Avocados
Avocados are packed with heart-healthy monounsaturated and polyunsaturated fats, which help lower cholesterol and will keep you feeling full for longer. It's a good source of vitamins E and C, potassium and lutein. Chop up an avocado and toss it on a salad, mash it with salsa for instant guacamole, or – if you have a sweet tooth – try it pureed with cocoa powder and a touch of honey or maple syrup for a decadent, creamy chocolate pudding.
However you like your greens – raw, cooked, mixed into soup or even turned into dessert – what's important is that you make room for them on your plate. Make them a part of your daily diet to enjoy their cancer-fighting, heart-healthy benefits. Go green – these foods will help you look and feel great every day!
Kiwifruit
Slice open this round, fuzzy fruit and you'll find beautiful green flesh dotted with small black seeds. Kiwifruit boasts a good mix of soluble and insoluble fiber, which helps with digestion and feelings of fullness. The small fruit has double the vitamin C of an orange and is very high in potassium. It's also a good source of vitamin E and folate. Kiwifruit has a delicious tangy flavor. Try chopping it up and tossing it in a salad or a bowl of yogurt – or you could just slice it in half and scoop it out with a spoon!
Spinach
Spinach has double the fibre of other greens, making it a great choice for health-conscious eaters. It's rich in vitamins A and K, and is a good source of iron and folate. Spinach provides antioxidants like beta-carotene, which supports heart health, fights cancer, and helps keep your eyes healthy. Raw spinach is delicious in salads, or you can add a few handfuls to scrambled eggs, soup or pasta. You can even drink your spinach by tossing a handful of the raw greens into a fruit smoothie. You won't taste the spinach and it will give your smoothie a rich green color!
Kale
High-fiber kale is truly a nutritional powerhouse. In addition to being a good source of vitamins A, C and K, it also boasts calcium and even heart-healthy omega-3 acids. Kale is rich in carotenoids, which help protect your eyes from damaging UV rays. While some people enjoy kale raw, most people prefer to lightly steam or cook it. Try tossing some steamed kale with whole wheat or gluten-free pasta, olive oil, pine nuts and fresh parmesan cheese for a delectable side dish.
Broccoli
Broccoli is a good source of vitamins A, C and K, as well as folate and calcium. Like all cruciferous vegetables, it's also rich in cancer-fighting phytochemicals. Broccoli is very high in fiber, which helps with satiety and supports weight maintenance. It's delicious lightly steamed or roasted with olive oil and a dash of salt. You can also make a tasty coleslaw by replacing shredded cabbage with shredded broccoli stalks.
Nicole Geraci
Nicole Geraci is a Certified Health Coach, writer, raw food chef and motivational speaker who lives on the shores of Lake Ontario in Western New York. She travels extensively leading workshops inspiring others to achieve better health through whole foods and plant- based alternatives. She has created personalized health and wellness programs and is a Certified GreenSmoothieGirl Health Coach. Nicole is currently working on her first book about her personal journey overcoming auto-immune disease.