Pharmacist & Holistic Nutritionist
By Ashley Madden
Pharmacist & Holistic Nutritionist
Ashley Madden is a pharmacist, holistic nutritionist, and plant-based chef.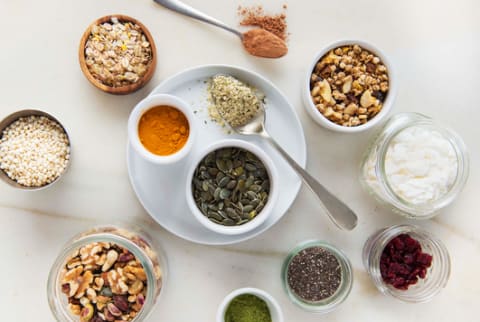 Photo by Marta Muñoz-Calero Calderon
July 31, 2017
Did you ever dream about the hearty, satisfying parts of a muffin combined with the superstar health benefits of a green smoothie? Never fear—I took these two breakfast staples (one delicious, one oh-so-nourishing) and combined them into one grab-and-go breakfast that will take your mornings to the next level.
This brilliant idea dawned on me while I was loading up my blender with all the usual green smoothie ingredients and realized that I really wanted a freshly baked muffin. I made my smoothie as planned and then just turned the green smoothie into the liquid portion for my favorite muffin recipe. This Green Smoothie Muffin is loaded with superfoods from spinach to walnuts to buckwheat and chia seeds.
It's not a fluffy, wimpy, empty-calorie muffin like the commercial cakes sold at coffee shops—it's exploding with fiber, omega-3s, antioxidants, vitamins, and minerals. Dense in texture and extremely filling, it also just happens to be vegan, gluten-free, and oil-free. Win, win, win.
You can omit the maple syrup if you want to have a refined-sugar-free muffin—see the recipe for substitution suggestions.
Superfood Green Smoothie Muffin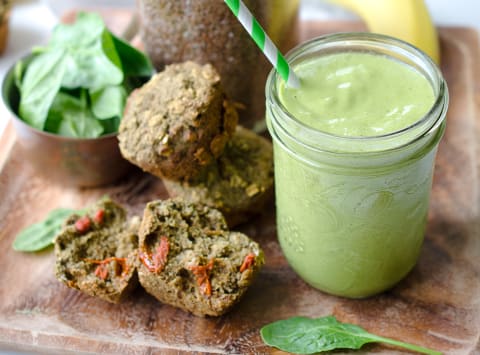 1 packed cup baby spinach
1 large, ripe banana
4 medjool dates, pitted
¼ cup maple syrup*
2 tablespoons ground flaxseed
1 cup unsweetened almond milk
1 cup rolled oats (gluten-free if desired)
½ cup plus 2 tablespoons buckwheat flour
½ cup oat flour (gluten-free if desired)
½ cup walnuts
½ cup goji berries
2 tablespoons hempseeds
2 tablespoons chia seeds
1 teaspoon cinnamon
1 teaspoon baking powder
½ teaspoon baking soda
¼ teaspoon salt
Preheat the oven to 350°F and position the oven rack in the middle. Have a nonstick muffin pan ready to go. Depending on the quality of your muffin pan, you may want to rub some coconut oil around the muffin cups to prevent sticking. This is not necessary with a quality nonstick pan.
Add all dry ingredients to a large bowl and mix.
Add all smoothie ingredients to a blender in the order listed and blend on high until smooth and all ingredients are incorporated.
Pour the smoothie portion into the bowl with the dry ingredients and mix until well-combined. Pour the mixture into the muffin tin/molds and bake for 23 to 25 minutes. The muffins are done when they are firm to touch and browned on top. Let the muffins cool in the pan for 10 minutes, then pop them out using a thin silicone spatula.
Enjoy!
* For a completely sugar-free muffin you can omit the maple syrup and use nut butter, more banana, fresh mango, or applesauce instead.

Ashley Madden
Pharmacist & Holistic Nutritionist
Ashley Madden is a pharmacist, holistic nutritionist, plant-based chef and, just like you, trying to figure it all out: eat healthy, manage stress, sleep more, stay inspired, all the while enjoying life and taking it one day at a time.