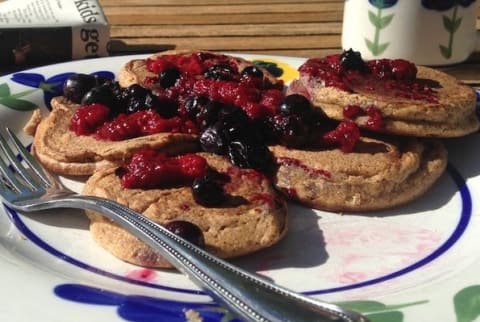 July 12, 2014
I love pancakes, but having recently gone grain-free to heal from illness, I figured that with along with grains I was going to have to kiss my love affair with baked goods goodbye.
After some fine tuning (and some very arduous taste testing!), I've developed a go-to breakfast that satisfies both my body and taste buds: coconut cinnamon pancakes. These Paleo-friendly pancakes are very filling, fluffy, and come with a side of healthy fats in the form of coconut oil or cashew butter — or whatever your topping of choice may be! Best of all, the pancakes and all of the toppings I suggest are refined sugar free, including the jam-like spread I provide below.
2 Tbsp. + 1 tsp. organic coconut flour
2 free-range eggs
1/3 cup unsweetened almond milk (or other milk of choice)
1 tsp. cinnamon
1 tsp. apple cider vinegar
1/2 tsp. maca powder (optional)
1/4 tsp. baking soda
1/2 tsp. vanilla extract
1/2 tsp. of coconut oil for greasing pan (more if you'd like to use coconut oil for the topping)
Ingredients for the berry topping picture:
1 cup frozen, organic mixed berries (or berry of choice)
In one bowl, whisk eggs, then add almond milk, vanilla extract, and apple cider vinegar.
Measure the coconut flour into another bowl. If there are clumps in the flour then you can sift the flour or just whisk it well until they're gone. Then add the cinnamon, maca powder, and baking soda. Mix well.
Add the dry mixture into the wet, whisking together well, until all the clumps smooth out.
Add coconut oil to grease your pan and put over low-medium heat.
Pour batter, starting small, into pan to make either 1 or several pancakes to start. After about 2 minutes, you can check the pancake with a spatula — you should be able to curl the bottom up and when you flip it will be golden brown. As you get the hang of it, you can make bigger pancakes, though it does take some serious skill with the spatula — an acquired art!
Cook on the other side for 1-2 minutes, move to plate, and continue until batter is finished and you have a plate full of healthy pancakes.
I love topping them with a tsp. or two of coconut oil or a small amount of cashew butter!
For a fruity addition, you can follow my instructions below:
Directions for the topping
Add frozen berries to pan on low heat. Flip over and mix occasionally, once they begin to be very juicy, you can take them off the heat and pour them onto your pancakes. Raspberries work best here and I promise will not disappoint!
Be sure to share with me your own grain-free breakfast go-to's and any modifications you make! Would love to hear from you.
Kristen Brotemarkle
Kristen is a San Francisco based yoga teacher, writer, and healthy recipe creator, working to change the world. She believes this change starts within and that we all have both the right and obligation to live happy, healthy lives of purpose. She hopes to make this lifestyle accessible to all, using yoga and healthy eating as vehicles for self-realization and self-love. Through her writing and teaching, she aims to inspire others to move beyond fear, and towards authentic lives of love and possibility. In short, living life as our best selves.
For your daily dose of food and inspiration, you can visit Kristen on her mat at KristensMats.com, or on Facebook, Twitter, and Instagram @KristensMat