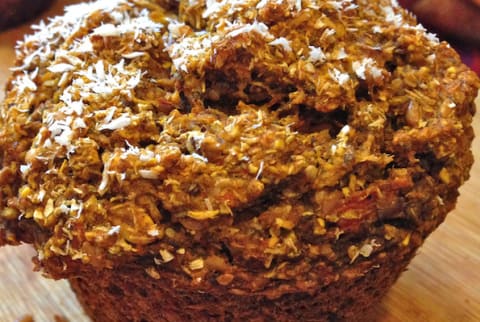 March 11, 2014
I'm a big fan of eating muffins — for breakfast, for lunch, for a midday snack, or pretty much anytime, ever.
But I'm not a big fan of eating animal products nor starting my day with massive amounts of refined sugar, both of which are unfortunately found in most muffins. Even most vegan varieties would be more appropriately named dessert than breakfast based on their sugar count.
But fear not! My muffin quest continues nonetheless, and as with most of my baked goods, I've made some healthy versions of my own by swapping out added sugar in favor of superfood. So instead of a sugar crash, you'll simply feel full and awesome.
They'll take a bit of prep time, just enough to soak the goji berries and chia seeds the nights before. From there, it's smooth sailing, and you'll have some delicious and filling superfood-filled muffins to eat all week.
Ingredients (yield 12 muffins)
4 cups rolled oats (blended into oat flour)
1/2 cup flax meal or flaxseeds
1 1/2 cup goji berries (soaked in 2 cups water)
8-10 dates soaked in 1 cup water
3 Tbsp. chia seeds soaked in 1 cup almond milk (or nondairy milk of choice)
1 cup unsweetened, shredded coconut + 1 Tbsp. to sprinkle on top before baking
2 tsp. baking powder
1 1/2 tsp. baking soda
Soak chia seeds in almond milk the night before, so chia seeds expand. Make sure you mix this mixture so they absorb as much liquid as possible.
Soak goji berries and dates in water at least 4 hours before.
Preheat oven to 375 degrees Fahrenheit and grease muffin tins with coconut oil or other not stick of choice.
Blend oats into oat flour, then mix with other dry ingredients — 1/2 cup flaxseeds, 1 cup of shredded coconut, baking soda and powder.
Blend soaked gojis and dates — be sure to check to take out pits from dates before blending!
Add with chia seed mixture, mix.
Pour wet mixture into dry mixture, mix well, but careful not over mix. If mixture is too dry to mix, you can pour in more nondairy milk.
Move mixture to muffin tins (try to do this only after several minutes to mixing). Then sprinkle on remaining shredded coconut to tops of muffins.
Bake for 20-25 minutes, they should have expanded and be fluffy, and not too moist on the inside (can do a toothpick test)
Take out and let cool for at least 30 minutes.
Kristen Brotemarkle
Kristen is a San Francisco based yoga teacher, writer, and healthy recipe creator, working to change the world. She believes this change starts within and that we all have both the right and obligation to live happy, healthy lives of purpose. She hopes to make this lifestyle accessible to all, using yoga and healthy eating as vehicles for self-realization and self-love. Through her writing and teaching, she aims to inspire others to move beyond fear, and towards authentic lives of love and possibility. In short, living life as our best selves.
For your daily dose of food and inspiration, you can visit Kristen on her mat at KristensMats.com, or on Facebook, Twitter, and Instagram @KristensMat