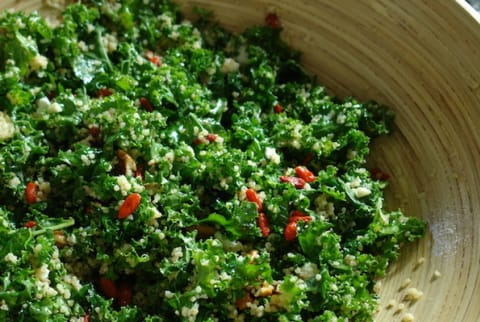 December 20, 2013
I hosted a last minute lunch for friends over the weekend, and I wanted to serve a festive dish in keeping with the season. I reached for bright red goji berries and deep green kale — seasonal and uber-healthy!
Did you know that rehydrating goji berries brings out their sweetness? True.
Give this red and green salad a try, for a quick and easy holiday meal or side dish.
Ingredients:
Advertisement
This ad is displayed using third party content and we do not control its accessibility features.
1 cup raw quinoa
1 large head of kale (I used curly leaf kale)
3/4 cup dried goji berries
1 cup pine nuts (you can substitute another seed or nut you prefer)
6 tablespoons extra-virgin olive oil
2 tablespoons apple cider vinegar
2 teaspoons Dijon vinegar
2 garlic cloves, minced very fine
Directions:
Add dried goji berries to 2 cups of room temperature water, and allow to soak for about 20 minutes. Gently pour gojis into a fine metal strainer when plumped to discard water.
Add pine nuts to a seasoned very hot pan, and stir quickly. These burn easily, so as soon as you begin to smell the aroma, pull the pan off the heat and continue to toss.
When toasted, pour into a small bowl to cool.
Boil water for quinoa, (2 cups water to 1 cup quinoa) and add quinoa. Reduce heat to simmer, and cover your pan. This should take approximately 12 minutes to cook. Remove pan from heat, and allow to cool. Fluff quinoa with a fork to loosen grains.
Trim kale from tough stalks and center stems, and slice into ribbons, approximately 1/2 inch wide. Add to a large bowl.
In a smaller mixing bowl, whisk your dressing together. Add lemon juice, Dijon mustard, olive oil, and seasonings and whisk until well blended.
After the quinoa cools, add to the kale. Set aside about 2 tablespoons of goji berries for garnish, and add the rest of the gojis, along with the nuts to your kale and quinoa. Add dressing and toss to mix.
Garnish with goji berries for a pretty red color!
Serve. This salad serves about 6 people, and will last covered in your refrigerator for 3 days.
Advertisement
This ad is displayed using third party content and we do not control its accessibility features.
Holli Thompson
Holli Thompson is the author of Discover Your Nutritional Style; Your Seasonal Plan to a Healthy, Happy, and Delicious Life, available now on Amazon and Barnes & Noble. Thompson is a former VP for Chanel, turned creator of Nutritional Style®, a health and nutrition blog and consulting company. Her innovative method of identifying the three types of nutritional styles; Healthy Omnivore™, Flexible Vegetarian™, and Modern Vegan™, was established to allow women (and men) to finally experience an attainable, satisfying and always health-filled lifestyle. An inspirational speaker, and TV guest for several major networks, Holli shares weekly on her own blog, hollithompson.com. She also contributes to MindBodyGreen.com.