Caramel Sauce Makes These Chocolate Sweet Potato Brownies Even Better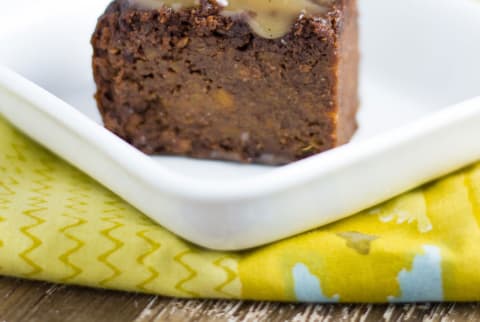 September 19, 2014
Over on my blog, I've been sharing a lot of raw desserts with my readers, which I absolutely love doing. However, I felt that it was time to make a few cooked desserts. So today I bring you Chocolate Brownies with Caramel Sauce.
These brownies are a little different from the traditional ones that you may have seen as they are made using sweet potato, which makes then unbelievably moist and allows you to avoid a lot of ingredients that are less healthy.
The caramel sauce is optional, but highly recommended. The flavor combination of the chocolate and caramel is seriously a match made in heaven! These brownies are suitable for Paleo and they are also dairy free, gluten-free and tree nut free.
Chocolate Sweet Potato Brownies With Caramel Sauce
Ingredients
For the chocolate brownies
1 large sweet potato
4 organic eggs
2/3 cup organic maple syrup
1/2 cup coconut oil, melted
2 tsp. vanilla extract or vanilla bean paste
4 Tbsp coconut flour
1/3 cup raw cacao powder
1 Tbsp. baking powder
Pinch sea salt
1/2 cup organic maple syrup
1 cup coconut milk
2 tsp. pure vanilla extract
1/2 tsp. salt
Method
For the chocolate brownies
Poke a few holes in the sweet potato and bake for 60 minutes at 200 degrees celcius or until soft enough for mashing. Remove and let it cool for at least 10 minutes. Turn down the oven to 180 degrees celcius.
Peel, then mash the potato in a large mixing bowl (I highly recommend using a potato ricer if you have one).
Add the eggs, coconut oil, maple syrup and vanilla extract to the bowl. Mix well.
Next, add the coconut flour, cacao powder, baking powder and salt. Mix all ingredients thoroughly.
Pour into a lined square baking pan and bake for 30-40 minutes. To see if it is done, insert a toothpick or wooden skewer into the middle and see if it comes out clean. If not, then cook for five more minutes and test again.
Remove and let it cool for 10 minutes in the baking pan, before placing on a metal rack to continue cooling.
Heat small saucepan on medium heat and add the maple syrup. Bring to the boil and let it cook for 1 minute until slightly darkened.
Add the coconut milk, vanilla and salt, stir to combine
Cook for 5-10 minutes until the caramel sauce thickens and gets darker.
Let it cool for 5 minutes before serving with the chocolate brownies.

Vanessa Vickery
Vanessa Vickery (or Ness as she is also known) is a qualified nutritionist and a mother of two energetic toddlers. She created Becomingness, a health and wellness website, to help women achieve their health and wellness goals by providing accurate, accessible information, as well as offering valuable products and services that promote motivation, empowerment, self-belief and happiness.