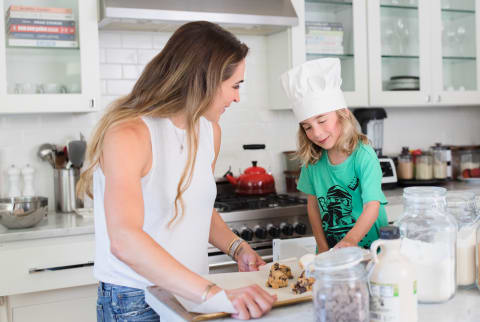 Image by Katie Rain / Contributor
May 26, 2014
Macadamia nuts are high in unsaturated fatty acids and palmitoleic acids, which actually can help speed up metabolism. They're an excellent source of minerals such as calcium, iron, magnesium, manganese and zinc, and they're as well as being rich in vitamins, especially the many B-complex vitamins.
These cookies are a delicious treat, and so easy to make. You can add other things to it, like chocolate chips, other nut butters, seeds and dried fruits.
Sweet Macadamia Nut Cookies
Ingredients
2 cups macadamia nuts
1/2 cup dried cranberries
1/2 cup currants or raisins
1 Tbsp. maple syrup
1 tsp. vanilla essence
1/2 tsp. cinnamon
pinch of Celtic sea salt
Method
Preheat oven to 300°F.
Put all ingredients into blender and blend on med setting for about two minutes, you want the consistency to be crumbly not super smooth. Depending on the blender it might be a med-high setting.
Once you reach the desired consistency form into small balls and flatten into cookie sizes onto baking paper or foil
Put into oven for 10 minutes.
Leave to cool for about half an hour and they're ready to go!

Binny Liu
I am a full time Bikram Yoga teacher that lives in Perth, Australia. I developed compartment syndrome and fibromyalgia in my teens, and being gluten and lactose intolerant, have spent a large part of my years being in constant pain and suffering from digestive issues.
Over the past 10 years, I've shifted to a mainly raw plant based diet, explored alternative modalities of healing therapies and realised that being well and healthy is a way of life. I discovered yoga 4 years ago and have been teaching Bikram yoga since 2011, in the US and Australia.
I truly believe that we all have the power and the capabilities to heal our own bodies, to nourish the spirit and seek our own happiness and life's purpose.