Gluten-Free Cranberry Almond Biscotti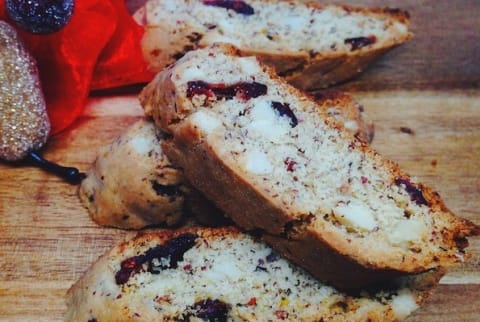 December 27, 2013
I have a confession to make. I love, love dipping a cookie into my morning coffee or for a tea break. But they can't be sugar-loaded cookies. That doesn't sit well with me. It has to be more of a biscuit.
Once I became aware of what's in most store bought cookies I started to make my own biscotti — Italian twice-baked cookies. In fact, I made so many, in so many varieties, that my former restaurant was named ... you guessed it: Biscotti.
Advertisement
This ad is displayed using third party content and we do not control its accessibility features.
This recipe is low in fat and sugar, gluten-free and spectacular. The recipe makes about two dozen mini biscotti, or a dozen large ones, and it can easily be doubled or tripled. If you're planning on making cookies in the next few days, add these to the mix. They make a great gift, and they stay fresh for weeks. They're so good and make a much healthier cookie than the store-bought varieties, so I don't feel bad indulging in one or two. They're my ritual when I want a little comfort.
Gluten-Free Cranberry Almond Biscotti
Ingredients
1.5 cups almond meal (plus a bit extra for your board)
1/2 cup rice flour (right under the almond flour as the 2nd ingredient)
1/3 cup sugar
1 teaspoon baking powder (GF — check the ingredients, because not all baking powder is GF)
1/4 teaspoon salt
1 large egg
3 ounces butter
1 teaspoon almond extract
1 tablespoon orange zest (optional but this gives a nice balance to the almond flavor)
1/2 cup slivered almonds
1/2 cup cranberries
Advertisement
This ad is displayed using third party content and we do not control its accessibility features.
Method
Cream the butter and the sugar.
Add the eggs, the extract and the zest, and mix.
In a separate bowl add the dry ingredients: the flour, the almond meal, salt, baking powder — mix and add to the wet ingredients.
Add the dry to the wet ingredients, along with the nuts and cranberries, and mix.
Dust your board with a bit of flour and place the dough on the board. Add a bit more flour if too sticky (you can also use other GF flour for this. I used white rice flour).
Knead until smooth and shape into a log that's about 3 inches wide and 1/2-inch deep (or for smaller biscotti: about 2 inches wide)
Place on a lightly greased tray.
Bake in a preheated 350-degree (Fahrenheit) oven for 30 minutes or until golden.
Remove from the oven and let them cool for 15-20 minutes.
Cut on the diagonal with a serrated knife about 1/2" wide.
Place standing up (with cut sides exposed) back on the tray and bake for an additional 10 minutes.
Advertisement
This ad is displayed using third party content and we do not control its accessibility features.
Silvia Bianco
Live a vibrant, connected, physically and spiritually nourished life.
As a native Italian, connection is in my DNA. As a holistic professional chef, good nutrition and great taste go together.
We've sacrificed cooking for convenience and lost the sacredness of sharing a lovingly prepared meal. I'm on a mission to change that.
For 20 years, I've taught thousands of people (regardless of their dietary choices or restrictions) how to cook whatever they want to learn using simple, fresh, everyday ingredients along with practical, easy techniques.
Now I've gathered the tools and inspiration for you to make cooking simple and meeting at the table a meaningful and memorable experience. Get them by
SUBSCRIBING to chefsilvia.com and LIKE my FB page to get my latest divine, Mediterranean inspired recipes and cooking tips. Subscribe to Miracles & the Chef for some Sacred Sustenance - based on the teaching of ACIM.