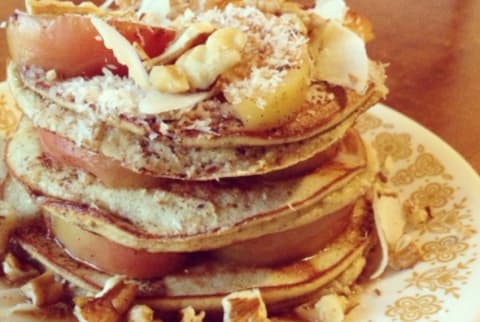 May 21, 2013
These delectable pancakes are super simple and are just the thing to get you jumping out of bed in the morning! Not only are they gluten free, but they're also refined sugar free (so they won't to put a dent in any healthy eating plans). Double the recipe and share the love with a friend. Happy breakfast eating!
1/2 ripe banana
2 eggs
2 Tablespoon almond flour
1 Tablespoon coconut flour
1/2 teaspoon baking powder
1 sliced red apple
1 tablespoon cinnamon
1 teaspoon maple syrup
1 teaspoon vanilla
Almond butter
Shredded or flaked coconut
Walnuts and pecans
Place sliced apples into a small pot and cover with water. Add cinnamon, maple syrup and vanilla and simmer on medium heat until the apples are soft (about 15 minutes).
Blend all pancake ingredients in a blender until smooth.
Heat some coconut oil in a pan and cook pancakes on both sides until lightly brown (turning when the top bubbles).
Layer pancakes with almond butter, shredded coconut and the apple mixture.
Top with crushed walnuts, pecans and coconut flakes and drizzle over the left over apple liquid to finish!

Kavisha Jega
Kavisha is a food and wellness coach who works to empower people to live healthier and happier lives. She is currently studying her Masters in Wellness and is best known for her expertise in healthy eating and lifestyle balance. Her unique holistic food coaching programs allow her services to be customised to each individual's needs.