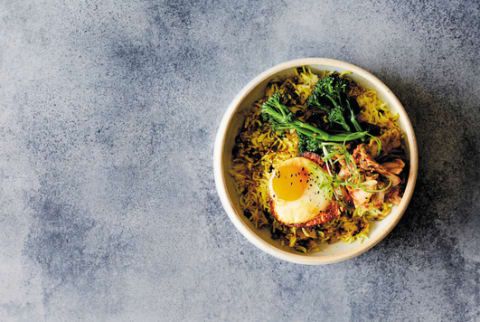 February 24, 2017
We love the idea of starting our day with this anti-inflammatory (from the ginger and turmeric) and probiotic-rich (from the kimchi) breakfast bowl that's packed with flavor. It's easy to throw together but exciting enough to make it breakfast-for-dinner-worthy. Cook your rice ahead of time to make prep extra speedy.
The rice can be cooked the day before and stored in an airtight container in the refrigerator (or use leftovers from last night's dinner). Gently break it up with your hands before cooking. The crispy rice makes this breakfast bowl extra delicious—I find my large cast iron frying pan gives me the best result.
Ginger + Turmeric Rice Bowl With Kimchi
200 g (7 oz/1 cup) basmati rice, rinsed
60 ml (2 fl oz/ ¼ cup) peanut oil
4 spring onions (scallions), chopped
1 tablespoon sesame seeds
1 teaspoon finely grated fresh ginger
1 garlic clove, very finely sliced
1 teaspoon ground turmeric
4 free-range eggs
1 bunch broccolini, trimmed
kimchi
shredded spring onion
roasted black sesame seeds
sesame oil
tamari or soy sauce
1.. Add the rice to a large saucepan with 375 ml (12. fl oz/1 1/2 cups) water. Bring to the boil, cover with a tight-fitting lid and reduce the heat to low. Cook for 10 minutes and then turn off the heat. Without lifting the lid, set the saucepan aside for 10 minutes to rest. Spread the rice over a large tray to cool slightly.
2. Heat 2 tablespoons of the oil in a large heavy-based frying pan (cast iron if you have one) or wok over medium heat. Add the spring onion, sesame seeds, ginger, garlic, and half of the turmeric and cook, stirring, for about 1 minute or until fragrant.
3. Add the rice and stir-fry until heated through, about 2 minutes. Season with salt. Increase the heat to medium–high and let the rice cook, undisturbed, for a further 3–4 minutes so that a crunchy crust forms on the bottom. Be careful that it doesn't burn—turn the heat down a little if necessary.
4. Meanwhile, heat the remaining oil in a separate heavy-based frying pan over medium–high heat. Add the remaining turmeric and swirl the pan to combine.
5. Carefully break the eggs into the pan and cook for 2–2 ½ minutes until the whites are crispy around the edges, but the yolks are still runny (or until cooked to your liking).
6. At the same time, in a steamer basket set over a large saucepan of simmering water, steam the broccolini for 2 minutes or until tender but still crisp.
7. Serve the rice into bowls, ensuring every bowl gets a share of the crispy rice. Top with the broccolini, fried eggs, kimchi, spring onion and sesame seeds. Serve the sesame oil and tamari or soy sauce on the side.
Excerpted from Breakfast Bowls by Caroline Griffiths, Smith Street Books, 2017. Photographs by Chris Middleman.

Caroline Griffiths
Caroline Griffiths is an author, qualified home economist, cook, food writer, and food stylist with a keen interest in nutrition. She is a passionate food expert with over twenty-five years of food-industry experience, having worked in Australia's best-known test kitchens. She's the author of Breakfast Bowls and Incredible Bakes (both published by Smith Street Books), and she contributes regularly to many food magazines and websites.