15 Big Food Companies That Are Making Healthy Changes

By Emi Boscamp
mbg Contributor
Emi Boscamp is the former News Editor at mindbodygreen. She received a BA in English and minors in Spanish and Art History from Cornell University.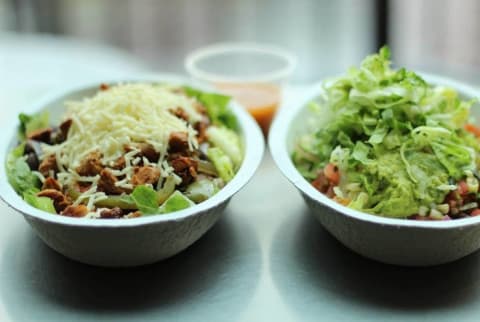 Photo by Chipotle/Facebook
August 6, 2015
America, the land of the fries and the home of the burger, wants a new reputation. American consumers have become increasingly conscious about the food they put in their bodies; they care more about health, nutrition, and sourcing than how fast they can grab it and go. Major food companies — like Kraft, General Mills and Chipotle — have taken note and taken action.
Whether it's ditching artificial ingredients or shifting toward healthier choices in other ways (like banishing soda from kids' menus, or not injecting their chickens with antibiotics), Big Food is realizing that less is more. The simpler the better.
Here are the companies that have put that notion into practice this year:
Nestlé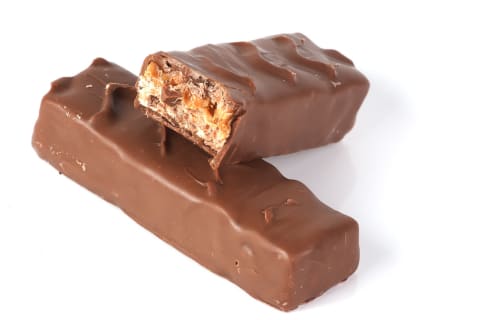 Nestlé USA announced in February that it will be removing artificial flavors and FDA-certified colorings from all of its chocolate candy products — including the Baby Ruth and the Butterfinger — by the end of 2015.
This means the company will have to reformulate about 75 recipes for their 250 products. For example, in order to get that orange hue at the center of a Butterfinger, which is normally created by combining Yellow 5 and Red 40, Nestle will instead use annatto, which comes from the seeds found in the fruit from the achiote tree.
Shake Shack
As one of the first chains to successfully elevate fast food, the New York institution already has a cult following, but that doesn't stop founder Danny Meyer from trying to improve the food's quality. In mid-March, all Shack burger and hot dog buns became GMO-free. The chain worked with its existing supplier Martin's Famous Pastry Shoppe to source non-GMO ingredients.
Chipotle
In April, the king of fast-casual dining became the first major restaurant chain to take genetically modified foods off its menu.
"Just because food is served fast doesn't mean it has to be made with cheap raw ingredients, highly processed with preservatives and fillers and stabilizers and artificial colors and flavors," Steve Ells, founder and co-chief executive of Chipotle, told the Times. (Its minimalist guac recipe is a testament to that.)
Now, all of Chipotle's restaurants are using non-GMO corn, which goes into many menu items, including the all-important tortilla. The tortilla itself got another makeover in June when its ingredients were cut down from 11 to four.
Kraft
By the start of 2016, the mac and cheese from your childhood may not have that mutant glow you remember so fondly. Kraft announced in April that the product is going au naturel, using spices like paprika, annatto, and turmeric to simulate the color instead of artificial preservatives and synthetic colors. But, the company insists, it'll still look and taste the same.
Tyson Foods
Also in April, Tyson Foods revealed plans to stop using human antibiotics in its chickens by the end of September 2017. This follows a statement in March from McDonald's (a Tyson customer) that said it was "committing to use chicken that is not raised with antibiotics important to human medicine." In other words, Tyson will continue to use antibiotics — but only ones that "aren't medically important for humans." It's a step, though!
Panera
By the end of 2016, the bread-baking chain announced in May, it plans to remove at least 150 artificial preservatives, flavors, colors, and sweeteners — including fat substitutes and propylene glycol — from its soups, sandwiches, salad dressings, and bakery items.
Taco Bell
Taco Bell announced plans in May to cut artificial colors, artificial flavors, and added trans fats from their menu "where possible" by 2017. The chalupa-slinging chain will use actual black pepper in its seasoned beef instead of "black pepper flavor," but it won't alter its co-branded products, like "Doritos Locos Tacos."
Pizza Hut
The red-roofed chain, which, like Taco Bell, is owned by Yum Brands, has already eliminated artificial trans fats and MSG, and reduced the sodium in its pizza. It did away with the last of its fake fillers at the end of July.
Subway
In June, the sandwich franchise decided to remove artificial flavors, colors, and preservatives from its food in North America by 2017. The banana peppers, for example, will get their bright hue from turmeric instead of from Yellow No. 5, and in the turkey, Subway will replace a preservative called proprionic acid with vinegar.
General Mills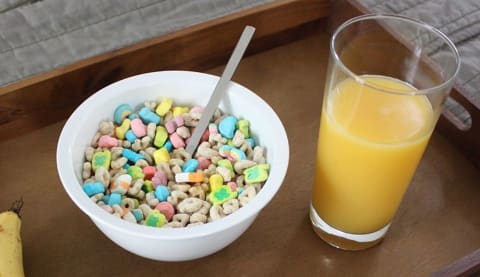 Photo by General Mills/Facebook
In June, General Mills announced that it will be completely eliminating artificial flavors and colors from all of its famous cereals by the end of 2017. One of its most vibrantly colored cereals, Trix, will now feature ingredients like fruit and vegetable juices and spice extracts such as turmeric and paprika to create the red, yellow, orange, and purple hues. Blue and green, unfortunately, were casualties.
"Cereals that contain marshmallows, like Lucky Charms, may take longer," acknowledged Kate Gallager, General Mills' cereal developer. But all-natural Trix and Reese's Puffs should hit shelves by winter.
Papa John's
Papa's in the houuuse. The pizza giant said in June that it would be spending a whopping $100 million a year to rid its food — mainly the dipping sauces — of 14 artificial ingredients like corn syrup, artificial colors, and various preservatives by the end of 2016. Maybe it should consider changing its slogan to "Even better ingredients, even better pizza."
Campbell's
We're souper excited about this one (ha ha). In July, the company decided to rid ditch artificial colors and flavors in all its food by 2018. Campbell's said it also will reduce the amount of high-fructose corn syrup it uses in its products, further simplify its recipes, and try to incorporate more organic ingredients. Warhol-worshippers need not fret, as the famous soup can will not be made-over.
The Cheesecake Factory
In July, the Cheesecake Factory, which is typically associated with heavier foods (for obvious reasons), is adding a new "Superfoods" platform to its summer menu in August. This comes as a supplement to the chain's "SkinnyLicious" offerings, which are lower in calories. Dishes will include "nutrient-rich, high quality, powerhouse ingredients" (think kale, blueberries, and quinoa).
Perdue
In September 2014, the poultry-selling giant said that it would no longer use antibiotics in its hatcheries, and this past month, the company proudly declared that more than half of its chickens can be labeled "no antibiotics ever." And they're not just talking about human antibiotics, but all antibiotics.
Kellogg's
Following in its biggest competitor's (General Mills) footsteps, Kellogg's said yesterday that it aimed to abandon the use of artificial ingredients, colors, and preservatives in its cereal and snack bars by the end of 2018. Sadly, our beloved Froot Loops may not be as vibrant as we know them to be. On the upside, they'll join the ranks of more natural Froot Loops sold internationally. In Australia, for example, the cereal uses "carmine, paprika, caramel I, turmeric, copper chlorophyll, and vegetable carbon" to achieve those crazy colors.

Emi Boscamp
Emi Boscamp is the former News Editor at mindbodygreen. She received a BA in English and minors in Spanish and Art History from Cornell University. She's a writer living in Manhattan and enjoys cooking, eating, traveling, and writing about all three of those things. She loves anything pickled. And anything punny. (She's kind of a big dill.)