What The Everyday Supermodel Eats For Lunch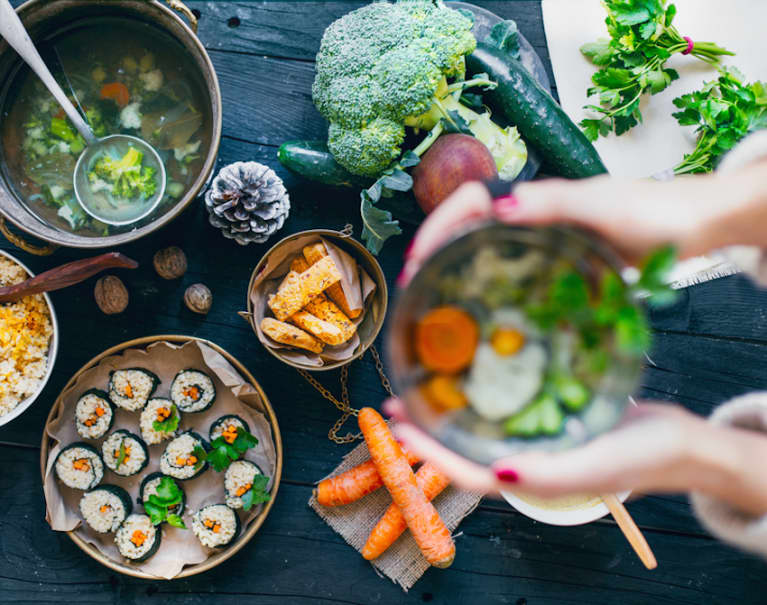 Our editors have independently chosen the products listed on this page. If you purchase something mentioned in this article, we may
earn a small commission
.
Last updated on October 23, 2020
Ever wonder what a supermodel eats for lunch? Molly Sims lends us four of her most common lunch options on a typical day.
1. An Everyday Supermodel Salad
Large vegetable-filled salad topped with lean protein. (Feel free to include as many nonstarchy vegetables in your salad as you want. Top your salad with 2–3 ounces of lean protein — no more than the size of a deck of cards.)
Dressing: Any vinegar or lemon/grapefruit/orange juices are fine, or have low-fat, low-calorie dressing on the side and use sparingly. If out for lunch, ask your server for a side of vinegar.
Steer clear of going overboard on salad toppings that can add up to unwanted calories, like excess beans, nuts, seeds, cheeses, avocado, dried fruit and corn. These toppers have healthy properties but are also calorically dense — so just a sprinkle!
Miso soup, green salad with ginger dressing with your choice of one of the following:
Sashimi (up to six pieces)
Hand rolls without rice (up to three rolls)
Combo: one hand roll without rice and up to three pieces of sashimi
Naruto roll/cucumber-wrapped roll without rice (one Naruto roll only)
Sushi rules: Skip white rice. No mayo-ized anything, crunchy fried onions, or tempura. Avoid appetite-stimulating soy sauce and instead ask for low-salt/low-fat dressings/sauces.
3. Two to Three Ounces Lean Protein & Vegetables
Lean proteins can be grilled, steamed, poached/boiled, or baked.
Try adding one teaspoon of Parmesan cheese to steamed vegetables to add flavor.
1 cup broth or vegetable-based soup such as chicken and vegetable, miso, gazpacho, or vegetable soup
Beverage: black coffee, tea, or water (or have one glass of wine for a spunky spirit!)
Excerpted from The Everyday Supermodel by Molly Sims, HarperCollins 2015.