These Hummus Bowls With Ethiopian Spiced "Meat" Make The Most Of A Plant-Based Burger Patty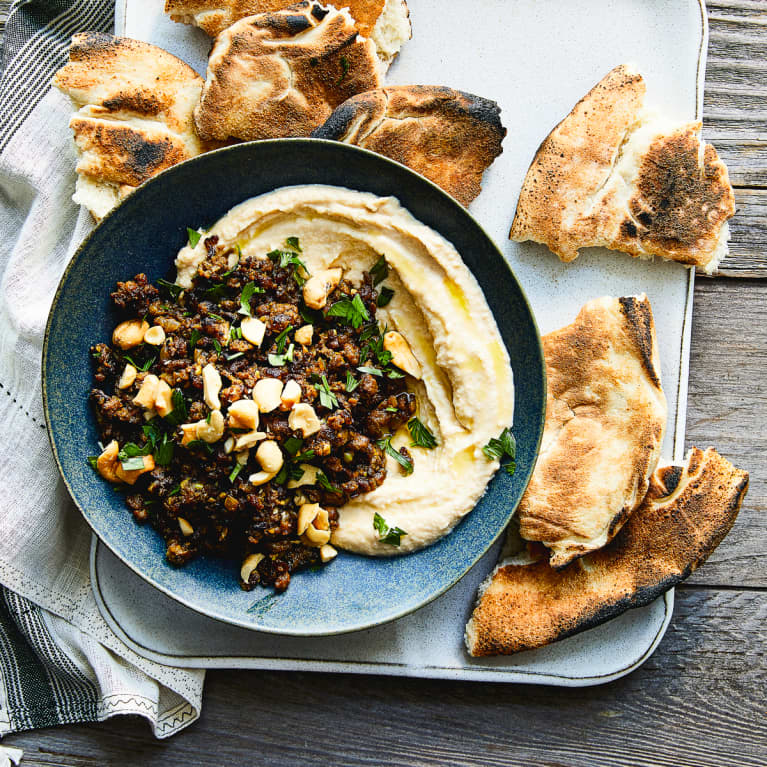 Sambusas are Ethiopia's version of samosas: pastry turnovers with a spiced meat filling. "There's a huge Ethiopian population here in D.C.," says chef Kwame Onwuachi, "and sambusas are a popular pre-service snack with our staff at Kith/Kin."
That was his inspiration for this quick, easy recipe, in which he skips the pastry and serves a sambusa-style filling over creamy hummus. "Anyone can make this, and it's so flavorful," says Kwame. "The seasonings and the texture always remind people of ground lamb."
This version, from Impossible: The Cookbook, swaps in the popular "meat" in place of ground lamb for a vegan-friendly dinner dish that's packed with plant-based protein and flavor.
Ethiopian Spiced "Meat" With Hummus & Toasted Cashews
One 15½-oz. (445-g) can chickpeas, drained and rinsed
3 Tbsp. fresh lemon juice
3 cloves garlic, chopped
2 tsp. tahini
1½ tsp. ground cumin
¼ tsp. kosher salt
⅓ cup extra-virgin olive oil
For the Ethiopian spiced meat
1½ Tbsp. grapeseed oil
1 small white onion, finely chopped
8 cloves garlic, minced
2 tsp. minced fresh ginger
1½ tsp. berbere (Ethiopian spice mix)
¾ tsp. ground cumin
¼ tsp. ground cardamom
¼ tsp. ground cinnamon
Kosher salt
12 oz. Impossible Burger
¼ cup chopped toasted cashews
¼ to ½ cup chopped fresh flat-leaf parsley leaves, according to taste
Extra-virgin olive oil, for serving
3 to 4 pita breads, warmed and cut into wedges, for serving
To make the hummus, add the chickpeas, lemon juice, garlic, tahini, cumin, and salt to a food processor and process until smooth. With the machine running, slowly add the olive oil until well combined. Taste and adjust the seasoning; set aside. You should have about 1½ cups (360 g).
To make the meat, in a large sauté pan over medium heat, warm the oil. Add the onion, garlic, ginger, berbere, cumin, cardamom, cinnamon, and ¼ tsp. salt and cook, stirring, until the onion is translucent and the mixture is fragrant, about 10 minutes. Crumble the Impossible Burger into the pan and cook, stirring to break it up, until browned and cooked through, 8 minutes. Taste and adjust the seasoning.
To serve, spread the hummus onto a large dish, smoothing the top and creating a well in the center. Spoon the warm meat into the center of the hummus and garnish with the cashews, parsley, and a drizzle of olive oil. Serve with warm pita wedges alongside.