Have you had those days when you simply can't peel yourself out of bed? You hit the snooze button for the 4th time and still can't get up?
On days when your energy level is low, it's even more important for you to nourish your body with a nutritious breakfast. A warming, magnesium-rich oatmeal porridge with fresh berries, banana and nuts will provide you the fuel you need to to kick start your day.
Oatmeal is likely one of the most underestimated superfoods out there. Packed with magnesium and a fiber called beta-glucan, oatmeal not only boosts your energy but also keeps your heart healthy. Ready in less than 20 minutes, this recipe is hearty, healthy and energizing.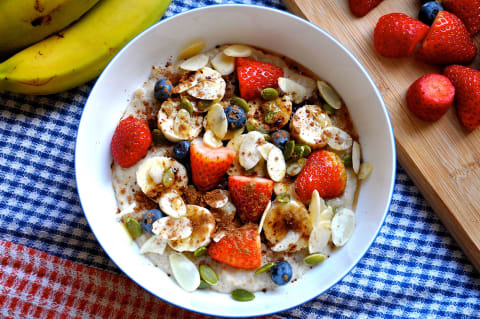 1 cup of organic oatmeal
3 cups of almond milk
1 cinnamon quill
1 banana
3 teaspoons of raw honey
2 tablespoons of pepitas
2 tablespoons of sliced almonds
2 tablespoons of cacao
Optional: a handful of fresh berries such as strawberries, blueberries & raspberries
1. Warm 3 cups of fresh almond milk in a pot, adding 1 cup of organic oatmeal and a cinnamon quill.
2. Stir continuously until the almond milk evaporates and is absorbed by the oatmeal, bringing it to a porridge-like consistency. Add 2 teaspoons of honey to sweeten if you wish.
3. Once the porridge is done to your liking, remove the pot from the heat. Add the porridge into a bowl for each person.
4. Top your porridge with sliced banana, fresh berries, your pepitas and almonds. Dust with the cacao and drizzle with the remaining honey to serve.
Photo courtesy of the author

Melinda Restrepo
A passionate foodie, and a recently certified 200-hour yoga teacher, Melinda works for Google during the day and cooks up a storm at home. She has taught healthy cookery at St Colmcille's Community School in Ireland and has found her culinary influence by living in countries such as Switzerland, Ireland, Japan, Argentina, and Australia. Melinda has settled with her entrepreneurial husband in Sydney, Australia, and helps him build awareness for www.nasanta.com, their healthy cosmetics business.