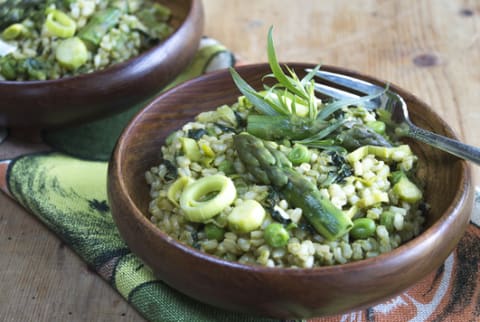 April 7, 2016
Short brown rice makes a creamy risotto that gets a boost of color from a bounty of spring vegetables.
Brown rice is a great source of fiber and really makes a wonderful, creamy risotto. Arborio rice is the classic choice, yet I love the nutty flavor of the short-grain brown variety—and couldn't we all use some extra fiber in our diet?
Advertisement
This ad is displayed using third party content and we do not control its accessibility features.
And there's no need to stir for 45 minutes; with my technique, you do most of the stirring at the beginning. Once the rice will have started to absorb the broth, it lets off some of its starch, then you can add the remaining broth, cover, and simmer over low heat until creamy.
My favorite trick: Sauté the green veggies first, then add them to the almost finished risotto in the last step. They will retain their color and vitamins—a beautiful bright-tasting and -looking risotto is the result.
Stir up seasonal spring veggies—asparagus, leeks, kale, and scallions—add jalapeño and fresh tarragon for a flavor boost.
Spring Brown Rice Risotto
2 tablespoons extra-virgin olive oil, divided
1 large leek, cut thinly in circles (about 1½ cups)
8 jumbo asparagus spears, peeled, trimmed, and sliced (about 2 cups)
6 medium lacinato kale leaves, cleaned and sliced thinly (about 1 cup)
1 tablespoon fresh jalapeño, small dice
1 tablespoon fresh tarragon, chopped fine (can use fresh basil, too)
½ cup green peas, fresh or frozen
6 cups vegetable broth, divided
2 tablespoons unsalted butter, organic, divided
2 medium scallions, cleaned, sliced thinly
1 tablespoon fresh garlic, peeled and minced
2 cups short-grain rice
⅓ cup dry white wine
¼ cup Parmigiano-Reggiano cheese, shaved
Advertisement
This ad is displayed using third party content and we do not control its accessibility features.
Preparation
1. Place the leeks in a bowl with plenty of cold water; swish around to remove dirt; strain and dry. Cut off the asparagus tips; slice the asparagus spears ⅓-inch thick—reserve all.
2. For the veggies: In a heavy, nonreactive 6-quart pot, add 1 tablespoon olive oil, and place over medium heat.
3. Add the asparagus, kale, leeks, jalapeño, and tarragon. Sauté for 3 minutes until the colors pop, and vegetables are crisp-tender. Add the peas (fresh or frozen), stir to combine—no need to cook them. Remove the vegetables to a bowl; wipe the pan clean.
4. For the risotto: Place vegetable broth in a pot to hold, bring to a bare simmer while you start the risotto.
5. Add 1 tablespoon butter and 1 tablespoon olive oil to the 6-quart pot. Add the scallions, garlic, and rice; cook for 2 minutes over medium heat. Add the wine; stir until it has evaporated.
6. Add 1 cup of hot broth to the pan; stir until it's all been absorbed, about 5 minutes. Add the remaining 5 cups of broth; bring to a boil; stir once, then cover and lower the heat to a simmer.
7. In 25 minutes, the broth should be somewhat absorbed. Uncover, and stir up until creamy and a bit brothy. To finish: Add the sautéed vegetables and 1 tablespoon cold butter.
8. Give a big stir, and warm through over low heat until creamy—just 1 minute. Do not overcook at this step; you will lose the bright color. The vegetables should be tender-crisp, and the risotto a bright green color. Remove from the heat, stir in Parmigiano-Reggiano cheese, and taste for seasonings.
Add salt if necessary (my vegetable broth is salty enough). Garnish with fresh tarragon sprigs, and serve. Naturally gluten-free.
This recipe may not be reproduced without the consent of it's author, Karen Sheer.
Advertisement
This ad is displayed using third party content and we do not control its accessibility features.

Karen Sheer
Karen Sheer is a professional chef, writer, caterer and food consultant specializing in original recipes. Her blog is "A Zest For Life" – Karen's Obsession with Food and Style. http://azestforlife.com.
Each recipe is inventive, original and well tested. Karen's recipes are written to give you the feeling that she is in the kitchen with you coaching step by step. Health and wellness are her passions. Karen's recipes promote fresh, local ingredients which lead to a healthier lifestyle!