This Easy Homemade Cranberry Sauce Recipe Elevates The Classic Dish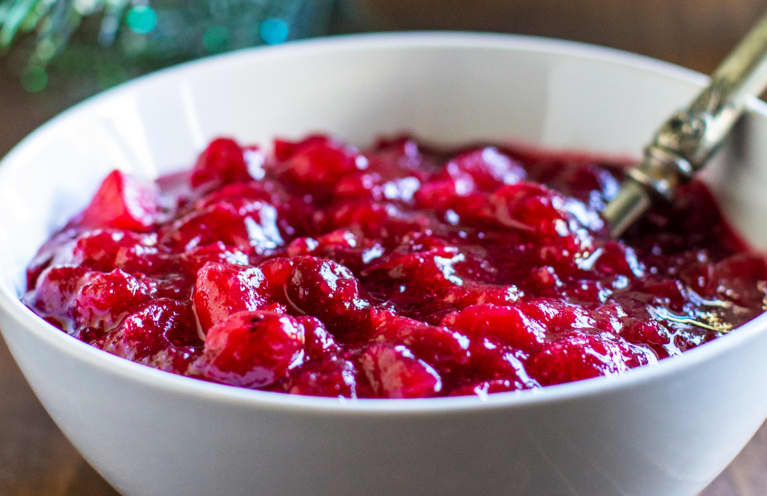 This article was produced to support the mindbodygreen supplements+ line. Our supplements adhere to the highest standards of ingredients and quality. We hope you enjoy these products, for more information
click here
.
A classic Thanksgiving table isn't complete without cranberry sauce. Though it's easy to find a canned ready-to-go option, most have added sugars—which is a shame, because it's actually pretty easy to make a fabulous homemade cranberry sauce with natural sweeteners.
This recipe, from Meggan Hill of Culinary Hill, uses a bonus ingredient for the perfect sauce: "Adding apples to cranberry sauce means extra natural sweetness and more texture," Hill told mindbodygreen. "The flavors complement each other perfectly." Other than the apples, she also uses maple syrup (or honey) for that sweetness necessary to counteract the inherent tartness of cranberries.
If you're already making the rest of your Thanksgiving meal from scratch, why not take the extra few minutes to put together this recipe—you'll be impressed how quickly and easily it comes together to star alongside your other healthy sides.
Cranberry Sauce With Apples
¾ cup water
¼ teaspoon ground cinnamon
¼ teaspoon salt
12 ounces fresh cranberries, picked over
1 cup tart apples, peeled and diced
½ cup maple syrup or honey
In a medium saucepan, bring water, cinnamon, and salt to boil. Stir in cranberries, apples, and maple syrup.
Simmer until slightly thickened and the berries begin to pop, about 10 minutes.
Remove from heat and cool to room temperature or chill.