5 Healthy Breakfasts With Five Ingredients (Or Less) To Start Your Day Right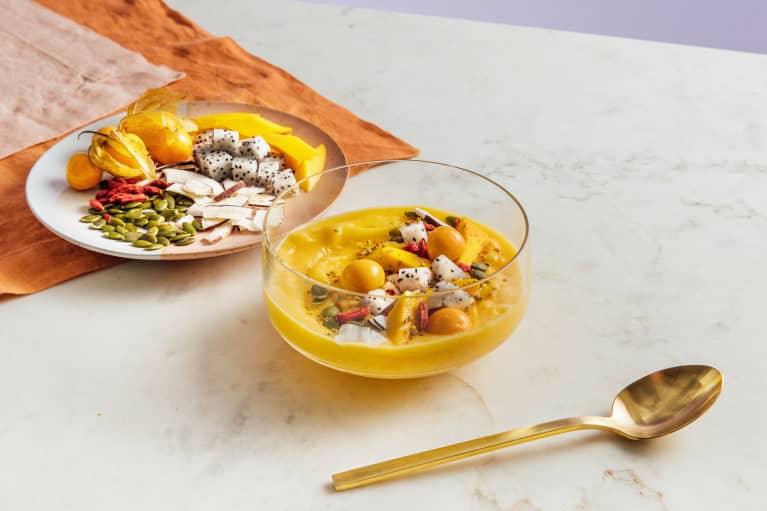 This article was produced to support the mindbodygreen supplements+ line. Our supplements adhere to the highest standards of ingredients and quality. We hope you enjoy these products, for more information
click here
.
Last updated on August 13, 2021
Starting off on the right foot can seriously affect how you feel as the day progresses, and an important part of that for many people is a nutritious breakfast.
So whether it's breaking your fast while intermittent fasting or a crucial part of your morning well-being routine, these healthy breakfasts keep things simple with five ingredients (or less) so you can get to enjoying your day.
1.
3-Ingredient Protein Pancakes
2.
Tropical Smoothie Bowl
While we love a classic smoothie, there's something about a smoothie bowl that feels a bit more special for a morning breakfast. Luckily, that doesn't mean it needs to be complicated: This tropical-fruit-flavored smoothie bowl is only five ingredients, including a portion of mbg beauty & gut collagen+ along with mango, pineapple, and coconut water.
3.
The Easiest Green Juice
4.
Dairy-Free Coconut Crêpes
Feeling a touch fancier than even a pancake breakfast will satisfy? These dairy- (and gluten- and sugar-) free crêpes may be just what you're looking for. The batter requires only five ingredients, and then you're free to pile on all your favorite things—though the recommendation is a mix of coconut yogurt, berries, and nuts.
5.
Keto-Friendly Breakfast Pizza
You don't have to be following the ketogenic diet to enjoy this five-ingredient breakfast pizza. The simple egg-based recipe calls for toppings of tomato, mozzarella cheese, and pepperoni, but vegetarians can enjoy it with mushrooms or spinach—and really, just about any topping you'd traditionally toss on a pizza will work here.
Whether your morning tastes are more sweet or savory, breakfast doesn't have to be complicated to be exciting—but when in doubt, you can always turn to the old reliable: your favorite avocado toast.