Turn Your Water Into A Tonic With These 5 Simple Recipes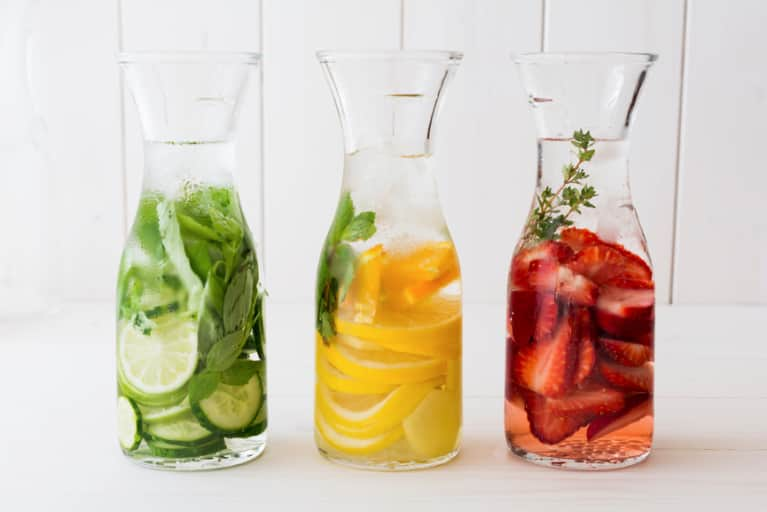 Must. Drink. More. Water.
Boring, right? We all know what we should be doing, but drinking more water can be a bore if you don't want to add heavily sweetened cordials or fruit concentrates to it.
Infusing water with fresh fruit and herbs is a great habit to mix it up, but have you ever thought about adding spices to your water too? It's a fun way to throw in some extra health benefits!
My five must-have spring spices make great additions to these quick infused water recipes:
1. Cooling Cumin, Mint + Cucumber Water
All three of these ingredients are known for their cooling properties, especially on the digestive system, which is so important in any cleanse or detox.
Thymol, a compound in cumin, can stimulate bile production, which is required for the breakdown of fats and absorption of nutrients, making for healthy digestion.
Make the water:
Add 6 to 8 slices of cucumber, 3 to 4 fresh mint leaves, and 1 to 2 teaspoons of cumin to 8 cups of water. Refrigerate overnight and enjoy chilled or at room temperature.
2. Kick-starter Cayenne Lemon Water
The alkalinity of lemon water is always a great way to start the day, but adding a pinch of red chili to the mix is an age-old Ayurvedic cleansing practice. Red chili is known to increase metabolism, help with weight loss, and will definitely help kick-start you each morning!
Make the water:
Mix the juice of ¼ lemon into 2 cups of warm water with ⅛ teaspoon of cayenne (or a pinch if you can't take the heat), and drink first thing in the morning.
3. Anti-inflammatory Orange, Ginger, Turmeric + Black Pepper Water
Ginger and turmeric are both from the same family, so it's no surprise that both are well-known for their anti-inflammatory and antioxidant properties. Enhanced with powerful properties from black pepper and vitamin C from oranges, this water is the perfect year-round tonic.
Make the water:
Add 3 orange slices, ½ teaspoon of grated fresh ginger, ½ teaspoon turmeric powder, and a few twists of finely ground black pepper to 1 liter of water. Refrigerate overnight, and drink chilled or at room temperature. Remember to stir before sipping!
4. Watermelon, Basil + Sumac Spritzer
Add some fizz to your water routine with one of my favorite spices: sumac. This lemony Middle Eastern spice has strong antioxidant and antifungal value and, when combined with the antibacterial properties of basil, makes for a really refreshing way to enjoy water.
Make the water:
Blend together 2 cups of chunks of seedless watermelon, 5 fresh basil leaves, and 2 teaspoons sumac. Pour into ice cube trays and freeze.
Crack open a bottle of sparkling water and add a couple of watermelon ice cubes per glass and sip slowly!
Coconut water is a great hydration alternative, and infusing it with kaffir lime leaves will leave you feeling like you're in the tropics every day!
Known to be good for oral health and the blood, the aromatic flavor of kaffir lime leaves will still give you that hint of citrus without the bitterness.
Make the water:
Mix ¼ teaspoon of dried and crushed kaffir lime leaves into your favorite plain coconut water and refrigerate overnight before drinking.
Note: Using organic ingredients whenever possible is always recommended.