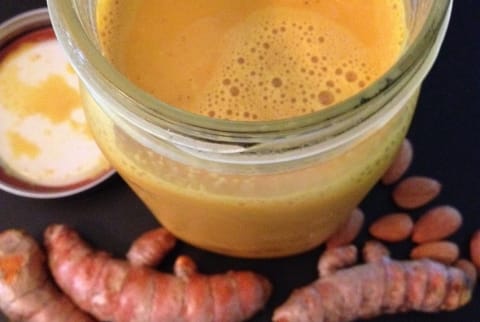 March 19, 2014
I'm pretty sure I'm not the only one out there on a turmeric kick. It's just so good for you! A super high powered anti-inflammatory that does the trick to soothe my achy joints, it's also a great source of both iron and manganese, as well as vitamin B6, fiber, and potassium.
My current favorite way to get my dose of turmeric is this recipe!
Shopping tip: Look for fresh turmeric root at your local Asian market. They often have it freshest and cheapest, but it can also be found at many health food stores.
4 cups homemade almond milk
1 1/4 cup freshly juiced turmeric (will be about 2 1/2 cups of the root)
1 1/2 tsp. cinnamon
1 tsp. ground cardamom
15 drops of clear stevia
3 tsp. honey
Add all ingredients to your blender.
Blend, and ta-da! Enjoy this soothing treat morning through evening.
Of course you can make it more or less sweet as you like.
Note: Turmeric stains easily, so make sure to clean up any spills quickly.
Want to turn your passion for wellbeing into a fulfilling career? Become a Certified Health Coach! Learn more here.

Tricia Huffman
Tricia Huffman, aka Your Joyologist, is passionate about truly living life and loving life. While living out her first dream as touring sound engineer she saw a need to implement a healthier, and more grounding environment on tour, so she created her Joyology to keep artists happy, healthy, and inspired in body and mind while on grueling tours. She now works with everyone from Grammy Award winning artists to stay at home moms, worldwide, to implement a healthier lifestyle, cultivate a greater self love and keep them in integrity with who they want to be in the world. Check out her new Ebook Cookbook here.