The Everyday Detox: What Food To Incorporate So You're Always Effortlessly Cleansing
January 16, 2017
It happens every year—millions ring in the New Year, make resolutions, and search for ways to cleanse and detox their bodies. But what is detoxing, anyway?
While there's no clinical, universal definition for "detox," it essentially refers to flushing the body of toxins it has accumulated through diet or the environment. But there's an important factor that most of the internet isn't talking about—that the body detoxifies itself already, through digestion and elimination. That's right, it does the whole thing naturally, no green juice required.
But don't give up on your New Year's resolution yet—there are ways that we can aid our bodies in their natural detoxification process. And the best way to do this is through what we eat.
Try incorporating these foods weekly. That way, you'll be able to easily keep up your detox throughout the year and keep seeing and feeling the results!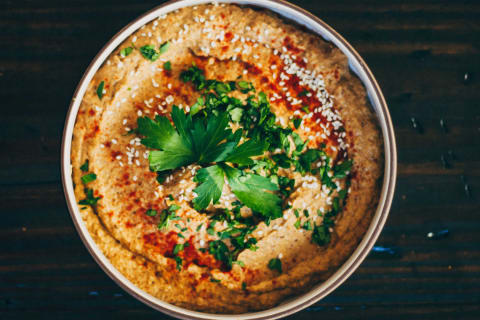 Cayenne-Topped Baba Ganoush
Cayenne
It's true—spicy food is good for you. Cayenne pepper stimulates digestion, helping your body remove toxins via the digestive system. Try sprinkling a little cayenne into your favorite stir fry, or adding a touch to your favorite salad dressing. Just be careful—a little cayenne goes a long way!
Pineapple
Pineapple contains bromelain, an enzyme that aids in digestion and reduces inflammation. While delicious raw, pineapple can easily be incorporated into smoothies or frozen and turned into sorbet. Bromelain can also be taken as a supplement, usually found at your local health food store.
Recipe to try: Revitalizing Green Tea & Pineapple Smoothie
Dandelion Greens
It's not just a weed—dandelions actually have some pretty potent detoxification properties. Some studies have even shown that dandelion greens can increase urine production, helping the body flush toxins out through the urinary tract. The greens can be eaten raw in salads, but they may be too bitter for some palates. Instead, try blending them up with some basil into a pesto or adding them to grain salads.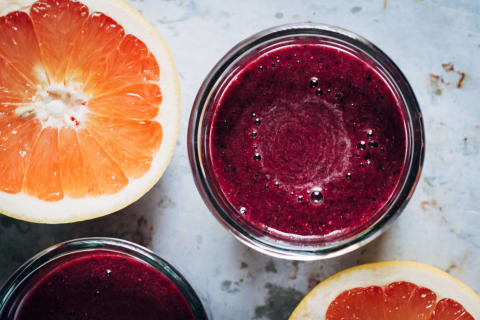 Grapefruit Detox Smoothie
Grapefruit
Grapefruit contains a flavonoid called naringenin, which has been shown to help kick-start the metabolism. Grapefruits are also delicious raw, but their juice can easily be added to smoothies, ice pops, or even made into a vinaigrette.
Papaya
Papaya is one of our favorite detox foods because it contains papain, a digestive enzyme. It's becoming more and more popular at conventional grocery stores, so it's easier than ever to take advantage of its detoxification properties. Try serving your smoothies in papaya "boats" or adding fresh or frozen papaya to your smoothies.
Green Tea
Green tea is a powerhouse source of antioxidants, which are crucial in aiding the body to remove toxins. Try to drink at least two cups of green tea per day to take advantage of its healing powers.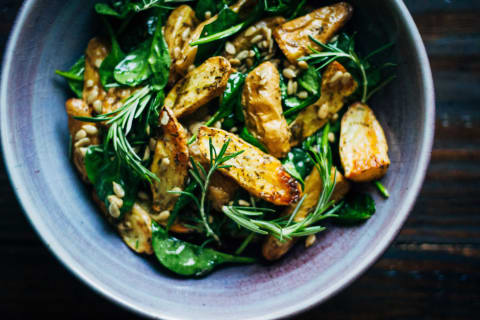 Spinach
There's a reason Popeye would open up a can of spinach whenever he needed a boost—it's full of vitamins and minerals that keep the body on its detoxing grind. Fairly mild in flavor, it can be added to smoothies, salads, soups, and wraps. It's easier than you think to get more spinach into your diet!
Sarah Aldrich
Sarah Aldrich is a plant-based recipe creator and holistic nutrition student based in Connecticut. Her "food as medicine" approach to eating is echoed through her food blog, Well and Full, through healthy and delicious plant-based recipes.