A Breakfast Banana Bread To Support Your Gut, Hair & More, From An RD

Registered Dietitian & Cookbook Author
By Maggie Michalczyk, R.D.
Registered Dietitian & Cookbook Author
Maggie Michalczyk, R.D., is a registered dietitian with a B.S. in dietetics from Michigan State University. She specializes in seasonal recipes and millennial nutrition for women.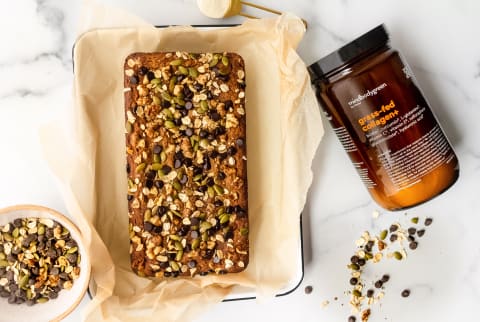 Image by Maggie Michalczyk
November 18, 2020
I always try to inspire others to cook and eat foods that make them feel good. This is especially true right now, in the colder holiday months, when we're all likely craving comforting, toasty, filling foods—that keep us satiated and healthy. One of my favorite ways to supercharge anything is to add a supplement powder, like mindbodygreen's grass-fed collagen+. I love how unique and nutrient-dense of a formula it is: It's a gut-healer, protein powder, and skin-enhancer all-in-one.*
Adding a collagen supplement powder to what I'm baking means that I am automatically making it better for my gut—and my skin. I always pay attention to gut health because of the impact it has on mood, digestion, immunity, and so much more. But I'm interested in collagen's beauty benefits, too.* Collagen is probably most well-known for how it supports the skin, but as someone who has experienced stress-related hair loss, I care about how it enhances my hair health as well. It's really important to me to nourish my hair from the inside so that it stays strong and shiny.*
I take my ingredients—and my supplements—seriously. I pay special attention to the quality and sourcing of foods I use. That's why I was so impressed that mbg developed their supplement with pure ingredients, putting it through four rounds of testing, and it's even Whole30-approved.
I've been baking a lot these days—perhaps you have, too—and this collagen powder banana breakfast bread is made with simple, nourishing ingredients and supercharged with grass-fed collagen+. The recipe is gluten- and dairy-free, low in sugar, packed with healthy fat and fiber—and an added dose of amino acids and antioxidants thanks to the grass-fed collagen+. With breakfast, as a snack, or a treat, you can know you're not only comforting for your body, but you're taking care of it too.
Collagen Powder Breakfast Banana Bread
Ingredients
2 cups blanched almond flour
¼ cup tapioca flour
2 tsp. cinnamon
2 tbsp. mbg grass-fed collagen+
1 tsp. baking soda
¼ tsp. salt
1 cup very ripe bananas (about 2 small to medium bananas), mashed
3 tbsp. coconut sugar (can omit for a naturally sweetened version)
2 large eggs
2 tbsp. coconut oil
1 tsp. vanilla
Dark chocolate oat & seed mix:
1 tbsp. dark chocolate chips
1 tbsp. pumpkin seeds
1 tbsp. oats
1 tbsp. hemp seeds
Method
Preheat the oven to 350°F and grease a loaf pan with cooking spray or coconut oil.
In a medium bowl whisk almond flour, tapioca flour, cinnamon, mbg grass-fed collagen+, baking soda, and salt.
In a large bowl, mash the banana and mix together with sugar (if using it). Add in eggs, coconut oil, and vanilla extract. Whisk until smooth.
Pour dry ingredients into the large bowl containing the other ingredients. Use a wooden spoon to stir.
Pour batter into prepared loaf pan, and top with dark chocolate oat and seed mix.
Bake for 20 minutes uncovered, then add foil for the last 20 minutes of baking to prevent the top from browning too quickly.
Remove bread from the oven and let cool on a wire rack. Once bread is cooled, cut and enjoy!
If you are pregnant, breastfeeding, or taking medications, consult with your doctor before starting a supplement routine. It is always optimal to consult with a health care provider when considering what supplements are right for you.

Maggie Michalczyk, R.D.
Registered Dietitian & Cookbook Author
Maggie Michalczyk is a Chicago-based registered dietitian specializing in seasonal recipes and millennial nutrition for women. She received a B.S. in dietetics from Michigan State University, and is a regular contributor to numerous health and wellness outlets. Michalczyk shares her attainable wellness tips and seasonal recipes on her blog Once Upon a Pumpkin.

She strives to empower women to love their bodies and have a positive and confident relationship with food. Through her love of cooking and baking she aims to help her community further their knowledge of the foods that make them feel good and see that food is so much more than calories in and calories out. When she's not whipping something up in the kitchen, she is exploring the food scene in Chicago and abroad with her husband.