Close Banner
Advertisement
This ad is displayed using third party content and we do not control its accessibility features.
French Roast Coffee Walnut Brownies With Strawberries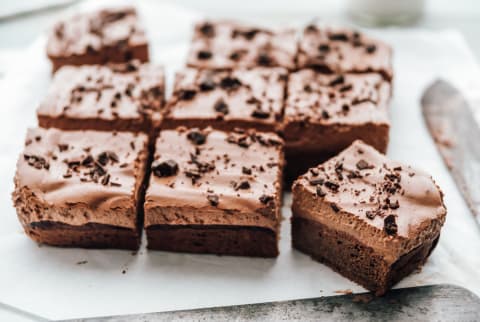 Image by Ina Peters / Stocksy
These brownies are fabulously vegan, sugar-free (they're sweetened with fruit), oil-free, and can be prepared gluten-free with oat flour or another gluten-free flour of choice. I used spelt flour, which is not gluten-free, but the taste of these brownies should be excellent with any flour.
I promise, you will not taste the beans! I love to enjoy these brownies as an after lunch or dinner treat or simply on their own with warm tea. As for the walnut flour, you can make your own walnut "flour" by grinding up raw walnuts in a food processor or high-powered blender. That's all that walnut flour is.
A note about the coffee: I use certified Organic Fair Trade Coffee. Purchasing fair trade ensures that family farmers in remote locations are paid reasonably for the coffee beans rather than remain vulnerable to payment worth only a fraction of the true value of the beans by middlemen who don't have these farmer's best interests at heart.
Dark French Roast Coffee Walnut Brownies With Strawberries
Ingredients
1 cup of cooked black beans (or canned)
2 very ripe, medium sized bananas
3/4 cup cacao powder
2 tablespoons dark French roast coffee
1 tablespoon vanilla extract
12 soft medjool dates, pitted
¼ cup water
1 cup walnut flour (this is simply ground up raw walnuts)
1 ½ cups spelt flour (you can also use oat flour, quinoa flour, whole-wheat flour or a combination of these flours)
1 ½ tablespoon baking powder
1 cup fresh organic strawberries, sliced (defrosted frozen also works)
Directions
Preheat oven to 350°F. Prepare walnut flour in a food processor or high-powered blender and store leftover walnut flour in a container in the refrigerator for future use! Walnut flour lasts for weeks upon weeks, although it should ideally be used within three weeks for optimal taste.
Clean food processor or blender and follow directions below.
Mix the first eight ingredients together in a food processor or blender (from black beans to water) and blend until smooth and creamy. Set aside.
Mix the spelt flour, walnut flour and baking powder in a large bowl and once completely mixed, add the blended ingredients to the bowl along with the dry ingredients. Stir very well until the flours are completely incorporated into the batter.
Stir strawberries through and pour into an 8 x 8 inch brownie pan.
Bake for 30 minutes and let cool for at least 15 minutes before eating.
To cut clean slices, I recommend placing the pan in the freezer for 10-15 minutes so that the brownies harden and the slices will be smooth and less messy.

Talia Fuhrman
Talia Fuhrman has a B.A. in nutritional sciences from Cornell University and will be releasing her first book, Love Your Body this fall. It is a positive psychology, body image, healthy lifestyle, nutrition and recipe book for young women to be published with Rodale Inc. In addition to her book, she blogs away at www.taliafuhrman.com, where she posts plant-based, vegan recipes, nutrition tips and more. She is following her heart and pursuing a career intended to help as many people as possible find increased wellness, health and vitality, both physically and emotionally. Talia has written for media outlets such as Vegetarian Times, VegNews, Psychology Today, Positive Impact Magazine and GirlieGirlArmy.com. You can find Talia on her website, but also on her Facebook page, and Instagram, @taliafuhrman.