You Can Stock Your Whole Coffee Routine At Trader Joe's: Here's What We Always Pick Up
mbg Editorial Assistant
By Eliza Sullivan
mbg Editorial Assistant
Eliza Sullivan is an editorial assistant at mindbodygreen. She received a B.S. journalism and a B.A. in english literature from Boston University.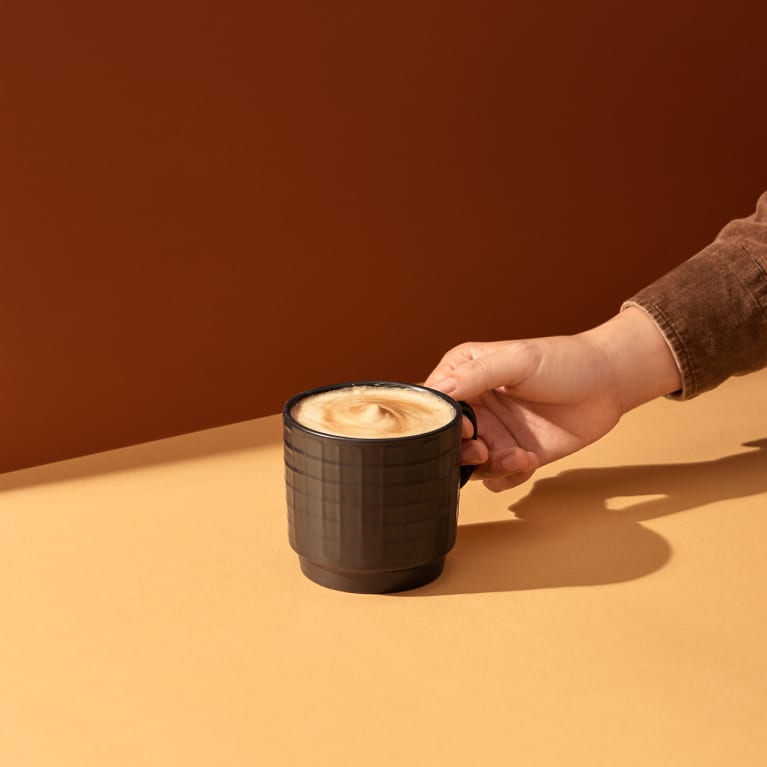 A morning coffee routine can bring joy into the first moments of our day, setting us up for success and smiles until sundown. But that certainly doesn't have to mean spending tons on take-away coffee at your local cafe, especially when you can make a truly exceptional cup at home.
As much as coffee is a part of my routine, so is my fave grocery store, Trader Joe's—and with outings limited while we social distance, my pilgrimage to the grocery store has become even more precious. So it's only natural that some standout products from Trader Joe's have found their way into my regular coffee routine:
While buying beans is one of my favorite ways to support my local shops through the pandemic, I've always been impressed with the variety and quality of the coffee you can get from this beloved grocery store. Labels such as "organic" and "fair trade" are common on the shelves. On my most recent visit, I noticed a French roast and an Ethiopian blend with both promising terms.
But what do those words mean? According to their website, Trader Joe's coffee labeled "fair trade" is "sourced via Fair Trade Certified practices," which means they're held to social, environmental, and economic standards. The organically grown coffees, as you may have guessed, are farmed without synthetics or chemicals.
These two varieties are also just a fraction of the bean options they always seem to have on shelves—whatever your coffee taste, you're likely to find a favorite.
2. Next: the brewing aids.
Different brewing methods won't stop you from shopping TJ's for your morning beverage. If you're a fan of pod-based brewing, they carry all sorts of options.
Last time I stopped in, I was excited to also see cone filter papers. Theirs are unbleached, made from paper pulp, and come in two sizes—compatible with Melitta, Krups, and Braun coffeemakers.
That being said, one of my favorite ways to brew coffee (all year round!) is a good cold brew, and I've found Trader Joe's beans work wonderfully for this method! The best thing about making cold brew is that all you really need is the grounds, water, a jar, and some time—plus something to filter out the grinds at the end of brew time. Those aforementioned cone filters can work for this; otherwise, you can use a cheesecloth or superfine mesh sieve.
While I do love brewing plain black coffee, sometimes a bit of frothy milk, a touch of sweeteners, or the addition of spices can really enhance an already wonderful brew. For that reason, my Trader Joe's shopping list will often include oat milk—their shelf-stable variety includes only two ingredients: oats and milk, making it almost as natural as the batches I make myself.
For sweeteners, I will usually reach for organic honey or maple syrup, depending on the flavors I'm adding. This brings me to spices! A while back, I got some advice about adding a touch of cinnamon to my coffee grounds before brewing, and since then I've experimented with adding other flavors to grounds or to that frothy milk. Some other favorites are ginger and turmeric.
Finding moments of joy in the days is one of our mbg priorities for 2021—for me, many of those moments start with a warm cup of coffee. But I'm also trying to focus on being a more conscious consumer, which is why my morning cup just as often features beans from one of these Black-owned coffee roasters. Happy sipping!