Choosing to eat sugar- and additive free-is all very well and good when you're in the comfort of your own home, but what about when you're required to bake for work or family celebrations? This tried and tested Hummingbird Cake recipe has been a winner with even the fussiest of eaters and is my 'go to' celebration cake recipe.
Hummingbird Cake is a delicious blend of coconut, pineapple and banana, just like a Pina Colada, which means that no added sugars or flavors are required with this sensation of flavours!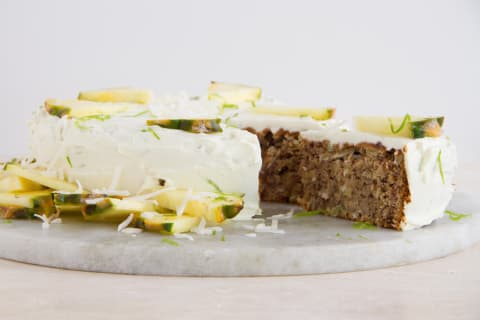 1 cup Medjool dates
250 grams Gluten Free Self-Raising flour
2 ripe bananas mashed
1 cup fresh pineapple diced
1/2 tsp cinnamon
50 grams shredded coconut
1 cup coconut oil
1/2 cup chopped walnuts
1/2 cup honey
2 tablespoons chia seeds (soaked in 1 tablespoon water) or use 2 eggs if you prefer
Pre-heat oven to 350 degrees Farenheit
In a food processor blend together the dates, chia seeds (or eggs), honey and coconut oil. Add this mixture to all of the other ingredients and stir gently. Pour into a round cake pan that has been oiled and lined with grease proof paper. Bake for 30-45 minutes until a skewer inserted into the centre comes out clean. Leave in the pan for 10 minutes, then turn out onto a cooling rack. This is a very dense cake which will not rise a lot.
To ice this I use 1 cup of labneh (yoghurt that has been drained to make cream cheese) and 2 tablespoons honey mixed together, then decorated with pineapple slices and shredded coconut.
Photo courtesy of the author

Nicole Beardsley
Health Coach
Nicole Beardsley is an Occupational Therapist, Health Coach and founder of The Happy Parent Project. Through her signature coaching program '12 Steps to a Healthy Family' she supports busy Mums to get organised, healthy and happy. The ethos of The Happy Parent Project is that as parents we are the gatekeeper for our family and to have a happy and healthy family we must first be healthy and happy parents. Nicole uses specialized Occupational Therapy tools to support parents to organize their day and achieve their business, health and lifestyle goals. She then teaches parents how to cook wholesome, allergy friendly meals, boost their family's immune system and energy, balance their hormones and get back their spark for life.