I Have Chronic Fatigue. This Is The Diet I Followed To Get My Energy Back
CSCS-certified strength & conditioning specialist
By Rachel Straub, M.S.
CSCS-certified strength & conditioning specialist
Rachel Straub, M.S. is an exercise physiologist, nutritionist, biomechanist, certified strength and conditioning specialist (CSCS) with master's degrees in nutritional sciences and exercise physiology from San Diego State University, and a master's in bio-kinesiology from UCLA.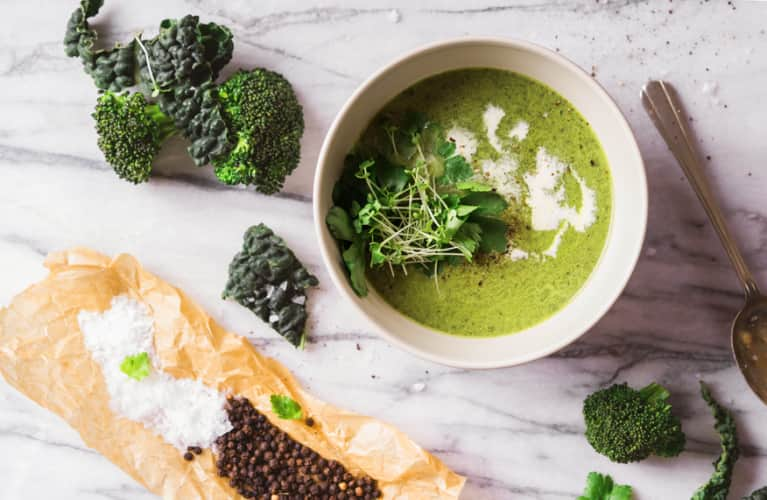 In 2013, I went from being a vibrant, independent person to fully bedridden in a matter of weeks due to a severe case of chronic fatigue, Lyme disease, and endless bacterial infections. I had my master's degree in nutrition and remember clearly spending countless hours during my graduate program shadowing an alternative-medicine physician who created customized diets for the sick. From the beginning I was blessed with knowing how to change my diet to gain energy and keep up my well-being. Many days I lacked an appetite and had to force myself to eat, which is never fun, but my diet played a pivotal role in my four-year recovery. Most of my food philosophy was rooted in the teachings of Dr. Henry G. Bieler, a prominent physician known for using food to treat diseases.
Before changing your diet, especially if you have a chronic illness, I highly recommend speaking to your health-care professional. This is how I changed my diet after listening to my body and talking to many, many doctors.
How having chronic fatigue & lyme disease changed my diet
Before getting sick, I rarely touched red meat. I simply didn't like it, plus red meat is generally considered a food that people should try and limit. Well, let me tell you, when my digestion system literally shut down, things had to change. The uber-healthy diet that I worked so hard to curate and refine went by the wayside while I tried to figure out what worked for my digestion.
So, for me, red meat—specifically lamb—became a staple in my diet since it's easy to digest and is protein-rich. Lean poultry and fish, which I previously consumed in favor of red meat, became a no-go because they simply didn't agree with me anymore. Listening to my body was key when making changes to accommodate for my illness.
What else changed? I had to give up my beloved vegan protein powder. Being severely intolerant to gluten and dairy and moderately intolerant to soy before getting sick, eggs became a primary protein staple. Anything raw and fibrous such as salads had to go. Nuts, seeds, and beans also became problematic because they are tough on the digestive system. Sunflower seed butter became my best friend—almond butter, unfortunately, was harder for me to handle, and peanut butter was totally out of the question. Both almond and peanut butter agitated my system too much.
I had to swap a great deal of my healthy essentials in favor of foods that were easy for my body to digest and absorb. Here's what that looks like in a typical day:
Whole eggs with cooked broccoli or spinach in olive oil
A piece of fruit
Sunflower seed butter (shameless from the spoon!)
Cooked ground lamb
Vegetable soup
Potato
The lamb was thoroughly drained of excess fat. And the vegetable soup was simply celery, carrots, parsley, and green beans boiled in water. This was not very exciting, but it was the best thing for me and my digestive tract. Vegetables such as onion, garlic, tomatoes, zucchini, kale, and more were all out of the question.
A food formula for feeling good.
Most days, my diet consists of a protein at every meal, along with cooked vegetables, plant-based fats, and very small amounts of carbohydrates. Since all of my food was unprocessed without any added sodium, I did heavily salt all my food using sea salt. If I forgot, my blood pressure would plummet dangerously low—this too was part of my illness. Consuming salt helps keep it at normal levels.
With chronic illness and food intolerance, what you want and what you can tolerate are not always in agreement. The above diet won't work for everyone, but learning to listen to your body and ensuring you have a nutrient-rich diet with sufficient amounts of protein is essential for recovering from Lyme, chronic fatigue, or any chronic illness.
Have Lyme, or know someone who does? Here's the regimen that helped one woman when nothing else could. If you're tired all the time, here are 10 signs it could be chronic fatigue.