Pharmacist & Holistic Nutritionist
By Ashley Madden
Pharmacist & Holistic Nutritionist
Ashley Madden is a pharmacist, holistic nutritionist, and plant-based chef.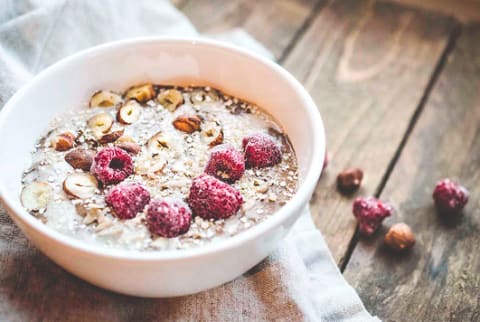 February 6, 2017
When you think chocolate you might not think healthy. When you think chocolate for breakfast, you might think bad breakfast choice!
Chocolate is not considered a breakfast food because when we think chocolate we think candy bars, treats, and rich, sugar-laden desserts.
But behind all the additional, not-so-healthy (albeit delicious) dessert ingredients there is cocoa.
And cocoa definitely deserves a place at the breakfast table.
Cocoa powder is produced when cocoa beans are roasted and milled into a powder. Note that cacao powder, different from cocoa, is raw and does not undergo the roasting step but is still processed into a powder.
More heat-sensitive nutrients are preserved in the production of cacao powder, making it a raw foodie favorite, but cocoa powder still has significant health benefits.
Cocoa powder provides health-supportive antioxidants, is low in calories, has zero cholesterol (because it's a plant-based food), and is a source of magnesium and fiber. (One tablespoon of cocoa powder has about 2 grams of fiber, 1 gram of fat, and 25 mg of magnesium.)
One tablespoon of cocoa can also dramatically transform a dish! My latest obsession has been using it in my morning breakfast bowl. Move over, green bowl; the chocolate breakfast bowl is in! The little bump of caffeine also makes cocoa an appropriate breakfast bowl or smoothie ingredient.
To keep it healthy, choose unsweetened organic cocoa powder or (use raw cocoa powder) and combine it with other health-supportive, nutrient-dense ingredients. If we add too many sweeteners and fats this becomes more of a dessert than a breakfast. However, this breakfast version could easily pose as a healthy dessert!
These oats are best prepared before bed; this way it's ready to go when you are, the next morning.
Chocolate + Strawberry Overnight Oats
1½ cups unsweetened almond milk
1 medium banana (frozen or fresh)
½ cup strawberries (frozen or fresh)
1 tablespoon + 2 teaspoons unsweetened cocoa or cacao powder
1 tablespoon ground flaxseed
2 medjool dates, pitted
1 teaspoon matcha
½ teaspoon vanilla extract
Pinch of sea salt
⅔ cup rolled oats (gluten-free if desired)
1 tablespoon + 2 teaspoons chia seeds
chopped nuts
fresh berries
quinoa flakes
hemp seeds
unsweetened coconut
goji berries
Add the almond milk, banana, strawberries, cocoa, flaxseed, dates, vanilla, matcha, and salt to a blender and blend on high until smooth.
In a medium-large bowl add the oats and chia seeds and mix. Add the blender mix to the bowl and stir. Cover the bowl and place in the fridge overnight or for at least 3 hours. This gives the oats and chia seeds time to absorb the liquid and thicken.
After the soaking period, stir the oats, divide between two bowls, and top with your favorite superfoods.

Ashley Madden
Pharmacist & Holistic Nutritionist
Ashley Madden is a pharmacist, holistic nutritionist, plant-based chef and, just like you, trying to figure it all out: eat healthy, manage stress, sleep more, stay inspired, all the while enjoying life and taking it one day at a time.