Vegan, Grain-Free Petite Chocolate Chip Cookies—Just Like Chips Ahoy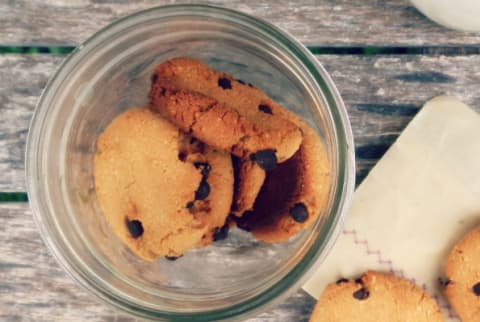 Photo by Shutterstock.com
May 15, 2013
My husband is the Cookie Monster. Before I infected him with the health bug, he could devour an entire box of Chips Ahoy's in five minutes flat. But since going grain-free and reclaiming our wellness, we've been on the hunt for the perfect chocolate chip cookie recipe to satisfy his cookie cravings.
Finally, after a few hours of toying with flours and starches in the kitchen, we found it! They're crunchy, crumbly, and perfectly sweet. And with no dairy, eggs, or refined sugar, they're safe for folks eating grain and gluten free, as well as vegans, too!
Petite Chocolate Chip Cookies (basically a vegan, grain-free Chips Ahoy)
Ingredients
2 cups of almond flour
1/2 cup coconut flour
2 tbsp arrowroot powder
1 tsp baking powder
A pinch of salt
1/4 cup raw honey
1/4 cup milk, kefir, or nut milk
1/4 cup Enjoy life chocolate chips or carob chips
2 tbsp softened butter or coconut oil
Method
Preheat the oven to 350°F.
In a food processor, pulse together 1 1/2 cups of almond flour only, the coconut flour, baking powder, arrowroot, and salt until it's all mixed. Add the butter or coconut oil, and pulse until it's a crumb.
Add the honey and milk, and pulse until a thick dough forms. You should be able to pick it up and ball it up in your hands—so not liquidy at all!
This is where the extra half cup of almond flour comes in. If your mixture is still thin, add the extra flour and mix until it looks like your standard cookie dough.
Fold in the chips, and don't be afraid to eat the dough. It's tasty.
Break off tablespoon sized bits and roll them into balls with your palms. Place them on a lined baking sheet & give them a squish. They won't spread at all, so you can put them fairly close together.
Bake at 350 for about 25 minutes, or until they begin to get golden.
Remove them from the oven, and lower the heat to 250. Put them back in for a good 15 minutes or so, or until they're as crisp as you'd like. Once they cool more, they will be more like Chips Ahoy (dry and crunchy), so be patient!

Kristen Hedges
Kristen Hedges is a writer & meditation teacher living in the crooked pines of California with her daughter, her husband, & their little dog. The four of them are wildly introverted, so she spends the better part of her days in a milky silence, sipping something hot, telling Aspen slow stories of the forest while Ken takes naps and tends to the backyard farm. Kristen is certified as a Yoga & Meditation Instructor, as well as a Holistic Health Practitioner, and enjoys teaching spirited mamas how to stay happy, healthy and mindful through stories, plant-based nourishment, & a whole lot of wild soul searching. Here first book, Something Like The Desert, was published in 2015.