Charred Miso Broccoli + Adzuki Bean Bowl

mbg Food Contributor
By Christina Liva
mbg Food Contributor
Christina Liva is a writer, recipe developer, and former mbg food editor. She founded Yay Lunch and is currently based in Virginia.
Charred Miso Broccoli + Adzuki Bean Bowl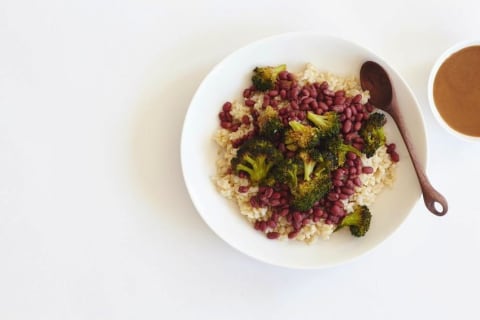 2 cups cooked brown rice or quinoa
1 small head of broccoli, torn into bite-sized florets
½ 15-ounce can organic adzuki beans, drained and rinsed
olive oil
salt + pepper
For the Balsamic-Miso dressing
2 tablespoons white miso (the mildest kind)
1 tablespoon classic balsamic vinegar
1 tablespoon white balsamic vinegar
1 tablespoons sesame oil
1 tablespoon olive oil
1. To make the dressing: whisk all ingredients together in a large mixing bowl. Set aside.
2. Heat oven to 425ºF degrees. Place broccoli florets on a parchment lined baking sheet. Drizzle with olive oil and season with salt and pepper. Roast for about 15 minutes until slightly browning on the edges.
3. Assemble bowls: Place one cup of grain onto each plate. Top each with half of the adzuki beans. Season beans with salt and pepper and a drizzle of olive oil. Top with broccoli. Pour the dressing over each bowl as desired and serve the rest (if any) on the side.
Recipes + Styling by Christina Liva

Christina Liva
mbg Food Contributor
Christina Liva is a writer, recipe developer, and former food editor at mindbodygreen. She received her bachelor's degree in english from Georgetown University, and has also written for Goop and Zagat. Liva is the founder of Yay Lunch, a company based in Virginia that helps provide healthy lunches to kids.